Author Archive for Lookout
The Lookout Newspaper can trace its history back to April 1943 when CFB Esquimalt's first newspaper was published. Since then, Lookout has grown into the award winning source for Pacific Navy News. Leading the way towards interactive social media reach, we are a community resource newspaper growing a world wide audience.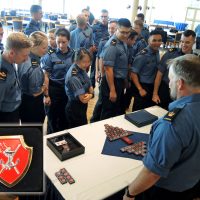 Peter Mallett, Staff Writer ~ The first group of Naval Security Team (NST) personnel have received their Force Protection Qualification certification. Commodore Angus Topshee, Commanding Officer Canadian Fleet Pacific, presented 41 members of the NST with their qualification certificates along with the unit's new specialty badges and pins in a ceremony at the Chief's and Petty […]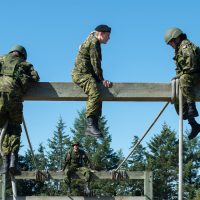 SLt M.X. Déry, MARPAC Public Affairs ~ Next week, staff for the upcoming Raven BMQ (Basic Military Qualification) program will begin preparing for the arrival of 40 Indigenous youth from across Canada. The course will run July 4 to Aug. 14. The outreach program is designed to build bridges into Indigenous communities throughout Canada and show […]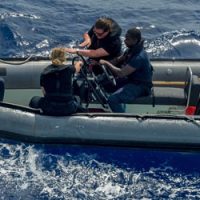 AB Lindsay Johnston (left) and MS Rebecca O'Connor (right), members of HMCS Goose Bay teach the Haitian Ship Riders how to drive the Rigid Hulled Inflatable Boat during Exercise TRADEWINDS 2019 on June 6.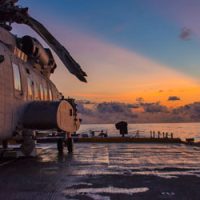 HMCS Regina's CH-148 Cyclone helicopter BRONCO dries on the flight deck after a cleaning during Operation PROJECTION in the Indian Ocean on June 4.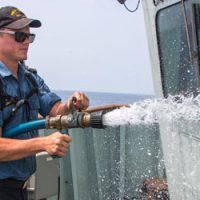 Able Seamen Del Edwards of HMCS Regina's crew helps clean the exterior of the ship during Operation PROJECTION in the Indian Ocean on May 31.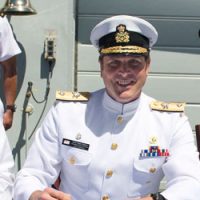 HMCS Calgary Change of Command certificates are signed. R-L: Cdr Ryan Saltel, outgoing Commanding Officer; Cmdre Angus Topshee, Commander of Canadian Fleet Pacific, and Cdr Jonathan Kouwenberg, Incoming Commanding Officer.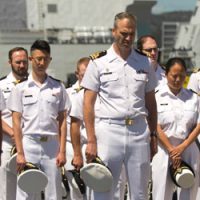 Crewmembers of HMCS Calgary bow their head for a prayer during the the ship's Change of Command ceremony on 3 June.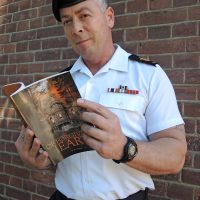 Peter Mallett, Staff Writer ~ A Royal Canadian Navy (RCN) sailor has been recognized for his first novel, a psychological-thriller set in Southwestern Ontario. Petty Officer First Class (PO1) Steve Pring was one of 80 writers from Southern Vancouver Island featured in the Greater Victoria Public Libraries Emerging Local Authors Collection. The 54-year-old published his first […]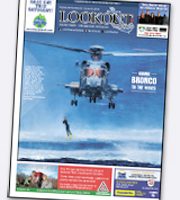 Click issue cover to download the PDF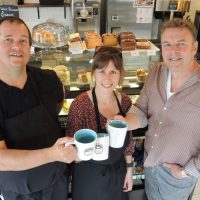 Peter Mallett, Staff Writer ~ The owners of a new coffee shop in Admirals Walk Plaza have opened up with the purpose of hiring adults with developmental disabilities. A Kinder Cup, aptly named, is run by Chief Petty Officer First Class (Retired) Marc Dufort and his wife Kim. It opened last December and among their staff […]