By Lookout on Sep 06, 2018 with Comments 0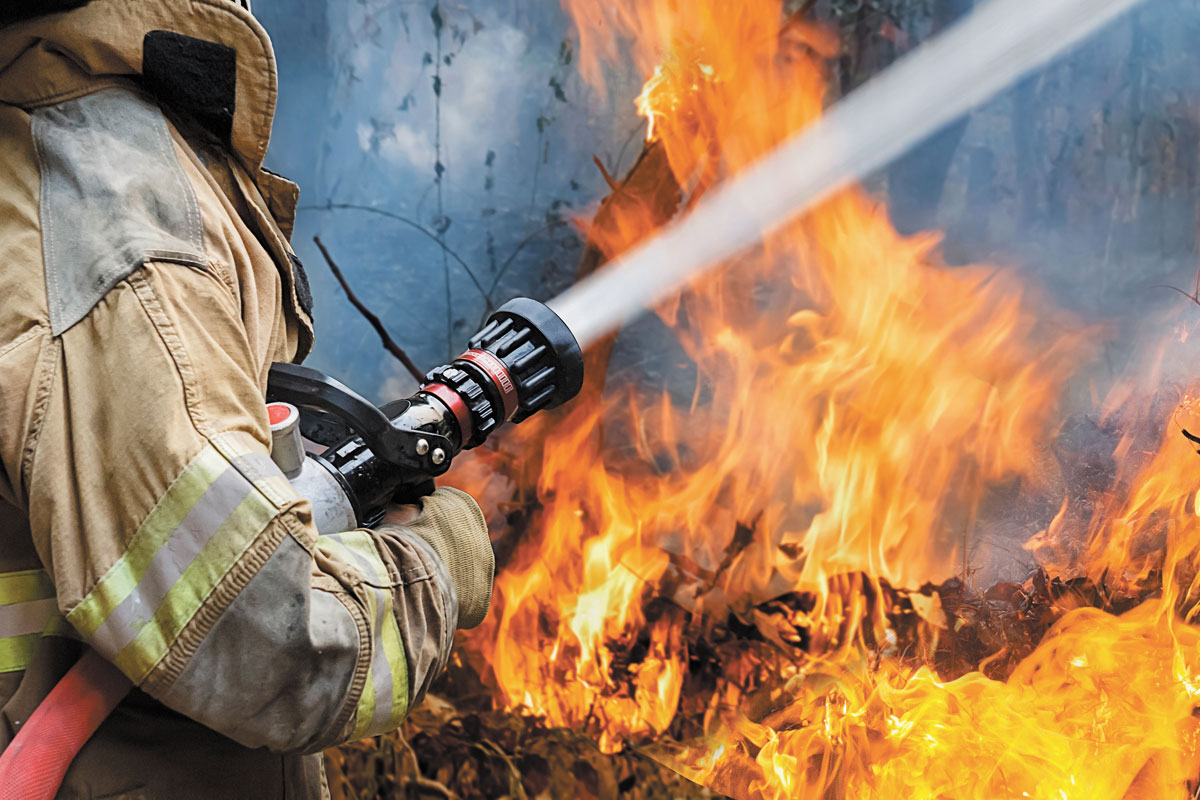 Peter Mallett, Staff Writer ~
Two volunteer firefighters who work at CFB Esquimalt spent part of their summer vacation helping contain a massive wildfire burning in British Columbia's central interior region.
Jason Humphries, from CFB Esquimalt Fire Rescue, and Petty Officer First Class Josh Schmidt, from Fleet Maintenance Facility Engineering, were part of a four-person crew from the Metchosin Volunteer Fire Department that hopped in one of the department's fire trucks and drove over 950 kilometres to Vanderhoof, B.C.
The volunteers' efforts, between Aug. 16 and 25, were to provide structural protection and security from the massive Shovel Lake fire, under the assistance of the B.C. Wildfire Service. The fire is the second largest of the 551 wildfires burning across tinder-dry B.C. and covered approximately 91,000 hectares. The work of Humphries, PO1 Schmidt and their crew was not done on the front lines of the fire.
Instead it involved setting up rooftop sprinklers to prevent homes from burning, which Humphries says provided residents with a "sorely needed sense of security" in knowing they were being supported and hadn't been forgotten during the disaster.
Humphries, 37, who works as a Fire Prevention Officer, also participated in similar support efforts during last year's wildfires in the Okanagan Region. He says the journey took approximately 14 hours longer this time around, while also noting smoke and poor visibility was noticeably worse than last year.
"We quickly noticed that more of B.C. was covered in smoke and the visibility was often very challenging in driving an apparatus [fire truck] from location to location," said Humphries.
PO1 Schmidt, 34, has volunteered his spare time with the Sooke Fire Rescue Department for the past five years when he is not working.
He assisted the department with firefighting efforts at the Tugwell Creek, which burned north of Sooke before being contained in early July. His trip to Vanderhoof was his second experience battling a large wildfire. He was moved by the level of support residents of the community showed to each other and the fire fighters.
"People pulled together all over the place and were very thankful to us, many were surprised we travelled all the way from southern Vancouver Island to assist them," said PO1 Schmidt. 
He noted how staffers at an evacuated Christian summer camp, instead of going home, put together a soup kitchen offering breakfast, take-away sandwiches and dinner for all the fire fighters in the region.
For more information about Operation Lentus and updates on the Canadian Armed Forces efforts to combat this year's wildfire season visit the web page: www.forces.gc.ca/en/operations-canada-north-america/op-lentus.page
The provincial government announced Aug. 20 it will match donations to the Red Cross to help victims of B.C. Wildfires up to $20 million. Donations can be made by calling 1-800-418-1111, contacting their local Red Cross Office or going to the website: www.redcross.ca
Filed Under: Top Stories
About the Author: The Lookout Newspaper can trace its history back to April 1943 when CFB Esquimalt's first newspaper was published. Since then, Lookout has grown into the award winning source for Pacific Navy News. Leading the way towards interactive social media reach, we are a community resource newspaper growing a world wide audience.