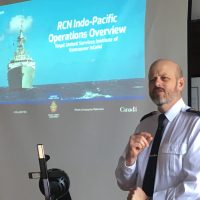 Rear-Admiral (RAdm) Chris Robinson, Commander Maritime Forces Pacific, attended the monthly Royal United Services Institute – Vancouver Island (RUSI-VI) luncheon at the Bay Street Armoury on March 8, during which he presented on: The RCN in the Indo Pacific Operations Overview.
"Our intention is to house as many military members and their families as possible; our team is confident we can make positive impact during this housing crisis." ~Lisa Church, Community Engagement/ Housing Manager, Esquimalt MFRC The Community Engagement Team is happy to announce the Esquimalt MFRC Housing Support Services Program. Due to the current housing shortage […]
  Peter MallettStaff Writer — Two recently-retired Royal Canadian Navy (RCN) members are the latest recipients of a Command Commendation by General (Gen) Wayne Eyre, Chief of Defence Staff. Gen.Eyre was on-hand at Maritime Forces Pacific (MARPAC) HQ on March 15 to personally recognize and thank Lieutenant-Commander (ret'd) Chris Maier, formerly of Naval Fleet School […]
The team of 39 divers from Canada and four other nations arrived at Lake Sheridan on March 6 to challenge their extreme cold-weather diving skills. The training was part of ICEDIVEX 23, a five-day training exercise led by the Fleet Diving Unit (Pacific) (FDU(P)).