Author Archive for Lookout
The Lookout Newspaper can trace its history back to April 1943 when CFB Esquimalt's first newspaper was published. Since then, Lookout has grown into the award winning source for Pacific Navy News. Leading the way towards interactive social media reach, we are a community resource newspaper growing a world wide audience.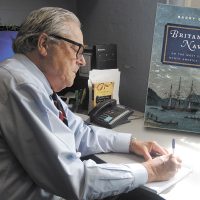 Rachel Lallouz, Staff Writer ~ For Victoria native Barry Gough, author and Emeritus professor of History at Wilfrid Laurier University, his newly written book, "Britannia's Navy on the West Coast of North America, 1812-1914" represents the culmination of a lifetime spent researching the naval history of Esquimalt. Gough's book spans several turns in the history […]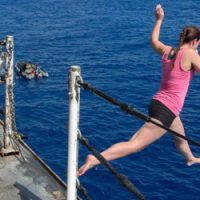 A crew member from HMCS Charlottetown jumps into the Mediterranean Sea as a rescue boat patrols below during a SWIM EX on Op Reassurance Aug. 20.
PO2 Brian Hill, HMCS Calgary ~ All ships participating in RIMPAC 2016 enjoyed a day of rest July 26, 16 days after the commencement of the multinational naval exercise. HMCS Calgary sailors cooled off with a dip in the Pacific Ocean's turquoise waters near the Island of Ni'ihau. Later that evening, Calgary's Combat Systems Engineering […]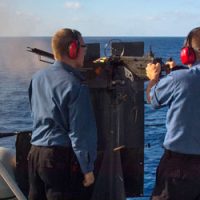 Crew members onboard HMCS Charlottetown fire the port forward Browning .50 calibre weapon in reaction to a simulated threat during Op Reassurance Aug. 23.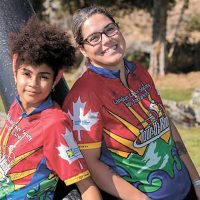 Rachel Lallouz, Staff Writer ~ For the past six months, Military Police member Leading Seaman Andrée Noye has suited up in her bicycling apparel, placed her foot in the pedal stirrup, and kicked off for a routine 100 kilometre ride. As she heads up the many steep inclines in the Victoria roadways, at the fore […]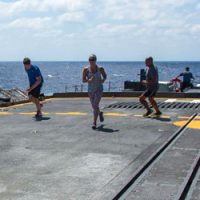 Members of HMCS Charlottetown participate in a fitness class run by PSP fitness instructor Shane Stillwell (right) during Op Reassurance, Aug. 17.
Rachel Lallouz, Staff Writer ~ Using a .22 calibre semi-automatic pistol, Captain Mark Hynes, a staff officer with J3 Land Operations for the Joint Task Force Pacific, brought home the gold medal in the 25 Metre Standard Pistol category of the National Pistol Championships in Toronto during the first week of August. He also brought […]
During a multi-national naval boarding exercise, HMCS Charlottetown acts as vessel of interest while members of the Spanish Special Forces move into position during Op Reassurance, Aug. 15.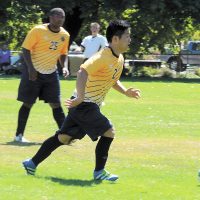 Rachel Lallouz, Staff Writer ~ CFB Esquimalt's Men's Tritons scored the winning goal in the final game of the summer league Soccer Regionals on Aug. 15. This win has earned them a spot at Soccer Nationals representing the Pacific Region from Sept. 17 to 22. The score of the final game was 1 Tritons and […]
News Release Canadian Army Trains in Brazilian Jungle during International Competition August 22, 2016 — Ottawa — National Defence / Canadian Armed Forces Starting tomorrow, ten Canadian Army soldiers from 5 Canadian Mechanized Brigade Group based in Valcartier, Quebec, will start their trek through the rainforest of the Amazonas region of Brazil during the 2nd […]