Author Archive for Lookout
The Lookout Newspaper can trace its history back to April 1943 when CFB Esquimalt's first newspaper was published. Since then, Lookout has grown into the award winning source for Pacific Navy News. Leading the way towards interactive social media reach, we are a community resource newspaper growing a world wide audience.
With the holiday season just around the corner, I would like to take this opportunity to thank the whole Defence Team for all the perseverance and dedication you have displayed over the past year. While I have only been Base Commander for a few short months, I know how hard all of you work and […]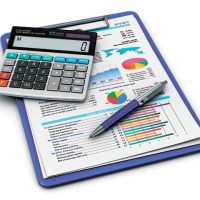 As part of Canada's new defence policy, Strong, Secure, Engaged, the Government of Canada announced an enhanced income tax relief measure for all Canadian Armed Forces (CAF) personnel who deploy on named, international missions. I am happy to advise that all arrangements are now in place to make this initiative a reality for members of […]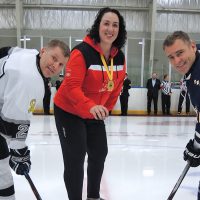 Peter Mallett, Staff Writer ~ Esquimalt's Old Timer's Tritons hockey team advanced to the National Canadian Armed Forces Championship Tournament with a 2-0 series sweep of the Comox Silver Totems in Pacific region qualifying action last week. The senior Tritons opened their best-of-three series at Wurtele Arena with a 1-0 win on Dec. 4 and […]
Master Corporal Richard MacDonald, aboard the bridge of HMCS Charlottetown, while patrolling the Mediterranean Sea during Op Reassurance, Dec. 12.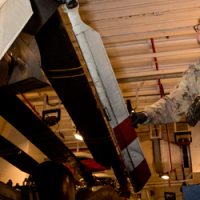 The Air Department aboard HMCS Charlottetown stows their Sea King helicopter at the end of a flying mission during Op Reassurance, Dec. 11.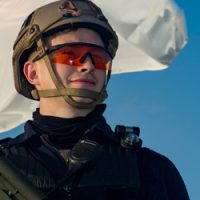 Leading Seaman Gabriel Hounsell, member of the Force Protection Team of HMCS Charlottetown, stands vigilant as the ship comes alongside in Pireaus, Greece, during Op Reassurance, Dec. 3.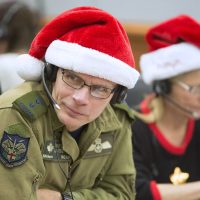 The North American Aerospace Defense Command is celebrating the 62nd anniversary of tracking Santa's yuletide journey. The NORAD Tracks Santa website, www.noradsanta.org, has launched. It features Santa's North Pole Village, which includes a holiday countdown, games, activities, and more. The website is available in eight languages: English, French, Spanish, German, Italian, Japanese, Portuguese and Chinese. […]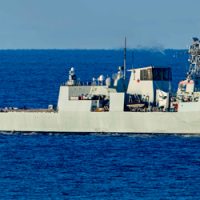 HMCS Charlottetown, currently deployed to the Eastern Mediterranean to increase Allied Maritime Situational Awareness as part of Standing NATO Maritime Group 1 (SNMG1), steams near a Russian Federation Navy Soobrazitelnyy (531), Dec. 8.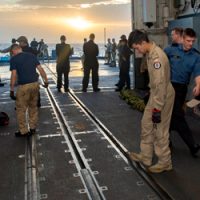 The Air Detachment of HMCS Charlottetown stows the flight deck as the ship prepares to come alongside in Pireaus, Greece during Op Reassurance, Dec. 3.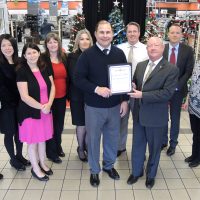 Peter Mallett, Staff Writer ~ Larry Mohr, Senior Vice President of Commercial Services, Canadian Forces Morale and Welfare Services (CFMWS) (left), presented Esquimalt SISIP Financial Manager Wade Walters and members of SISIP Financial, B.C. Region, with the Commercial Services Division Award of Merit, at the CANEX Military Supply Store in Naden Dec. 4. The honour […]