Author Archive for Lookout
The Lookout Newspaper can trace its history back to April 1943 when CFB Esquimalt's first newspaper was published. Since then, Lookout has grown into the award winning source for Pacific Navy News. Leading the way towards interactive social media reach, we are a community resource newspaper growing a world wide audience.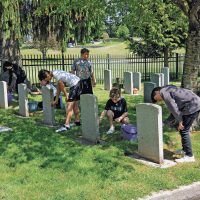 Peter Mallett, Staff Writer ~ School District 61 (Greater Victoria) students and sea cadets got down to work last week, taking care of some vital spring cleaning at God's Acre Veterans Cemetery. On May 17, 30 Grade 7 students from nearby Rockheights Middle School fanned out across the National Historic Site armed with buckets of water […]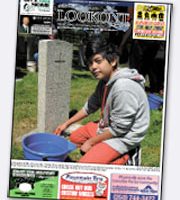 Click issue cover to download the PDF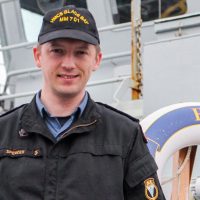 Ryan Melanson, Trident Newspaper ~ An East Coast sailor is sharing his story of battling depression and suicidal thoughts, and his eventual treatment and recovery, in hopes of reaching other Canadian Armed Forces (CAF) members who may be going through a similar experience. "I lived with the symptoms of depression for 25 years; pain and torment […]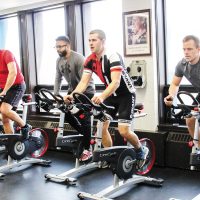 Ryan Melanson, Trident Newspaper ~ Over the past nine years, crews from HMCS Fredericton have raised nearly $500,000 for the Children's Wish Foundation New Brunswick chapter through the ship's annual Bike for Wishes fundraiser. It's become an important source of funds for the organization, as well as a great morale booster for the Royal Canadian Navy […]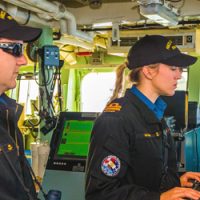 Lt(N) Stephanie Maxim (right) and SLt Derek Frank perform Officers of the Watch duties on the bridge of HMCS St. John's during Exercise Joint Warrior as part of Operation Reassurance, May 2.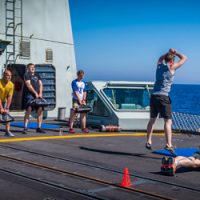 Crewmembers on board HMCS St. John's participate in a physical fitness class on the flight deck led by Personnel Support Program (PSP) Fitness instructor, Keira Lee, during Operation Reassurance, May 15.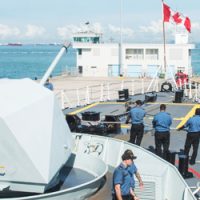 HMCS Vancouver pulls into the jetty as it arrives at the port of Singapore after its transit from Hong Kong, on Operation Projection Asia Pacific, May 16.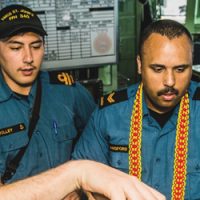 Lt(N) Edward Woolley (centre), SLt Jacob Thornhill (left), and LS Graham Langford (right) discuss operations while on watch on the bridge of HMCS St. John's during Operation Reassurance, in the Mediterranean Sea, May 16.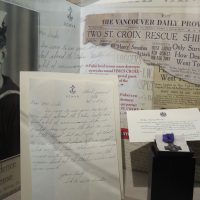 Peter Mallett, Staff Writer ~ The importance of the longest battle of the Second World War is quickly felt when one enters the central room in the CFB Esquimalt Naval and Military Museum. It is the largest room in the historic red brick building located in the heart of CFB Esquimalt's Naden location, one that is […]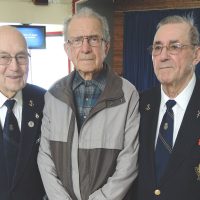 Peter Mallett, Staff Writer ~ Three Victoria veterans who each survived separate German U-Boat attacks during the Battle of the Atlantic recently shared their experiences over lunch. Stoker (Retired) Bob Haden, Able Seaman (Retired) Free Seeley and Leading Seaman (Retired) Harold Gollmer are all in their ninth decade of life, and are the last surviving members […]