Author Archive for Lookout
The Lookout Newspaper can trace its history back to April 1943 when CFB Esquimalt's first newspaper was published. Since then, Lookout has grown into the award winning source for Pacific Navy News. Leading the way towards interactive social media reach, we are a community resource newspaper growing a world wide audience.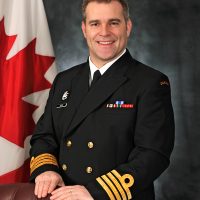 James Vassallo, Base Public Affairs ~ Coming from a small town in rural Saskatchewan with wheat fields below and a big sky above, a young Jason Boyd wanted to fly. "I wanted to be a fighter pilot as a kid," says Capt(N) Boyd, sheepishly acknowledging the impact the film "Top Gun" had on him while […]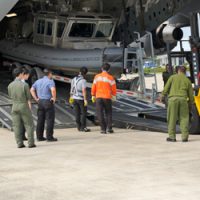 A Naval Security Team rigid hulled inflatable boat is offloaded from a Royal Canadian Air Force CC-177 Globemaster in Jinhae, South Korea, June 21.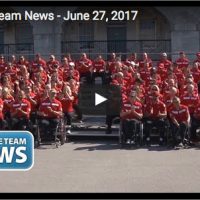 In this episode, we learn about the Royal Canadian Navy's industry days for its experimental ship project, drop in on the final Invictus Games training camp in Kingston, highlight Exercise TRADEWINDS 17, and recognize the accomplishments of the winners of the Celebrating Excellence Awards.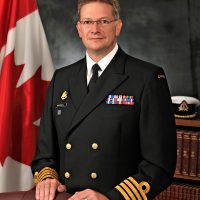 James Vassallo, Base Public Affairs ~ Early in his time as Base Commander, Commodore Steve Waddell, promoted to his current rank earlier this month, began to address the issues that landed in his sights. He made a plea to whomever was placing sharp objects on the ball fields around CFB Esquimalt to stop, and just […]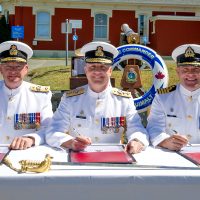 By Peter Mallett, Staff Writer ~ Last Thursday, with the summer sun in full bloom, Captain (Navy) Jason Boyd became the new Base Commander in a change of command ceremony brimming with warmth and fond farewells. First to the podium was Elmer George representing the Songhees Nation. He gave a special blessing that reaffirmed the […]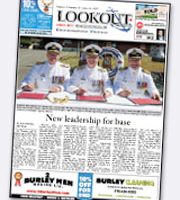 Click issue cover to download the PDF
Peter Mallett, Staff Writer ~ The opportunity for civilian employment within the Federal Government has become a reality for many post-secondary students looking for short or long-term public service jobs. Several of the Department of National Defence's new student hires are already at work at CFB Esquimalt and other military bases across the nation. Their […]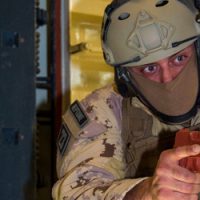 Team members of the Maritime Tactical Operations Group (MTOG) train in Close Quarter Battle scenarios aboard HMCS Winnipeg during Poseidon Cutlass, June 7.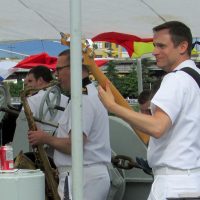 Peter Mallett, Staff Writer ~ Royal Canadian Navy (RCN) outreach efforts were in full bloom again last week with HMCS Brandon and HMCS Edmonton's participation in the Portland Rose Festival. The two Kingston-class Maritime Coastal Defence Vessels were moored at the Portland Seawall, June 7 to 12, as part of the Fleet Week segment of […]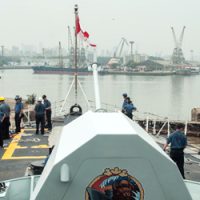 Crewmembers from HMCS Winnipeg put tension on a line tethered to US Navy Ship Wally Schirra for a refuelling at sea during Poseidon Cutlass, June 11.