Author Archive for Lookout
The Lookout Newspaper can trace its history back to April 1943 when CFB Esquimalt's first newspaper was published. Since then, Lookout has grown into the award winning source for Pacific Navy News. Leading the way towards interactive social media reach, we are a community resource newspaper growing a world wide audience.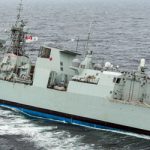 HMCS Fredericton hoists its Battle Ensign upon completion of an Anti-Ship Missile Defence Exercise , November 6, 2014.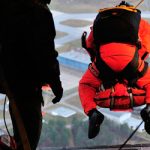 A Search and Rescue Technician from 413 Transport and Rescue Squadron jumps off a CC-130 Hercules aircraft over 14 Wing Greenwood.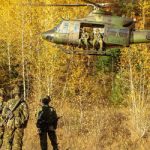 Reservists train for 2014 Canadian Patrol Concentration .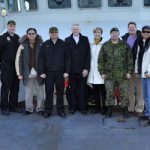 Vancouver community stakeholders onboard one of the Orcas during a day sail out of Vancouver on November 13th.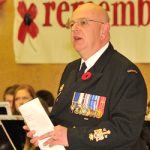 Formation CPO1 Mike Feltham addresses the students of Oak Bay High School at the school's Remembrance Assembly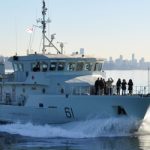 Guests onboard the Cougar wave enthusiastically as two Orcas leave Vancouver heading towards Howe Sound.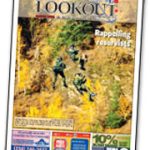 Download the PDF or view the E-reader version online. Download PDF Click here for E-reader online
A generous donation by a local business man has honoured two fallen soldiers and supported military families at the same time. Casey Edge, Executive Director of the Victoria Residential Builders Association, purchased a brick at "The Homecoming" memorial statue in Victoria's Inner Harbour, dedicating it to the memory Cpl Nathan Cirillo and WO Patrice Vincent. […]
Base implements new smoking policy As part of continual review of Base Standing Orders and in line with the MARPAC Health and Wellness Strategy, the new smoking policy (BSO 2-128) brings MARPAC into compliance with the Non-smokers Health Act.  As of Dec. 1, smoking is prohibited on DND property with the exception of designated smoking […]
Join the Naden Band of the Royal Canadian Navy (RCN) Dec. 15-17 at the Royal Theatre for some good old-fashioned holiday cheer during their Christmas Concert Series. The concert is an annual tradition for the Naden Band and one the musicians look forward to. This year they have prepared all new music, with several pieces […]