Author Archive for Lookout
The Lookout Newspaper can trace its history back to April 1943 when CFB Esquimalt's first newspaper was published. Since then, Lookout has grown into the award winning source for Pacific Navy News. Leading the way towards interactive social media reach, we are a community resource newspaper growing a world wide audience.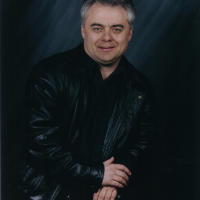 "I've thought about what happened at Dieppe for a long time," says Michael Moore, a Canadian songwriter, musician, and teacher based in Toronto. "The fact that 6,000 soldiers, when they were crossing, had no idea what was coming, and how the Germans were entrenched in the shore ahead of them. They didn't know what was […]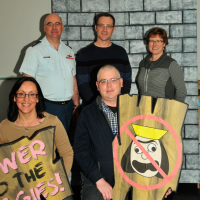 Shannon Delaney, a military spouse; Stephen Marinelli, a Warrant Officer; and Nancy Blais, an Ordinary Seaman, all understand the challenges experienced when facing a new posting. But all have found solace in the same organization not traditionally associated with the military – musical theatre. Delaney, WO Marinelli, and OS Blais are newcomers to Victoria who […]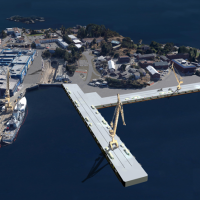 Plans are well advanced to transform the Dockyard waterfront at CFB Esquimalt into a modern site for ship berthing. Two projects are now beginning to move through the government's project approval process: replacing "A" and "B" jetties in Constance Cove, and removing contaminated sediment from the harbour seabed. When the design work and the necessary […]
Cadets undertake mandatory fitness testing in Vernon, British Columbia. These cadets are competing for one of five spots on the Canadian Armed Forces Basic Parachutist Course. Each year, only 49 cadets across Canada are selected. While they may not all be selected, these cadets are learning about goal-setting, teamwork, enhancing their physical fitness levels and […]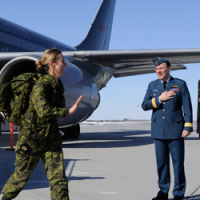 Lt. (N) Maynard disembarks from a CC-150 Polaris aircraft in Ottawa, after completing her mission in Sierra Leone for Operation SIRONA, as M.Gen  Joyce, DCOMP, CWO  Marchand, MP Command CWO, and B.Gen Bernier, Surgeon General execute a welcome Vulcan salute.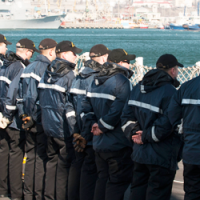 Her Majesty's Canadian Ship FREDERICTON departs Constanta, Romania to conduct exercises in the Black Sea with Standing NATO Maritime Group 2 during Operation REASSURANCE on March 16, 2015.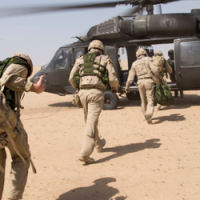 RCAF members of ATF-Iraq and several members of the coalition participate in the SHAMAL SERIALS, a combat search and rescue exercise held for personnel of the Middle East Stabilization Force, in a training area in Kuwait on March 16, 2015.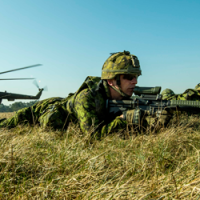 Members of 3rd Battalion, The Royal Canadian Regiment (3 RCR) practice cold load drills with the Polish military in Jaworze, Poland on March 17, 2015 as part of a partnership engagement.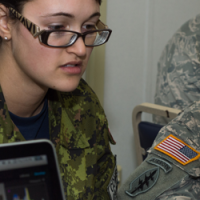 Aviator Desiree Thomas Bourdon from CF – Combat Camera & PFC (USA) Andrew Miller from US Combat Camera work together to process imagery after a day of capturing pictures during OP SKYFALL in Savannah, Georgia on March 19, 2015.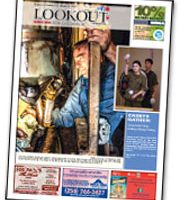 Download the PDF or view the E-reader version online.