Author Archive for Lookout
The Lookout Newspaper can trace its history back to April 1943 when CFB Esquimalt's first newspaper was published. Since then, Lookout has grown into the award winning source for Pacific Navy News. Leading the way towards interactive social media reach, we are a community resource newspaper growing a world wide audience.
Mark Baldin/Michael Simms, DRDC – ARC ~ In September and October of 2018, Sweden hosted research teams from Canada and Norway to conduct the second of three joint international trials of the Distributed Underwater Sensor Network (DUSN). The Swedish Defence Research Agency (FOI) and SAAB teams worked with the Canadian research team at DRDC – Atlantic Research Centre […]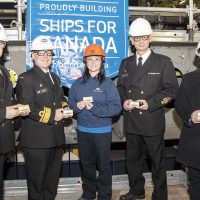 Ryan Melanson, Trident Newspaper ~ Construction has officially begun on the third of the Royal Canadian Navy's new Arctic and Offshore Patrol Ships (AOPS). A keel-laying ceremony on Dec. 6 at the Irving Shipbuilding Assembly Hall in Halifax marked the beginning of work on the future HMCS Max Bernays. The ship will follow the future HMC […]
Ryan Melanson, Trident Newspaper ~ New radar equipment, soon to be installed on Halifax-class frigates, will allow for better detection and faster response when dealing with incoming threats at sea, says RAdm Craig Baines, Commander Maritime Forces Atlantic and Joint Task Force Atlantic. The upgrade will add a new electronically-stabilized antenna set to the Sea Giraffe […]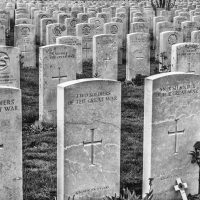 Peter Mallett, Staff Writer ~ A  Nova Scotia photographer who captured images of Europe's most famous battle sites wants her work to be a permanent reminder of the horrific human cost of war. Justine Macdonald, a self-described military brat, says the inspiration and vision for her newly released pictorial book Remembrance Road: A Canadian Photographer's Journey Through […]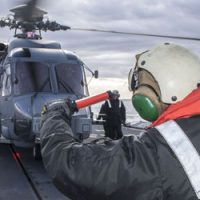 Members of HMCS Ville de Quebec's deck department receive Ship Without Air Detachment (SWOAD) training from the Helicopter Air Detachment while sailing in the Mediterranean Sea during Operation Reassurance Jan. 4.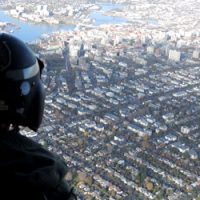 A view of downtown Victoria as seen from a Sea King Helicopter, Nov. 27. The helicopter has now officially retired from the Canadian Armed Forces.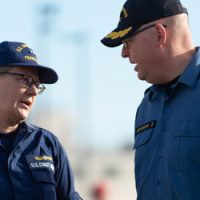 Vice Admiral Linda Fagan, U.S. Coast Guard Pacific Area Commander, and Rear-Admiral Bob Auchterlonie, Commander of Maritime Forces Pacific, chat during the unloading of seized narcotics on Dec. 7 in San Diego California during Op CARIBBE.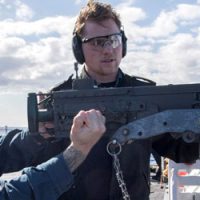 Leading Seaman Christopher Albin prepares to fire the .50 calibre machine gun during a weapons practice onboard HMCS Calgary during Operation Projection, in the Pacific Ocean Dec. 4, 2018.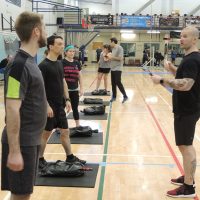 Peter Mallett, Staff Writer ~ A new rewards program is giving Canadian Armed Forces (CAF) members added incentive to do well on their mandatory fitness and operational readiness test. On Jan. 1 the FORCE Rewards Program was rolled out at military bases across Canada, enabling military personnel a chance to receive prizes and special recognition for […]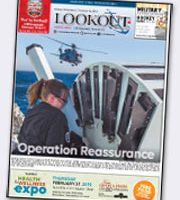 Click issue cover to download the PDF