Author Archive for Lookout
The Lookout Newspaper can trace its history back to April 1943 when CFB Esquimalt's first newspaper was published. Since then, Lookout has grown into the award winning source for Pacific Navy News. Leading the way towards interactive social media reach, we are a community resource newspaper growing a world wide audience.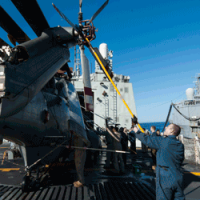 HMCS FREDERICTON's Air Det, washes the embarked CH-124 Sea King helicopter on the flight deck during a liquid replenishment at sea with French supply ship FS MARNE during Operation REASSURANCE , 2015.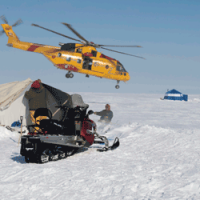 Canadian Rangers, Henry Lyall and Bruce Takolik hold down their tent as a CH-149 Cormorant helicopter takes off from the wreck site of Her Majesty's Ship (HMS) Erebus from the Sir John Franklin 1845 Arctic expedition.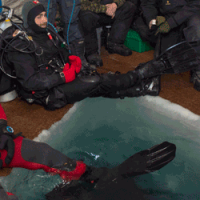 Parks Canada Thierry Boyer Underwater Archaeologist/photographer and FDU (Atlantic) Clearance Diver LS Caleb Hooper talk prior to the live feed that is being broadcasted to the Royal Ontario Museum from the wreck site of HMS Erebus.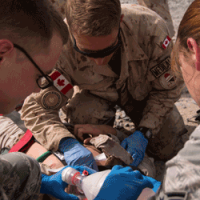 Members of Joint Task Force-Iraq (JTF-I) and coalition members from the United States Air Force (USAF) participate in Exercise Emergency Response during Operation IMPACT in Kuwait on April 14, 2015.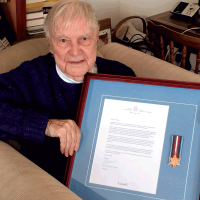 Naval war veteran Gerry Butler received an unexpected gift on his 90th birthday. Nearly 70 years after ending his wartime service he has been awarded the Arctic Star. A military honour unveiled by the Government of the United Kingdom in 2012, the Arctic Star is granted for operational service of any length north of the […]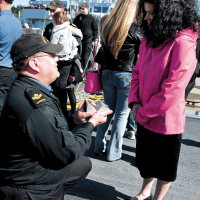 After a five week deployment on Operation Caribbe, in which HMCS Whitehorse and HMCS Nanaimo assisted in seizing a combined six metric tons of cocaine, the two ships arrived home last Wednesday to a crowd of cheering families and loved ones. The ships sailed past Duntze Head for the traditional salute while the Naden Band […]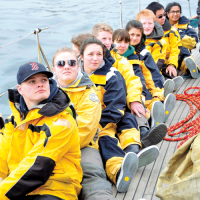 As part of HMCS Oriole's "Youth Adventure Challenge," 14 high school students from across Canada left their homes to come aboard and sail with the navy crew for five days. Students were selected through a competitive application process organized by the Canadian Student Leadership Association, which invited senior Leadership 11 and 12 students from secondary […]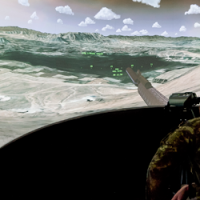 A member of 3 RCR calls artillery fire on a designated target in the simulator using one of the two Fire Support Training Simulators in the world during Exercise Summer Shield XII.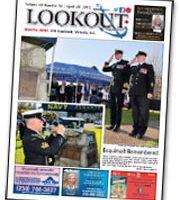 Download the PDF or view the E-reader version online. Click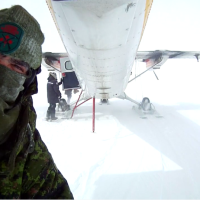 Canadian Rangers Arctic Training