Author Archive for Lookout
The Lookout Newspaper can trace its history back to April 1943 when CFB Esquimalt's first newspaper was published. Since then, Lookout has grown into the award winning source for Pacific Navy News. Leading the way towards interactive social media reach, we are a community resource newspaper growing a world wide audience.
Second Lieutenant Cameron Park,The Canadian Scottish Regiment (Princess Mary's) ~ Under a tall oak tree near a small white church in Comox, British Columbia, a tall pyramid of grey stone stands. The Sandwick Cairn rises from the ground to support a cross as a memorial to fallen Canadian soldiers. It has stood as a quiet […]
Crewmembers of HMCS Charlottetown prepare to come alongside in Aksat, Turkey during Operation Reassurance Nov. 19.
Peter Mallett, Staff Writer ~ Canada Company's mission to assist veterans in their transition to the civilian workforce has received a $1.1-million boost from the Government of Canada. Minister of Veterans Affairs Kent Hehr made the funding announcement on behalf of the Ministry of Employment, Workforce Development and Labour at the Canada Company's 2016 National […]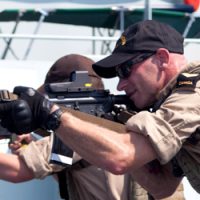 A crewmember from HMCS Charlottetown mans one of the ship's .50 calibre machine guns while entering Aksat, Turkey during Operation Reassurance Nov. 19.
Katelyn Moores, MARPAC PA Office ~ This year marks the 75th anniversary of the founding of the Royal New Zealand Navy (RNZN). The country organized a number of events throughout the year to mark this milestone and celebrate the service, commitment and sacrifice of the men and women who serve and have served in their […]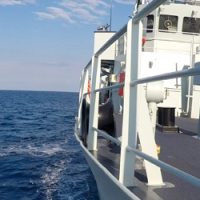 Crewmembers of HMCS Charlottetown receive a safety brief prior to commencing a live fire training serial during Operation Reassurance Nov. 18.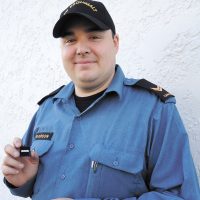 Peter Mallett, Staff Writer ~ A Supply Technician from Base Logistics' Return Stores is the recipient of a Commander Royal Canadian Navy (CRCN) Commendation for his life-saving revival of a man in downtown Victoria earlier this year. LS Christopher Pearson, 28, is set to accept the award in the near future. The award recognizes Canadian […]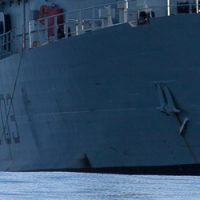 HMCS Edmonton prepares to launch its rigid-hulled inflatable boat during Operation Caribbe Nov. 23.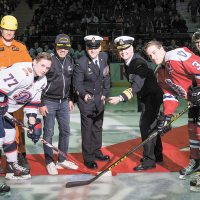 The Western Hockey League Major Junior Victoria Royals hockey team held their Canadian Armed Forces Appreciation Night on Nov. 19 at the Save-On-Foods Memorial Centre in a game against the Regina Pats. Special commemorative jerseys worn by the Royals during the game were auctioned off at the end to raise funds for the Poppy Fund, […]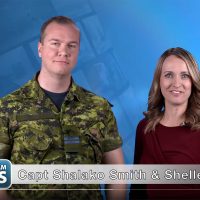 In this episode, we catch up with the Royal Canadian Air Force's Urban Search and Rescue team, hear how the Royal Military College of Canada is training in support of Operation HONOUR initiatives, cover the Halifax International Security Forum, and highlight the Quality Engineering Test Establishment team's 2015 Flight Safety Award.