Author Archive for Lookout
The Lookout Newspaper can trace its history back to April 1943 when CFB Esquimalt's first newspaper was published. Since then, Lookout has grown into the award winning source for Pacific Navy News. Leading the way towards interactive social media reach, we are a community resource newspaper growing a world wide audience.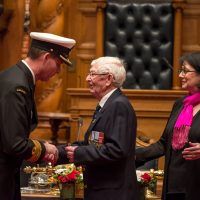 Peter Mallett, Staff Writer ~ Forty-seven years after HMCS Terra Nova completed an international peacekeeping mission in Vietnam, 25 members of the crew were officially honoured with medals. On Family Day, Lieutenant Governor Janet Austin presided over a ceremony at the Legislative Assembly of British Columbia, where the Special Service Medal with Peace Clasp and Canadian […]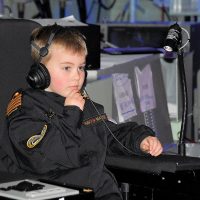 Peter Mallett, Staff Writer ~ Five-year-old Lucas Hill had something "really great" to tell his classmates at show and tell last week. That's because the St. Patrick's School Kindergarten student was an Honorary Base Commander for a day at CFB Esquimalt. He officially took the watch from Captain (Navy) Sam Sader on Friday, Feb. 14 and […]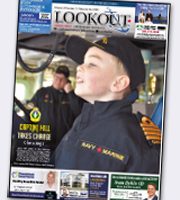 Click issue cover to download the PDF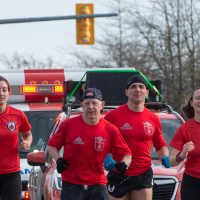 Peter Mallett, Staff Writer ~ The Wounded Warriors Canada fundraising account just went up by $85,000 after a team of eight runners ran from Sooke to Sidney on Feb. 9. The one day 60-kilometre training run introduced the public to the upcoming weeklong Wounded Warrior Run BC and to the mental health challenges faced by many […]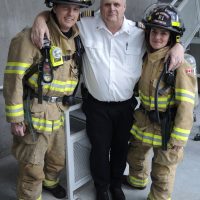 Peter Mallett, Staff Writer ~ Five base firefighters will strap on 50 pounds of protective firefighting gear and breathing apparatus Feb. 23 and embark on a 48-storey climb to the top of Sheraton Vancouver Wall Centre. Their efforts are part of the 19th annual Climb the Wall fundraiser for the BC Lung Association. "To be certain, […]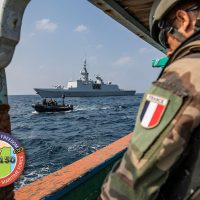 Lt(N) Tony Wright, CTF 150 Public Affairs Officer ~ The present rotation of Combined Task Force 150, led by Australia and supported by Canada and New Zealand, reached its halfway point Jan. 22, with a boastful 8,000 kilograms of narcotics seized. CTF 150, headquartered in the Kingdom of Bahrain, is one of three combined task forces […]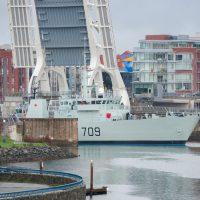 Peter Mallett, Staff Writer ~ Two Canadian Forces Auxiliary Vessels, tugs Glendale and Parksville, nudged and pulled HMCS Saskatoon from Point Hope Shipyard to Y Jetty in Esquimalt harbour last week, indicating the end of the Maritime Coastal Defence Vessel's six-month maintenance period. While only a six-kilometre distance, it took over two hours to get the warship […]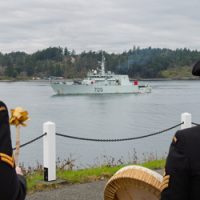 The Naden band performs a ceremonial drum song for HMCS Whitehorse as she departs for Operation Caribbe, at Duntze Head, CFB Esquimalt Feb. 10.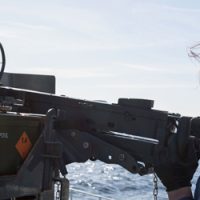 Operation Caribbe is the Canadian Armed Forces contribution to the elimination of illegal trafficking in the Caribbean Sea and the eastern Pacific Ocean by organized crime. HMCS Nanaimo and HMCS Whitehorse departed on the operation Feb. 10.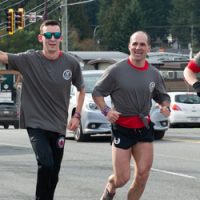 Mark Blachuras, Steve Deschamps, and Alan Kobayashi participate in Wounded Warrior Run BC training run on Jacklin Road in Langford on Feb. 9.