All Entries Tagged With: "cape breton"
Ashley Evans, Strategic Communications Officer, FMF CB/CS — A small Fleet Maintenance Facility Cape Breton (FMF CB) team climbed aboard the Swartz Bay Ferry on Feb. 5 to share the story and purpose of FMF at HMCS Discovery. Ryan Solomon, Group Manager 5 at FMF CB, said the event was a great success. "Some of our displays […]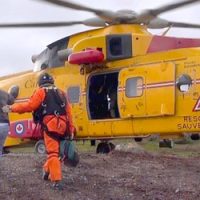 A Cormorant helicopter and Search and Rescue Technicians from 413 Squadron, rescued an injured man from an Island in Cape Breton, Nova Scotia on Oct. 28.