All Entries Tagged With: "GUN CAMP 2015"
A sniper from the Royal 22nd Regiment makes his way to shore after jumping from a CH-146 Griffon Helicopter during Exercise Gun Camp, 2015.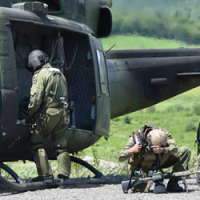 Snipers conduct pre-flight checks on their equipment prior to launch. From 12 to 26 June 2015, the snipers of 5 Canadian Mechanized Group (5 CMBG), accompanied by members of provincial and municipal police services participate in GUN CAMP 2015.