All Entries Tagged With: "Parks Canada"
Peter Mallett Staff Writer — Two navy veterans have been inducted into Parks Canada's Hometown Heroes program. On June 4, the Minister responsible for Parks Canada, Steven Guilbeault, paid tribute to Captain (Navy) (Retired) William H. Wilson and the late Paris K. Sahlen during a Hometown Heroes induction ceremony at The Military Museums in Calgary. Vice-Admiral […]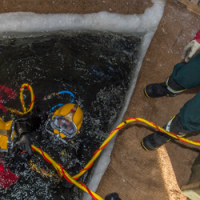 Members of Parks Canada secure the umbilical line for Fleet Diving Unit (Atlantic) and Parks Canada divers at the Quebec City, Quebec Old Port during an Ice Dive Exercise on March 3, 2015.