All Entries Tagged With: "team canada"
Peter Mallett, Staff Writer — Lacing up her roller skates and putting on a Team Canada jersey is a huge deal to Naomi Morrell. The 16-year-old is preparing to represent Canada at the 2023 Roller Derby Junior World Cup in France this July. "The idea of representing Canada hasn't quite set in yet, it feels too big […]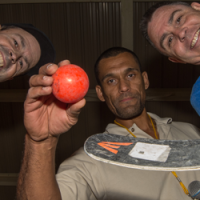 CDS, General Tom Lawson faces off against Brigadier-General, Dan Constable, Commander of Task Force-Iraq during a friendly ball hockey game as part of the Team Canada 2015 Tour on January 23, 2015.