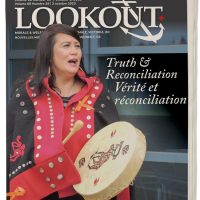 In this week's edition of #LookoutNavyNews: NDWCC kickoff is a flipping success, HMCS Malahat exercises Freedom of the City, Career goals of former Raven take flight, RCN Digital Leadership, Terry Fox Run HMCS Ottawa. Read the full edition here: https://bit.ly/3F2FDfr
Dans l'édition de cette semaine de #LookoutNavyNews : Le coup d'envoi du CNDW est un franc succès, le NCSM Malahat exerce le droit de cité, les objectifs de carrière de l'ancien Raven prennent leur envol, le leadership numérique de la MRC, Terry Fox fait courir le NCSM Ottawa. Lisez l'édition complète ici : https://bit.ly/3F2FDfr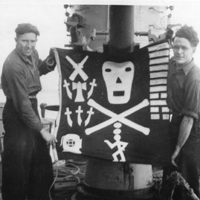 Joli rouge" : c'est ainsi que les Français désignaient le drapeau que les pirates brandissaient lorsqu'ils ne voulaient pas faire de prisonniers. Le drapeau rouge uni a été remanié à plusieurs reprises au cours du XVIIIe siècle, jusqu'à ce qu'il devienne le standard que nous connaissons aujourd'hui sous le nom anglicisé de "Jolly Roger".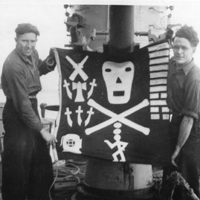 Few know the longstanding link between the submarine community and the Jolly Roger. As with most Royal Canadian Navy traditions, this one traces its origin to the British, more precisely, to comments made by the First Sea Lord, Admiral Sir Arthur Wilson. He referred to the advent of submarine warfare as 'underhanded, unfair, and damned un-English' and argued that enemy submariners should be hanged as pirates upon capture.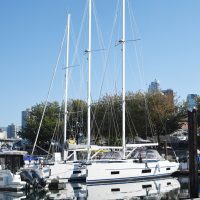 "Nous savions depuis un certain temps que les nouveaux bateaux allaient arriver, mais maintenant qu'ils sont gréés à Vancouver, ils ne sont plus seulement une idée : ils sont devenus quelque chose de tangible ", a déclaré le Lieutenant de vaisseau (Ltv) Ellery Down, responsable du programme de voile de la MRC. Ellery Down, coordonnateur du programme de voile de la MRC, lors d'une récente inspection des deux voiliers Bavaria C45, qui n'ont pas encore été baptisés, dans les locaux d'un entrepreneur sur l'île Granville.