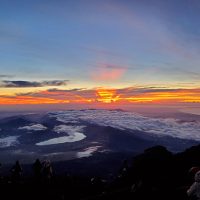 'Once in a blue moon' is an expression that rarely coincides with a once-in-a-lifetime opportunity and an actual blue moon. In this case, a lucky few of His Majesty's Canadian Ships (HMCS) Ottawa and Vancouver's crew  climbed Mount Fuji's summit during August's second full moon: coincidentally, a 'super blue moon'.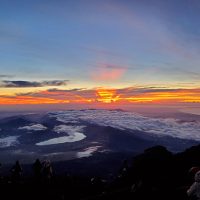 Une fois dans une lune bleue " est une expression qui coïncide rarement avec une occasion unique et une véritable lune bleue. Dans le cas présent, quelques membres chanceux de l'équipage des navires canadiens de Sa Majesté (NCSM) Ottawa et Vancouver ont escaladé le sommet du mont Fuji au cours de la deuxième pleine lune du mois d'août, une " super lune bleue " par coïncidence.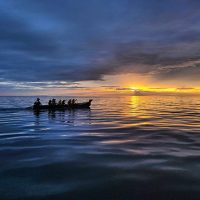 Le canoë de 30 pieds de la nation T'Sou-ke, le Elder Spirit, a été sculpté à la main par le regretté maître sculpteur Fred Peter il y a plusieurs années. Usé et fissuré, il a consciencieusement transporté une équipe de 18 pagayeurs jusqu'à leur destination finale lors de la Tribal Journey de cette année.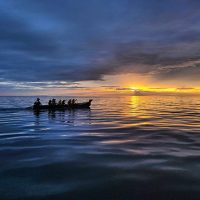 Tribal Journey began in 1989 and has a different destination and host community each year. This year's Canoe Journey 2023: Paddle to Muckleshoot event spanned 18 days from July 21 to Aug. 7. It involved approximately 10,000 paddlers along with hundreds of canoes and support staff from 65 First Nations Communities across B.C. and Washington. Indigenous paddling teams from as far as Hawaii and New Zealand also travelled to the Pacific Northwest to participate.