All Entries Tagged With: "MUSAR"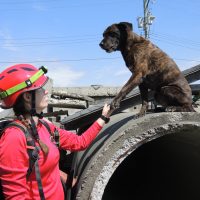 A team of internationally certified rescue dog handlers has completed their first training exercise with the Canadian Armed Forces (CAF).
Wearing safety equipment, six members of CFB Esquimalt's Medium Urban Search and Rescue (MUSAR) team train for a search and rescue operation in a make-believe disaster scenario.
Avec un arsenal d'outils en main, y compris des scies à métaux et des coupe-fer à béton, les sauveteurs creusent pour trouver des survivants coincés sous un immeuble de bureaux aplati, maintenant réduit à un amas de maçonnerie, de tuyaux et de barres d'armature.