By Lookout on Aug 17, 2020 with Comments 0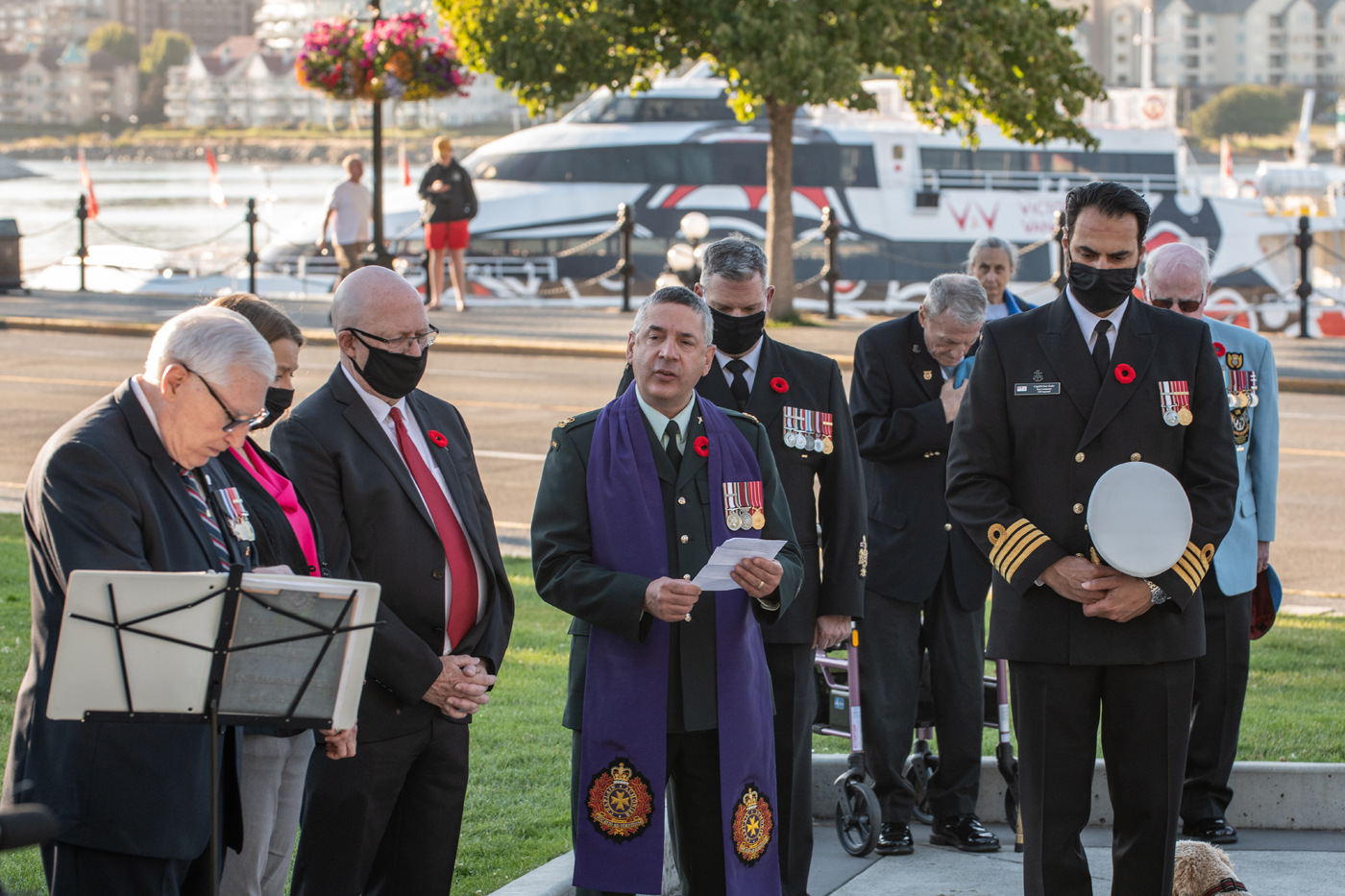 Peter Mallett, Staff Writer ~
Veterans and currently serving military members gathered Sunday Aug. 9 at the B.C. Legislature cenotaph to mark National Peacekeepers' Day.
A flyover by a CC-115 Buffalo plane from CFB Comox added a poignant moment for the men and women in blue berets. In 1974, nine Canadian peacekeepers aboard a Buffalo transport plane were shot down by Syrian missiles during operations supporting the United Nations mission in the Golan Heights. 
"It was an important day of healing and recognition for so many veterans and current-serving military members in attendance and the Buffalo flyover was just a fantastic moment for everyone who attended," said Jim MacMillan-Murphy, 63, founder of the Canadian Peacekeeping Veteran's Association and president of its B.C. Chapter. "It was the first time it had ever made an appearance at our ceremony."
National Peacekeepers' Day was established in 2008. It is a sombre memorial for the 130 Canadians killed in the line of duty in the past 75 years. 
MacMillan-Murphy served five decades ago with Princess Patricia's Canadian Light Infantry (PPCLI) as part of Canada's United Nations Peace Keeping mission in Cyprus in the mid 1970s. He was also involved in the Golan Heights conflict between Syria and Israel in 1980.
As a transport sergeant, it was often his responsibility to collect the personal effects of deceased service members and inform their loved ones of their deaths.
He remembers the Buffalo tragedy vividly and every Aug. 9 he cries when thinking back to that day and the many others that claimed the lives of Canadian Armed Forces members. 
"We had been injected into terrible situations to put our bodies on the line against warring factions with the intent to do something good for the world and that is why we wear the blue berets with pride," said MacMillan-Murphy.
The proceedings on the legislature grounds were led by former Canadian Citizenship Judge Gerry Pash, emcee for the event. Attendees included Base Commander, Capt(N) Sam Sader, Esquimalt-Saanich-Sooke MP Randall Garrison, and Esquimalt Metchosin MLA Mitzy Dean.
"We were so happy to have such proactive leadership from CFB Esquimalt and its members, it means so much to me and everyone who attended," said MacMillan-Murphy. 
Also in attendance were two silver cross recipients, Sheila Fynes and Lynn Hagen and their husbands. Fynes is the mother of Cpl Stuart Langridge, who committed suicide at CFB Edmonton in 2008 after serving in the war in Afghanistan. Hagen is the mother of Captain Kevin Hagen, one of five Canadian Armed Forces members who died earlier this year when the CH-148 Cyclone helicopter they were riding in crashed into the Ionian Sea off the coast of Greece.
"Being able to support both families was huge for us," said MacMillan-Murphy. "I could clearly see that by the end of the ceremony the Fynes had made a huge impact on the Hagen's family, who by that time felt comfortable to mix and intermingle with everyone in the crowd because they knew they fit in."
The act of Remembrance was recited by two former service men who were in theatre when the 1974 United Nations Flight 51 was destroyed.  Retired Lieutenant Colonel Paul Paone, who loaded the aircraft on the fateful day and later was part of the recovery team, and retired Chief Petty Officer Second Class Chris Preston who received the first report of the tragedy at UN Headquarters in Ismailia.
Commemorative events were also observed in major cities across the country including Ottawa. In an Aug. 9 statement Minister of National Defence Harjit S. Sajjan acknowledged the sacrifices made by Canadian service members, RCMP, and civilians over the years. 
"Their bravery continues to be reflected in the selfless work of peacekeepers around the world," said Minister Sajjan. "We remain steadfast in our pledge to advance and support global peace and security in the face of evolving challenges."
CAF members continue to assist in peacekeeping missions around the world with operations ongoing in South Sudan, Uganda, Democratic Republic of Congo, Cyprus, the Middle East and Mali and other countries.
For more information about National Peacekeepers' Day visit the webpage: www.veterans.gc.ca/eng/remembrance/history/canadian-armed-forces/peacekeeping
––––
Filed Under: Top Stories
Comments (0)