By Lookout on Jun 14, 2019 with Comments 0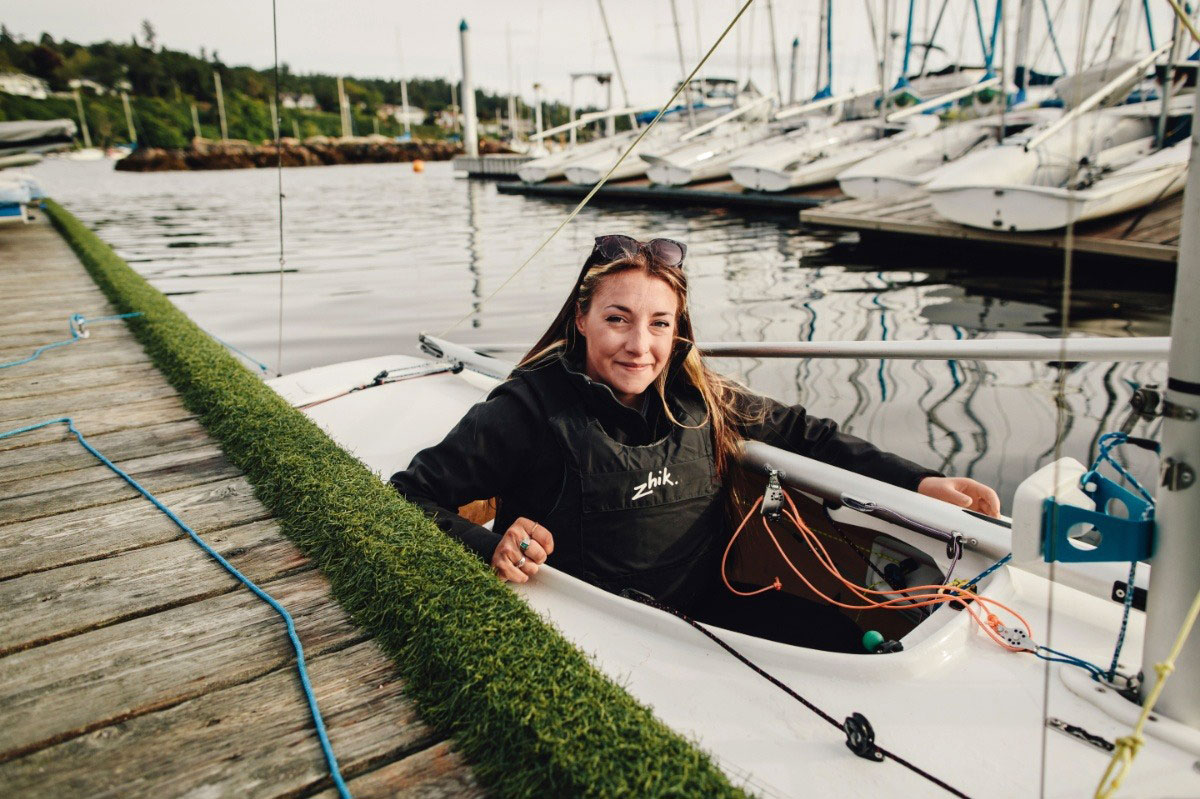 SLt M.X. Déry, MARPAC Public Affairs Office ~
Delani Hulme-Lawrence is a 24-year-old miniature keel-boat sailor and amputee who has been sailing since she was four years old.
She joined the sea cadets at RCSCC Arrowhead in St. Paul, Alta, as a teenager and once she aged out has continued to work with cadets as a coach while working at the Royal Victoria Yacht Club.
"When everyone close to you sails, like my fellow sea cadets, my father and my siblings, being on the water feels like home," said Delani.
She has been competing in para-regattas for a decade, having represented both Team Alberta and Team British Columbia at the Canada Summer Games, and now is looking to represent Canada at the Para World Sailing Championship in Spain this July.
While in Victoria Delani uses a 2.4mR sail boat provided through the Clagett Boat Grant Program, but the boat with its highly specialized rigging for use by a para-sailor won't fit in her carry-on to Spain, thus requiring funding to charter a vessel for the competition.
Delani started a GoFundMe campaign for $20,000 called Life over Limb Performance Sailing and it has raised $5,000 to date, leaving a large gap to fill before July.
"Without the support of my coach, family, friends, and the community none of this would be possible," said Delani. "I am eternally grateful for all of the support and encouragement I am given."
To help get Delani to the Para World Sailing Championship consider a donation to her GoFundMe campaign: www.gofundme.com/lifeoverlimbsailing
Delani's Achievements include:
Para World Sailing Championship 2018, Sheboygan USA – 4th Place Female

2.4mR US Para Sailing Championship 2018, Newport RI – 1st Place Female

2.4mR US Para Sailing Championship 2018, Newport RI – Larry Gadsby Trophy for Most Improved

Frozen Assets 2018, Victoria BC – 2nd Place

Spring Dinghies 2018, Victoria BC – 3rd Place

Canada Summer Games 2017, Winnipeg MB – 2nd Place Female
Filed Under: Top Stories
About the Author: The Lookout Newspaper can trace its history back to April 1943 when CFB Esquimalt's first newspaper was published. Since then, Lookout has grown into the award winning source for Pacific Navy News. Leading the way towards interactive social media reach, we are a community resource newspaper growing a world wide audience.