By Lookout on Jun 28, 2016 with Comments 0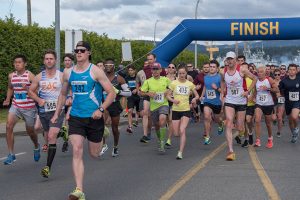 The 10th Annual Navy Run, Sunday June 19, had over 700 participants including close to 120 members from the community and 68 children in the Kid's Fun Run.
Also participating this year were:
• Able Seaman Stan Jones, 92 years of age, who is one of our recognized and surviving veterans.
• John Edwards whose father PO Jack Edwards was a survivor of the HMCS Athabaskan.
• Jim Silvester who was our oldest participant and 93 years of age took part in the 5K event.
Thank you to our staff team, volunteers and sponsors: Ocean98.5/Kiss FM, SISIP, Muscle Mlk Absolute Therapy, Watch It, New Balance Victoria, Milestones, Sharkzcoins, Seaspan Victoria Shipyards, Babcock Canada and Lookout.
Filed Under: Top Stories
Comments (0)