By Lookout on May 19, 2021 with Comments 0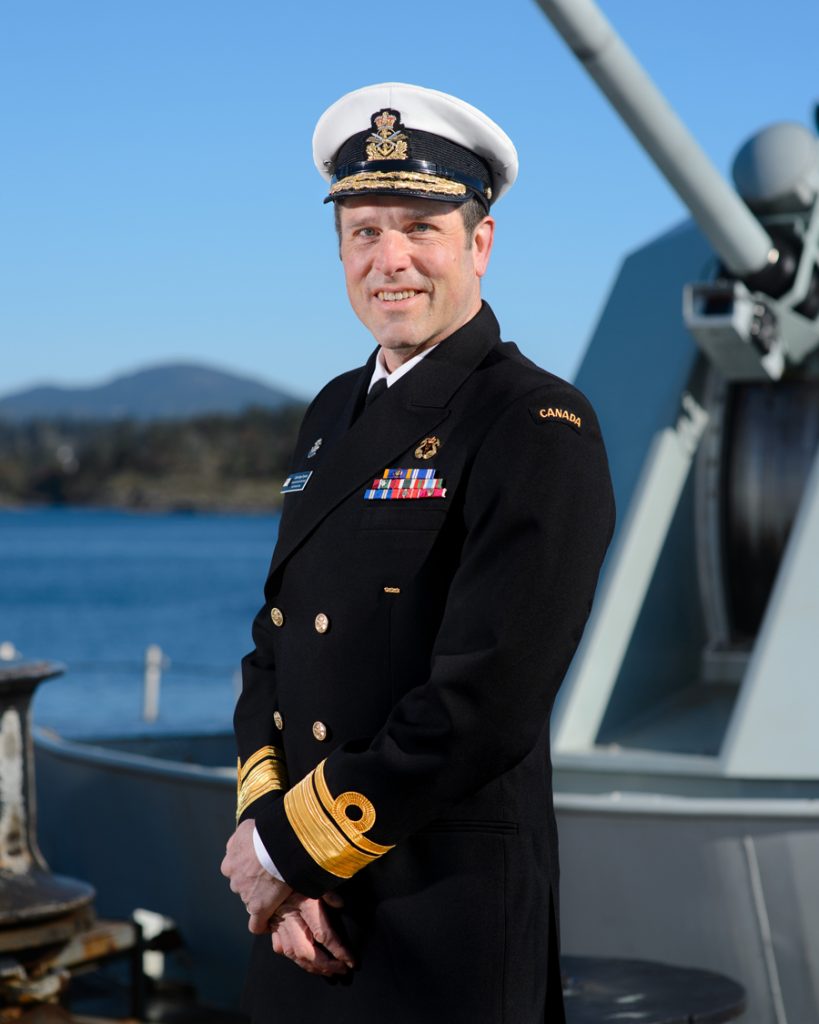 S1 Charmaine Davison-Peer
––
Before taking Command of Maritime Forces Pacific last Friday, May 14, Rear-Admiral Angus Topshee reflected on the highs and lows of his 30-plus year career and how it was leading the Pacific Fleet amid a Global Pandemic.
Before his promotion to Rear-Admiral, then Commodore Angus Topshee sat at his sprawling desk at the Canadian Fleet Pacific Headquarters surrounded by memorabilia from his three-decade naval career.
He recounted his career with wit and honesty, bypassing the pat answers given by most.
Joining the Canadian Armed Forces in 1990 satisfied an itch to attend the Royal Military College of Canada (RMC), he said.
"I got it in my head that I wanted to go to RMC, not sure where I got that idea from. My parents were not particularly enthusiastic about me joining the military until they learned that RMC paid for your education and gave you a salary on top of it."
He joined as a pilot in the Air Force, but after 17 hours flying time in a Beechcraft Musketeer in his first summer of training, he was turned down. The suggestion, perhaps he should try something else.
That something else was a Training Development Officer at the height of the Force Reduction Program. To develop training, he says, he needed to experience training.
Army training in Gagetown was not available, so he was sent to Victoria to learn what MARS II (Naval Warfare Officer) training entailed.
"Next thing I know I am still in an Air Force uniform because I am an Air Force Training Development Officer and I show up to do MARS II, which confuses everybody, not least of which was the Commandant of the school who tore a strip off of my course training officer for not having me in the right uniform."
Navy training went well, so the young Topshee took a voluntary occupational transfer.
"On my third try, I got my third choice. It's worked out fairly well," he said, even though his heart was set on being a pilot.
"Not everything is going to happen, and when it comes down to aptitude, you either have it or you don't. You can get upset about it, but you can learn from it."
In 1997, he joined his first ship, HMCS Winnipeg.
It was an incredibly formative experience, he said. He learned what a commanding officer is supposed to be, and to this day he is still shaped by that first Commanding Officer, Cdr Dave Hudock.
"I joined on a Thursday in February of 1997. We sailed for a NATO deployment the following Tuesday and we were gone for six months."
About six ships made up the NATO Task Force. To hone their skills, ship's crews did boarding exercises off the Strait of Gibraltar. NATO hired four merchant ships for them to find. The buzz of activity was all new to Topshee.
"I remember we were on the bridge as the second officer of the watch had us charging the wrong way up the traffic lanes at 25 knots, shining the xenon death ray at different ships and hailing them asking if they were our boats."
As a new sailor, he thought this was normal; it was not until he sailed in Winnipeg for a routine Task Group exercise after the deployment that he discovered it was not.
In 2003, he experienced the worst possible warship scenario while serving in HMCS Ottawa – a major engine fire.
The ship's emergency pipe woke him up. Thinking it was a planned man overboard exercise that had been piped incorrectly, he stormed on to the bridge.
"I put the headset on and the first report that came in was the Engineering Officer, calmest person in the world, and he simply said, 'Command HQ1 we have a major fire in the forward engine room, fitted system has been activated to no effect. Fire is out of control. I have two casualties in the MCR…', And I'm like okay, so this is not a man overboard. I should really not be mad at the XO anymore."
He chuckled while he reminisced about those early formative years in his career. But he became solemn when asked about the hard times.
Losing a member of his crew in 2006 when he was executive officer in HMCS St. John's, he said.
"Losing a sailor as a member of the command team is one of the hardest things I experienced in my career. That's just not something you ever want to go through." 
Silence ensued as he considered the weight of that moment, and then he turned the page to a highlight – 2007 in HMCS Toronto.   
While Executive Officer on deployment, the ship rescued a Yemeni soldier struggling in the water. After they got him aboard, they learned he had spent more than 20 hours swimming, trying to avoid the eruption of a volcano on a nearby island where the Yemeni military was stationed.
From there, he bounced from posting to posting enhancing his skills and knowledge: Special Project Officer at NDHQ; Chief of the Maritime Staff Directorate of Maritime Strategy; Commanding Officer of HMCS Algonquin; partook in Joint Task Force Afghanistan as Director of Afghan National Police Training Operations for NATO; and Base Commander of CFB Halifax. After which he served in NORAD-NORTHCOM Deputy Director Strategy, Policy and Plans in Colorado Springs in 2016, and in 2018 as the Commander Canadian Fleet Pacific.
When asked how it had been leading an entire fleet during a pandemic, he recounted the beginning, in which he and the Admiral put the fleet to sea for 50 days. He spent a lot of time trying to figure out when it would be safe to bring people back alongside, as people just wanted to be with their families.
The two senior leaders talked about what "People First, Mission Always" really means, and how to find the balance between the two.
"We looked at what happened on the Theodore Roosevelt, and what happened on USS Kid where the coronavirus got on board and it had a real impact on that ship's company. We were worried about COVID-19 getting onto a ship."
"I can't simply say, you know what, the navy isn't in business anymore because of a pandemic. We still have a role; we still must be out there. We still have a mission to protect Canada, to generate forces, and to serve Canadian interests overseas."
Those who work closest to the Commodore, describe him as an empathetic and dynamic leader with a remarkable ability to empower his subordinate commanders.
"He is an extremely proud, joyful, energetic man who works tirelessly and sets the example for others," says Chief Petty Officer First Class Sylvain Jaquemot, who has since retired. "He is very well informed, researched, and his knowledge is always factual and truly inspiring. His calm demeanor and sense of humor are re-assuring to others, even through difficult times."
All of this will serve him well in his next position as Commander of Maritime Forces Pacific.
––––
Filed Under: Top Stories
Comments (0)