By Lookout on Apr 07, 2014 with Comments 0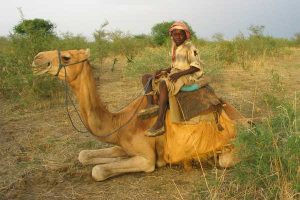 Lt(N) Jim Parker and his partner, Dr. Heather Cairns, have created a photographic experience of Africa, one they invite you to embark on.
The couple recently produced Children of Africa. A photographic journey, an 80-page soft cover book documenting their many travels through the continent.
They say their point-and-shoot photographic approach provides a raw and emotional experience for their audience, as opposed to a professional photo approach that can diminish the candidness of the shot.
"It is not a flip-through book," the authors state at the start of the book. "This story requires your involvement…If you allow yourself to be drawn into these photographs and all that they represent, you will experience the book in the way we had hoped."
The book tells two stories, that of the authors' journey through many of Africa's 54 countries, and that of its people.
Fittingly, the forward is by Mende Nazer, a Sudanese author, human rights activist, and slavery survivor. At age 12 she was abducted by slave traders and bought by a wealthy family in Khartoum. She lived as a slave for eight years before escaping, and eventually getting British citizenship. This enabled her to travel back to her home in the Nuba Mountains.  
In her honour, an international charitable organization was formed – the Mende Nazer Foundation, which works with communities to construct primary schools, wells and water purification systems in the impoverished and war-torn Nuba Mountain region of Sudan.
In the forward, she tells the story of her "hardscrabble life."
A portion of the book profits will be donated to the Mende Nazer Foundation.  
The genesis of the book started in 2008 when Lt(N) Parker took a sabbatical from teaching at a private school in Victoria, and deployed to Africa as a military observer with the United Nations.
"Going to Africa on a military mission was the first time I stepped foot on the continent, and I am so grateful for that experience. I fell in love with the people, culture and the land," he says. "I was able to leave – for the most part – my 'Canadian-ness' in Canada, and this made my deployment to Sudan, so much better, as I had few  preconceived notions. These people are incredibly hardworking and filled with joy, as evidenced by their huge smiles."
As he gazed upon the landscape and the faces of Africans, he had an urge to document his journey. He took his camera everywhere he went.
"I knew then I wanted to share these photos to tell their story, I just didn't imagine it would be in a published book."
In the years following his deployment, he and Heather returned to the African continent several times, to further explore the people, culture and landscape.
Upon returning home to Canada from their most recent trip last year, the two decided to organize an overflowing amount of photographs that showcased their several years of African travels. When laid out before them, they saw a theme fall into place.
"The book really composed itself. I had no intention of creating this book until I saw that our photos were, for the most part, of children," Lt(N) Parker says.  
The book offers a look at an impoverished people, in particular children, who none-the-less thrive with joy and smiles as they move about their lives.
"African children have such amazing stories, and the photos display this through their actions. We saw children as young as eight parenting and caring for their younger siblings. Every child has chores, work or responsibilities to contribute to family survival," says the naval reservist.
The book's cover is a testament to this, with a young child carrying her sibling in a sling on her back, his tiny face peaking over her shoulder.
Lt(N) Parker thanks his  team of editors, publishers and supportive contributors for making the book possible. His book is now available on Amazon and Abe Books and can be linked via his website www.commondawg.com.
"I urge readers to not just read the book, but experience it!"
-Kara Tibbel, Staff Writer
Filed Under: Top Stories
Comments (0)