By Lookout Production on Sep 05, 2023 with Comments 0
Les Services de bien-être et de moral des Forces canadiennes (SBMFC) ont organisé leur tout premier festival de musique et d'arts Anchors Away le week-end dernier au stade Starlight à Langford, réunissant les communautés locales et de la Défense pour une journée de divertissement pour tous les âges.
La musique Naden a ouvert le festival pendant que les familles s'adonnaient à des activités telles que l'art du ballon, le château gonflable, des stations d'art et d'artisanat, des camions de nourriture, de la peinture faciale, et bien plus encore. M. Mojo et son groupe de magie se sont produits devant les premiers spectateurs, incitant les enfants à se lever et à danser. Passion Performance Inc. a ensuite réuni un groupe de danseurs énergiques et talentueux, qui ont enthousiasmé la foule avec leurs chorégraphies, leur musique des décennies précédentes et leurs grands sourires.
"Cet événement a été une excellente occasion d'offrir à la communauté de la Défense un événement artistique et musical estival complet et ouvert à tous les âges", a déclaré Christine Farrington, coordonnatrice des événements spéciaux de CFMWS.
Kendall Gender, Vivian Vanderpuss et leurs amis ont ensuite donné un spectacle de travestis amusant et familial, dansant sur les grands succès du moment et dialoguant avec le public. Des membres de la foule se sont même joints à eux pour le Lip-synch for your life, un classique de RuPaul's Drag Race.
Les talents musicaux du festival se sont poursuivis avec une incroyable performance du groupe de hip-hop soul funky The New Groovement, suivie d'une prestation très énergique et dansante du groupe de danse hard-rock The Fabulous B Sides.
Au crépuscule, la tête d'affiche Yukon Blonde, originaire de Colombie-Britannique, est montée sur scène pour un spectacle intime, partageant sa nouvelle musique avec la foule et terminant par le morceau préféré des fans, I wanna be your man, qui a fait courir les spectateurs vers la scène pour danser une dernière fois.
Cet événement n'aurait pas été possible sans les généreuses contributions des sponsors de l'événement : Seaspan, Babcock Canada, la ville de Langford et The Zone.
Un grand merci à tous les participants, aux vendeurs et à toutes les unités qui ont soutenu cet événement :
NPTG – PCC
NCSM Calgary
NCSM YellowKnife
NCSM Brandon
NCSM Nonsuch
NFS (P)
NDTC (P)
BLog
TEME
RP Ops
Les 443
Les ancres sont là !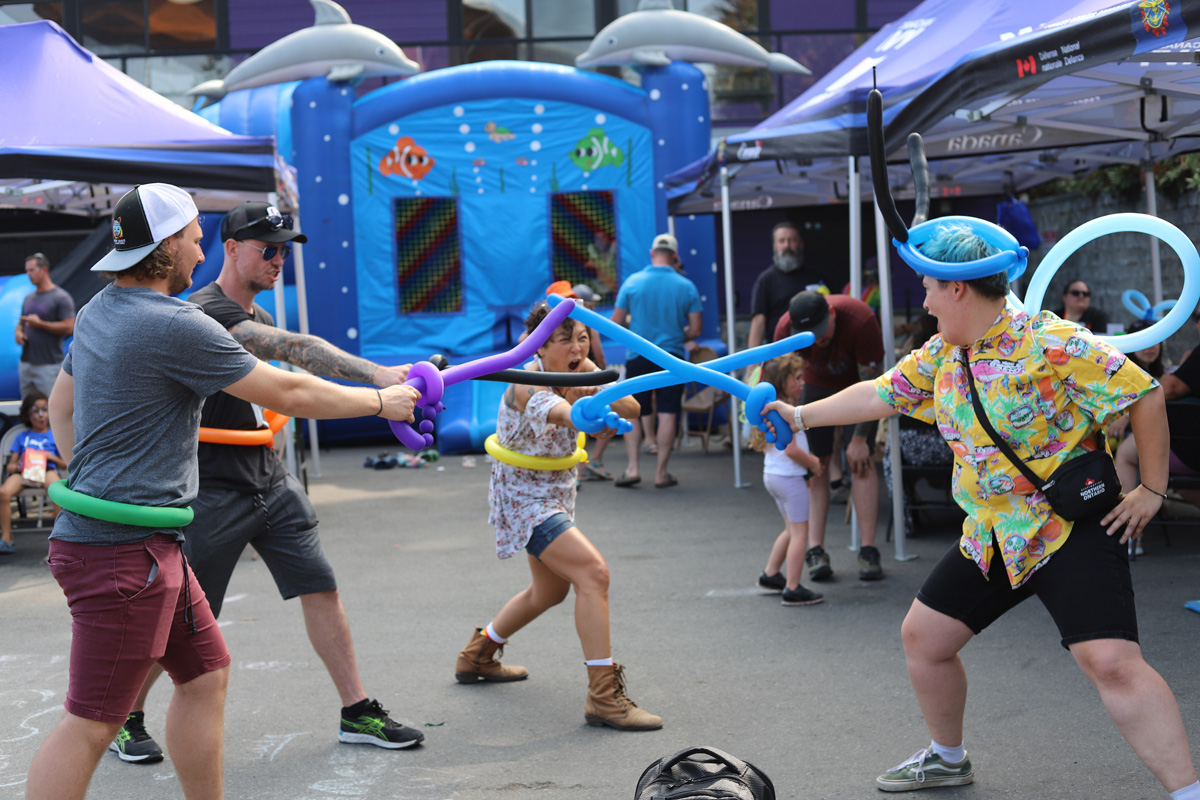 Filed Under: Events
Comments (0)