By Lookout Production on Aug 24, 2022 with Comments 0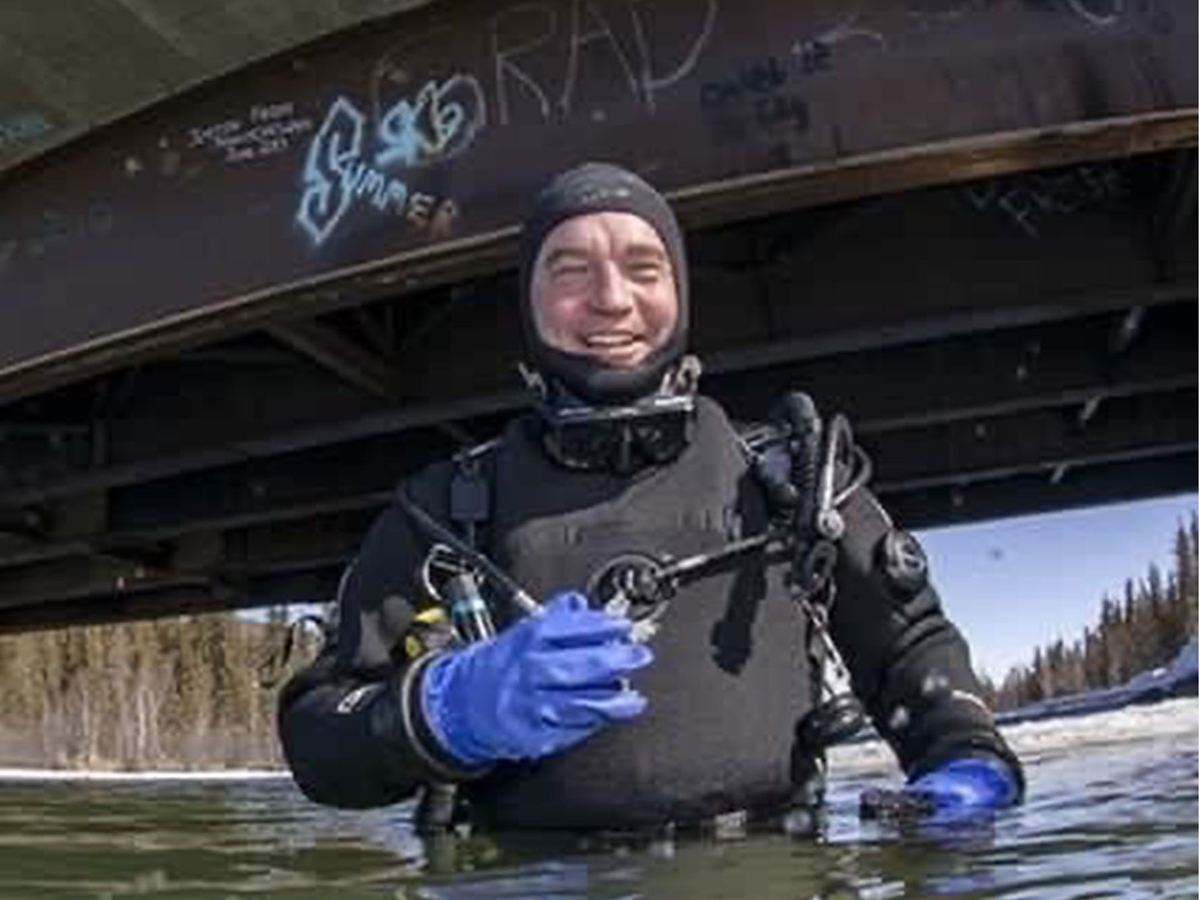 Alice Twa, 
JTFN Public Affairs Support
—
A quartz vein with gold in it, an oil seep, a 40-foot trawler, and a microphone are just some of many incredible finds  Captain (Capt) Jeremy MacDonald  made during his scuba diving adventures.
Famous in HMCS Yellowknife for finding lost items in lakes and rivers surrounding the community and returning them to their rightful owners, Capt MacDonald has made scuba diving more than just a hobby.
"It's always interesting to talk to people and find out what happened, how'd it happen, is there a story? Being that 'middle man' to solve those issues is quite fun," he said.
Capt MacDonald is the Executive Assistant to the Commander at Joint Task Force (North).
Initially hoping to join the Canadian Armed Forces in 1994 as a Navy Reserve Clearance Diver for the HMCS Brunswicker, he left the recruiting office enlisted in the Canadian Army as an Armoured Officer.
"My great-grandfather was in the First World War, my grandfathers were in the Second World War; I've had all kinds of uncles and cousins and relatives who've been in the Army, Navy, and Air Force throughout the years; my son is in the military now. So, it's a family tradition of service," said Capt MacDonald.
Joining the Army didn't stop Capt MacDonald from learning how to scuba dive. While waiting for French training in St. Jean, Que., he and a few friends got their Professional Association of Diving Instructors Open Water Diver Certification. Capt MacDonald earned his Advanced Open Water Diver Certification in 1999.
For a while, diving remained a side hobby for Capt MacDonald, and it wasn't until 2014 that he started to become more passionate about the sport.
"I would go scuba diving with friends in the Saint John River and we would find stuff. It'd be fun to track down their owners," said Capt MacDonald. "That got me hooked on finding things and finding the story about how those things came to be in the water. It just kind of morphed from there."
Another big aspect of his diving is doing underwater clean-ups to pull out 10,000 pounds of trash every year.
Scuba and the community of Yellowknife both hold unique places in Capt Macdonald's life.
"I've set up a scuba diving club, a scuba diving company, and a scuba diving TV show. My life is really all about scuba diving," Capt MacDonald said.
Filed Under: Top Stories
Comments (0)