By Lookout on Feb 05, 2021 with Comments 0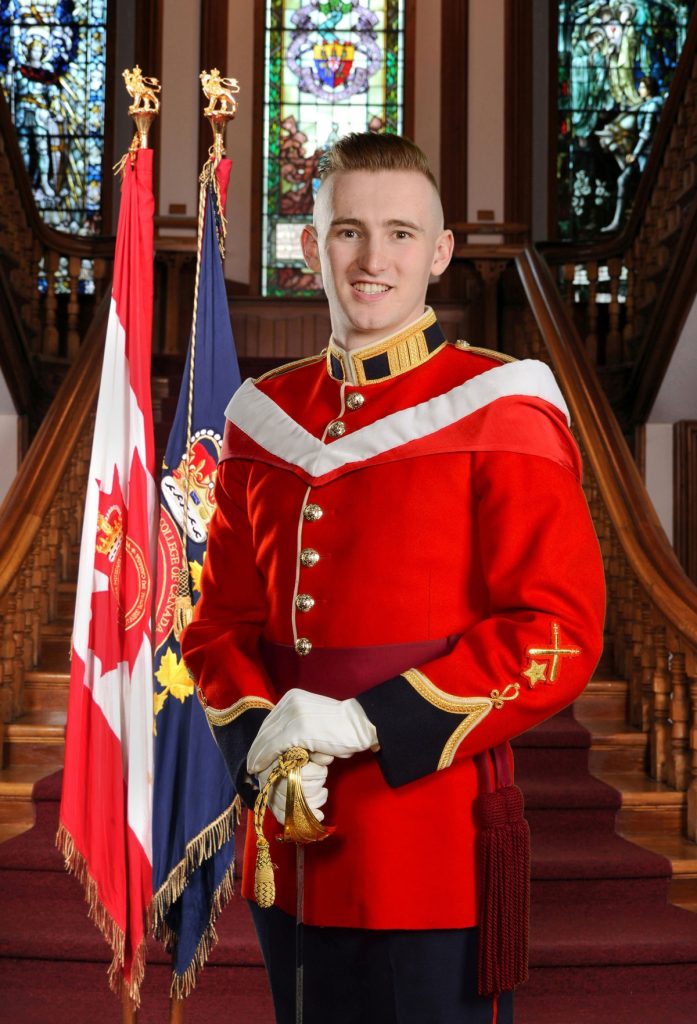 2Lt Jamie Boparai
Base Administration
––
People take the oath of allegiance when joining the Canadian Armed Forces (CAF) for many reasons. Acting Sub-Lieutenant Seamus Maguire did so while pursuing his dream and coolly calculating his future.
"I was playing Junior A hockey for the Crunch in Cochrane, AB, and I was being recruited to play hockey for universities in the United States. My goal was to continue my hockey career while attending a good school, hopefully with a scholarship attached."
However, as fate would have it, near the end of his 2016 season, A/SLt Maguire was approached by a hockey scout from the Royal Military College (RMC) in Kingston, ON. While a formal hockey scholarship was not technically offered, the result of accepting his offer to play hockey at RMC would have similar outcomes with the added benefit of walking into a proud professional career upon completion of his schooling. This was enough to convince A/Slt Maguire that joining the CAF through the Regular Officer Training Plan (ROTP) would afford him to play at a higher-calibre of hockey while having his education paid.
"I ended up weighing my options with other schools that had an interest in me at the time and RMC seemed like a great opportunity to develop myself as a person and find a fulfilling and rewarding career path. I am really happy with this decision and it ended up working out so well that I don't think much about what life might have been like chasing a professional hockey career."
A/SLt Maguire attended RMC for four years, playing hockey and earning his Bachelor's Degree in Business Administration. Unfortunately, his final year was interrupted by COVID-19. RMC shut down in March 2020 and he was sent home to Victoria to complete the remainder of his studies and final exams through distance learning.
"It was a really different experience and a little disappointing, to be honest. I was looking forward to the graduation ball and having all my family be there to watch me graduate."
After graduating via video conference, A/SLt Maguire was posted to Canadian Forces Base Esquimalt as a Naval Logistics Officer. Being from Victoria, he was excited about going back to the coast and having the unique opportunity to serve in his home city.
"I look forward to sailing and deploying with the navy out of Esquimalt. I would even relish the opportunity for an attach-posting tour with the submarines."
Before A/SLt Maguire has a chance to chase his deployment goals, he will first have to complete his trades training. The training behind naval logistics is focused on two specialties – supply and finance. These courses historically have taken place in their entirety at CFB Borden; however, training protocols have been rapidly changing.
The CAF strives to keep its members and their families safe by fully abiding all safety protocols set in place by provincial governments. They also continue to find ways to force generate members to ensure training continues. Many courses and training are being moved online via distance learning, and smaller class sizes are implemented for areas that require in-person learning.
A/SLt Maguire has been resilient throughout the last year and his optimistic outlook of the future is inspiring to others. He is continuously learning his new workplace, the Royal Canadian Navy (RCN) environment, while developing as an officer.
In-between courses he has been employed as one of the Base Administration Branch Chief's assistants. He has a wide range of duties such as auditing and writing internal documents and arranging honours and awards ceremonies.
"I'd say the military is an unbelievable opportunity that really gives you a lot of options if you make the most of it. The military can provide you with the opportunity to receive an excellent education and put you on the path of a rewarding career. It can also allow you the chance to do and see things that no one else out there is doing. I am looking forward to sail down to Hawaii for a RIMPAC, as well as working with other nations in a defence environment."
––––
Filed Under: Top Stories
Comments (0)