By Lookout on Apr 28, 2020 with Comments 0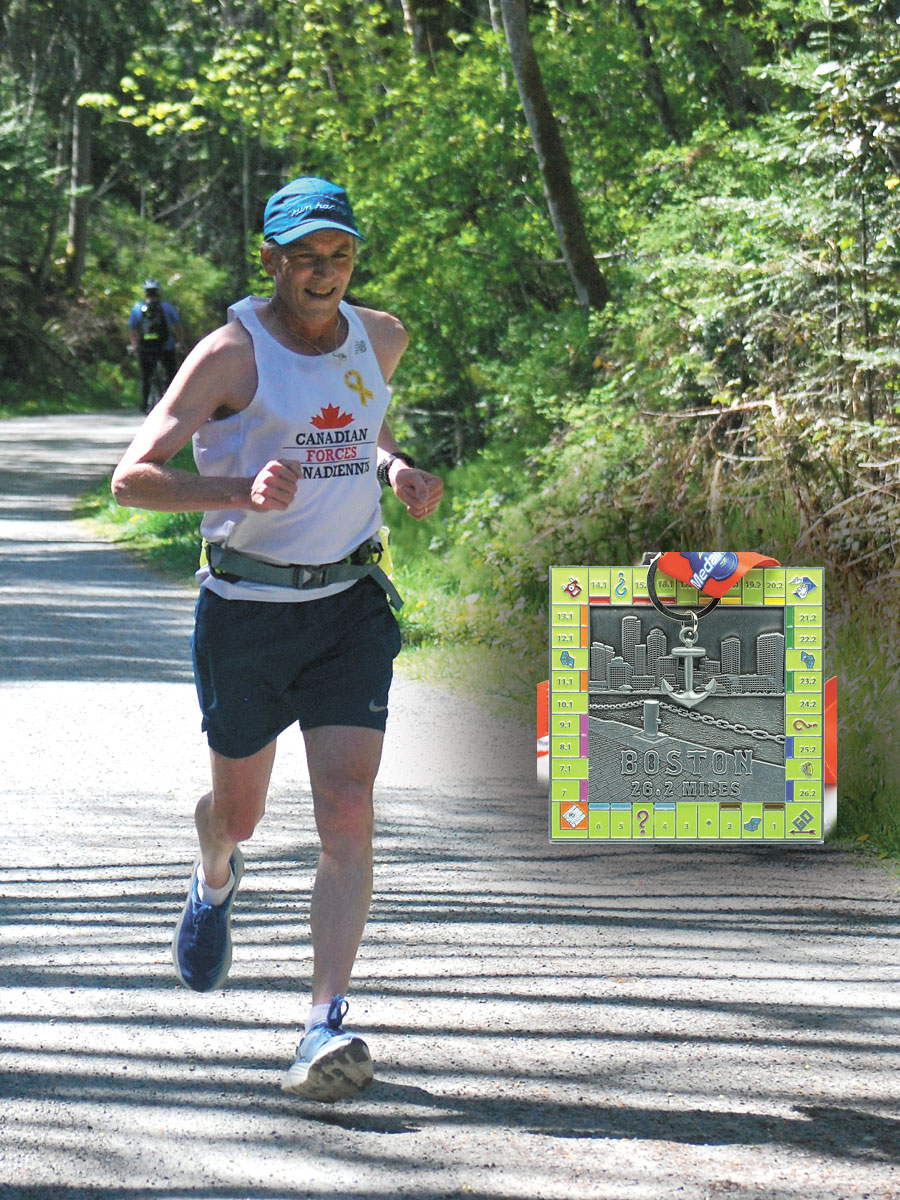 Peter Mallett, Staff Writer ~
The postponement of the Boston Marathon did not stop PO2 Roy Styffe from completing the gruelling 42.2 kilometre run on his own.
The 56-year-old qualified for the world-famous race after completing his first-ever marathon in 2018, Victoria's Goodlife Fitness Marathon. He planned to tackle the April 20 Boston Marathon, but then came the COVID-19 pandemic, and a change to a virtual marathon.
Last week, he and countless other runners around the world completed their own virtual marathon.
"I decided to run a virtual marathon because I had dedicated six months of my life, running five days a week to prepare for it," says PO2 Styffe, who is a Naden Band member. "Training for a marathon is a very obsessive process, so I needed to have that sense of completion for what I had worked so hard for."
He set off on the Galloping Goose regional trail near Sooke and arrived at his virtual finish line on the Selkirk Trestle Bridge in Victoria with a time of 3:16:10. That time, exclaimed PO2 Styffe, was 12 minutes faster than his first marathon, and went way better than anticipated.
"The hard work in training really paid off; every time I run it's a humbling experience," said PO2 Styffe. "It is a privilege and makes me realize with every step I take, I am learning and growing and also inspiring other people."
Upon reflection, he thinks he could have shaved another five minutes off his time if it were not for the stop lights and roadway crossings he encountered.
As the marathon wore on, he maintained his focus and physical distance, although there were few people on the regional trail.
"Thankfully, there is a lot of space on that trail allowing everyone using it to maintain a safe distance," said PO2 Styffe.
Members of the Naden Band, including commanding officer Lt(N) Catherine Norris, came out to cheer him on at various points on the course.
"Overall, it was an incredible experience, though also gruelling and extremely difficult," said PO2 Styffe. "Successfully completing a marathon changes you as a person, and, much like basic training in the military, you go through some difficult moments and become stronger because of it."
He also credits his successful run to his wife Cheryl, his daughter Laura, 16, and 23-year-old son Andrew for always encouraging and supporting him in fulfilling his marathon dream over the years.
Filed Under: Top Stories
Comments (0)