By Lookout on May 18, 2016 with Comments 0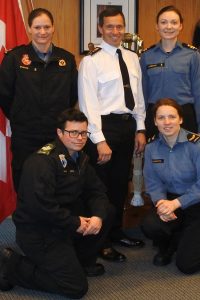 Peter Mallett, Staff Writer ~
Athletes from the base captured three of the five top honours in the Royal Canadian Navy's annual sports awards.
Men's basketball standout SLt Connor Duke, HCM West, was announced as the Royal Canadian Navy Male Athlete of the Year Award winner; AB Marjoline Plante, a swimmer from HMCS Ottawa, earned the prize for Female Athlete of the Year, while our women's soccer team was named as the Royal Canadian Navy's team of the year.
The awards were presented by RAdm Gilles Couturier during a ceremony held at the Maritime Forces Pacific/Joint Task Forces Pacific headquarters on the morning of Friday April 29.
Award recipients also become Command Nominees for the Canadian Armed Forces annual Sports Awards Ceremony to be held in the nation's capital at the Ottawa Conference and Event Centre on Oct. 21.
SLt Duke of HCM West is a talented 6'3" shooting guard who grew up in Cole Harbour, N.S., and recently represented the base at the Canadian Armed Forces (CAF) Men's Basketball Championships at the 6th CISM Military World Games Games held Oct. 2 to 11, 2015, in Mungyeong, South Korea.
AB Plante, 36, normally competes in Masters age categories at swimming competitions, but last November competed in the open-age category for Canada at the CISM Games in South Korea in the 50m butterfly, backstroke, breaststroke and 100m freestyle relay.
The base women's soccer team were also recognized for their surprise win at the CAF Women's National Soccer Championships held at Camp Borden.
The team's coach Sgt Caleb Klimas and his team were already named the base's Breakthrough Team of the Year at a ceremony late last year after their upset 2-1 penalty kicks victory over Quebec on Sept. 15, 2015.   
Meanwhile from the East Coast, MCpl R.J. Jackson, HMCS Charlottetown captured coach of the year honours, while Sgt. J.P.J.Y Caoutte, CFB Halifax, was named top official.
Filed Under: Top Stories
Comments (0)