By Lookout on Jul 23, 2018 with Comments 0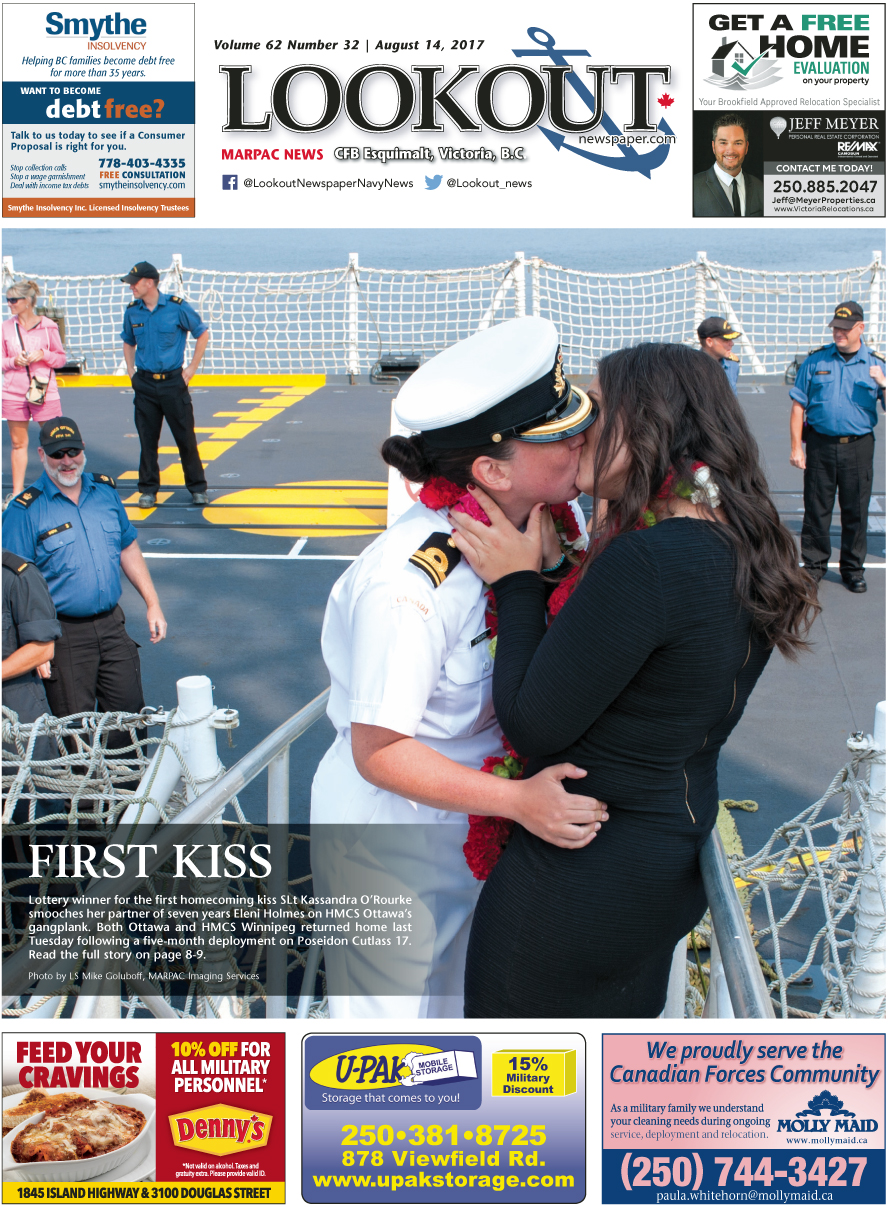 Peter Mallett, Staff Writer ~
Canadian Armed Forces newspapers have once again proved they can compete on a national stage.
Lookout, Trident and the Shilo Stag took first, second and third place in the best CAF newspaper category of News Media Canada's yearly Canadian Community Newspaper competition.
"Base papers have always been an essential tool for connecting the Defence Team with the local community," said Capt(N) Jason Boyd, Base Commander and publisher of Lookout. "The team here at the Lookout excels not only through the stories they write, but also through the innovative ways they work to ensure CFB Esquimalt's story is heard. I am proud of my team at the Lookout for the recognition they have received."
Even more impressive is the base newspapers' individual wins in the open categories where community newspapers across Canada vie for a top placement. 
Lookout took another first place in the Best News Feature Photo – circulation up to 3,999 for "First Kiss" taken by LS Mike Goluboff, MARPAC Imaging Technician. Shilo Stag scooped a second-place win for Best Photo Essay – circulation up to 3,999 by Jules Xavier, and Trident took second place for Best Spot News photo – circulation 12,500 and over for "Staying on their feet" by Mona Ghiz.
"It is a testament to the quality of base papers that three of them, including the Lookout, have been recognized in categories over and above the Base Newspaper category," added the Base Commander.
LS Goluboff's winning image was a candid shot of SLt Kassandra O'Rourke smooching her partner of seven years Eleni Holmes on HMCS Ottawa's gangplank after the warship returned home from Poseidon Cutlass 17 in August 2017.
"The win is also recognition of the quality of CAF Image Techs that a photo taken by MARPAC Imaging's LS Mike Goluboff is named best news feature photo for his high-quality 'First Kiss' photo, which in turn highlights the diversity of today's Forces," said Capt(N) Boyd.
While the Lookout produces a top-notch print copy each week, which is distributed around the base and Victoria, it also has a robust following on Facebook, Twitter and Instagram. If you have a story idea, or a great photo, send it to the Managing Editor, melissa.atkinson@forces.gc.ca and be a part of this award-winning newspaper.
To view all winners of the 2018 competition, click here.
Filed Under: Top Stories
Comments (0)