By Lookout on Sep 29, 2021 with Comments 0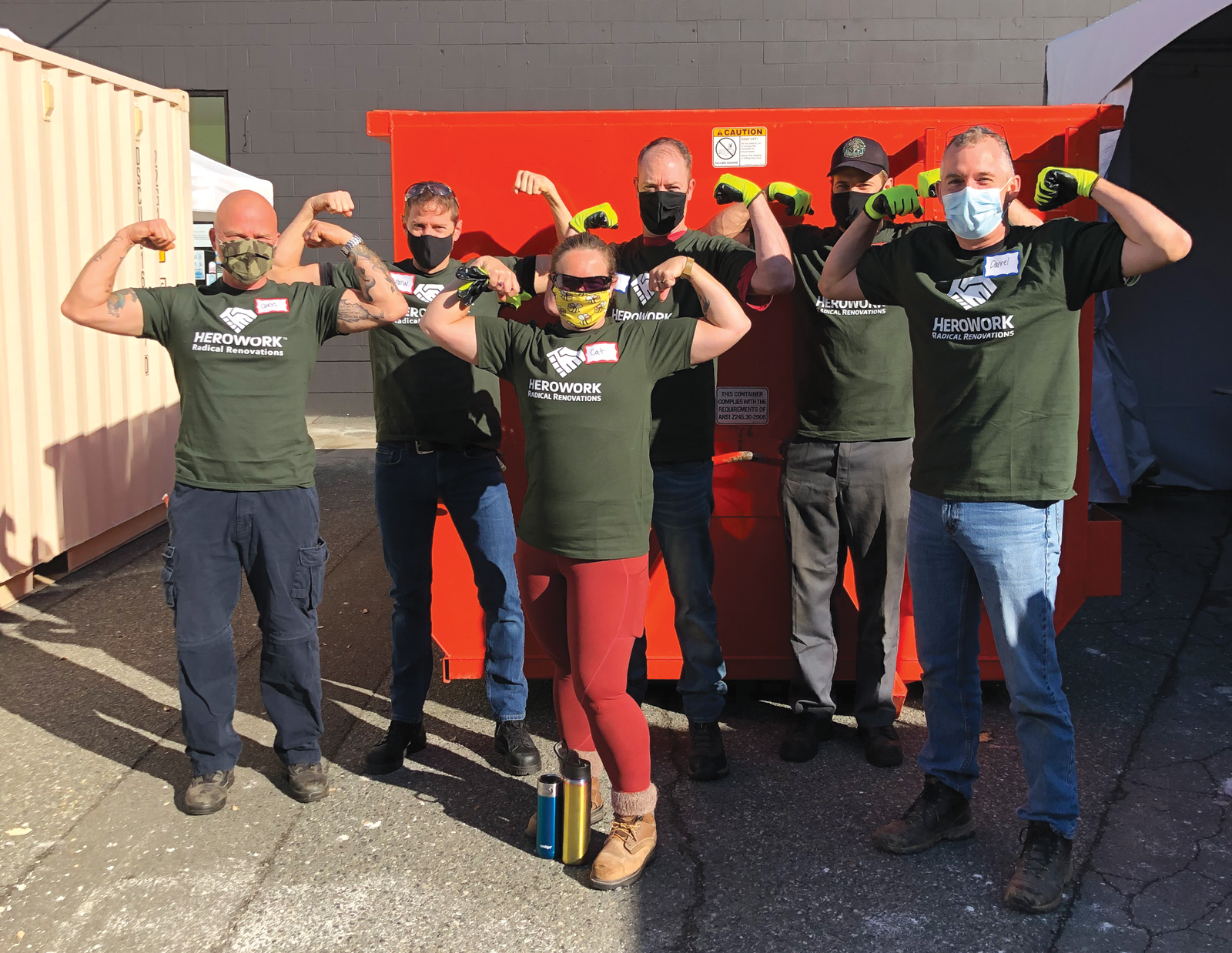 Peter Mallett
Staff Writer
––
Six volunteers from Naval Personnel Training Group (NPTG) assisted HeroWorks recent Radical Renovation – the Langford-based Indigenous Perspective Society.
With personal protective equipment in place, and tools in hand, they helped in the demolition phase of the project. The preliminary work goes until Oct. 1 and then the Radical Renovation follows with an expected completion of Nov. 20.
The Indigenous Perspective Society – Center for Excellence In Community Education (IPS), offers training, consulting, and projects to help foster a deeper understanding of Indigenous perspectives, cultural differences, and the need for self-determination. A large part of IPS's programming and training helps to support Indigenous children, youth and families involved in the child welfare system.
HeroWorks vision is to transform the building, a former die casting shop, into a culturally relevant and safe space. The goal is to reflect Indigenous cultures and ensure psychological safety for the work that goes on there.
Cost of the renovation is estimated at $628,000. It includes the reconfiguration of workspaces to accommodate more participants, increased natural light by adding more skylights, redesign of the building's interior layout, soundproofing, accessible and gender-neutral washrooms, building façade and landscape redesign, and culturally relevant designed spaces.
"I got involved because I learned the HeroWork organization always lends a helping and does some very admirable work," said LCdr Christopher McKelvey, senior staff officer with NPTG. "It presented me with some volunteer work where I could physically see the results of my efforts immediately."
He helped organize the tool and supply trailer, remove all the lighting tracks on the ceiling, knock down drywall, and remove some of the existing structural walls. Joining him were Capt Catherine Mason, CPO2 Patrick Devaney, MS Kevin Allan, PO1 Darrell Barnes, and SLt Andrew Fors. Two other volunteers from CFB Esquimalt also pitched in.
Military members and civilian DND staff are always at the front of HeroWorks renovations, says Paul Latour, founder and CEO of HeroWork.
"The men and women of the Canadian Armed Forces and civilian staff are always a key part of how HeroWork produces our Radical Renovations here in Victoria. For many years they have been involved, and each time their work ethic, can-do-attitude, and ability to quickly self-organize always makes a significant difference for the charities we serve."
To become involved in HeroWork's Radical Renovation project at IPS or a future project, go to www.Victoria.herowork.com or email heroes@herowork.com
––––
Filed Under: Top Stories
Comments (0)