By Lookout on Jan 25, 2022 with Comments 0
Every year, the Mental and Social Wellness Working Group of the MARPAC Health and Wellness Strategy (MHWS) supports Bell Let's Talk, a campaign that aims to encourage a national conversation about mental health.
The goal of this annual event is to help end stigma associated with mental health issues and to support mental health initiatives around the country.
On Jan. 26, join the Working Group in supporting Bell Let's Talk Day by talking, tweeting, posting, and texting about mental health. By doing this, we work towards normalizing these important conversations and reducing the stigma of mental health issues.
The theme for this year's campaign focuses on "continuing to support yourself and others". It would be an understatement to say that the COVID-19 pandemic has impacted our daily lives, but it has also highlighted the critical importance of prioritizing our mental health and wellness. Bell Let's Talk 2022 will continue to focus on taking action while considering the unique circumstances we are still facing, and that now more than ever, mental health matters and every action counts.
The MHWS is excited to welcome Tyler Simmonds, Award Winning Canadian Film Director and advocate for mental health, in support of Bell Let's Talk as part of the MHWS Speaker's Bureau Series.
Tyler will be joining the MHWS on Thursday Jan.  27 from 10 – 11:30 am, PST, via Zoom with the goal of reducing stigma surrounding mental health and normalizing connection and seeking support.
––
Mental Health Resources
CFB Esquimalt has an abundance of resources that you can access if you or someone you know is struggling with mental health issues.
Military Family Resource Centre (MFRC)
250-363-2640 or 1-800-353-3329
Chaplains
250-363-4106 (24hr)
Employee Assistance Program (EAP)
Peer Referral Line: 250-363-7968
24 hour line: 1-800-268-7708
Member Assistance Program (MAP)
24 hour line: 1-800-268-7708
CF Mental Health Services
To access, the member must contact local CAF Medical Clinic Reception at 250-363-4122
Personnel Support Programs (PSP)
Health Promotion: 250-363-5621
Fitness & Sports: 250-363-5677
Recreation: 250-363-1009
CF Mental Health Services
To access, the member must contact local CAF Medical Clinic Reception at 250-363-4122
Integrated Complaint and Conflict Management Services (ICCM)
Local contact: 250-363-7578
The Canadian Armed Forces
Transition Group (CAF TG)
250-363-4477
––
Bell Let's Talk 2022 Events
January 26
CAF Virtual Panel Discussion
for Bell Let's Talk Day
MS Teams:  https://web.microsoftstream.com/video/afb08188-54a6-460f-a2da-f6e34ec72b83
Time: 0800 – 0930 PST (1100 – 1230 EST)
Note: The stream of the event can only be viewed by DND/CAF users via D365 accounts. The video will be made available for viewing on The Maple Leaf after the stream ends.
MHWS Speaker's Bureau Series Presents: Tyler Simmonds
https://cfmws.zoom.us/j/85324140172?pwd=V1hZTUZ4Nm5Na1pGYk95UHg4dGVSUT09
Password: MHWS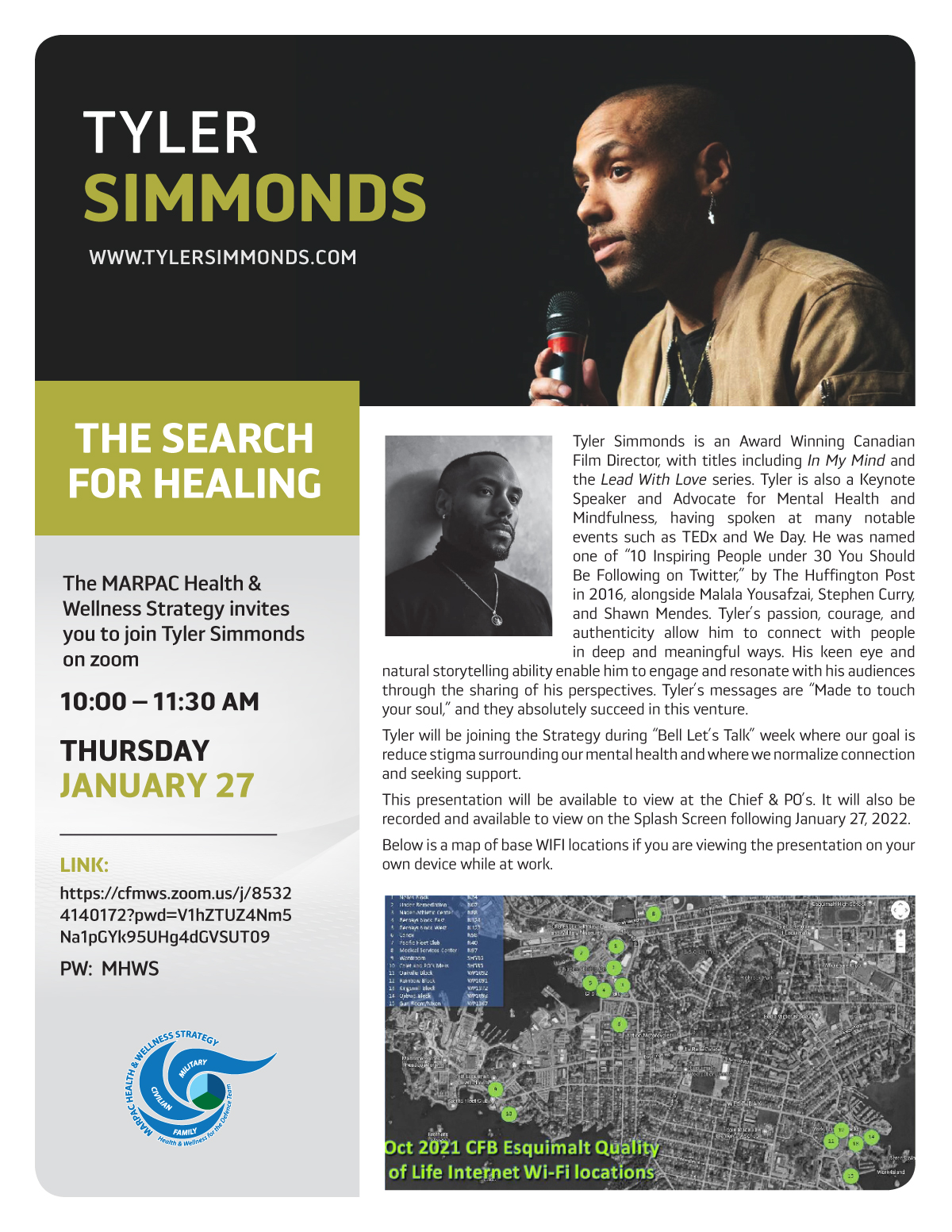 ––––
Filed Under: Top Stories
Comments (0)