By Lookout on May 08, 2019 with Comments 0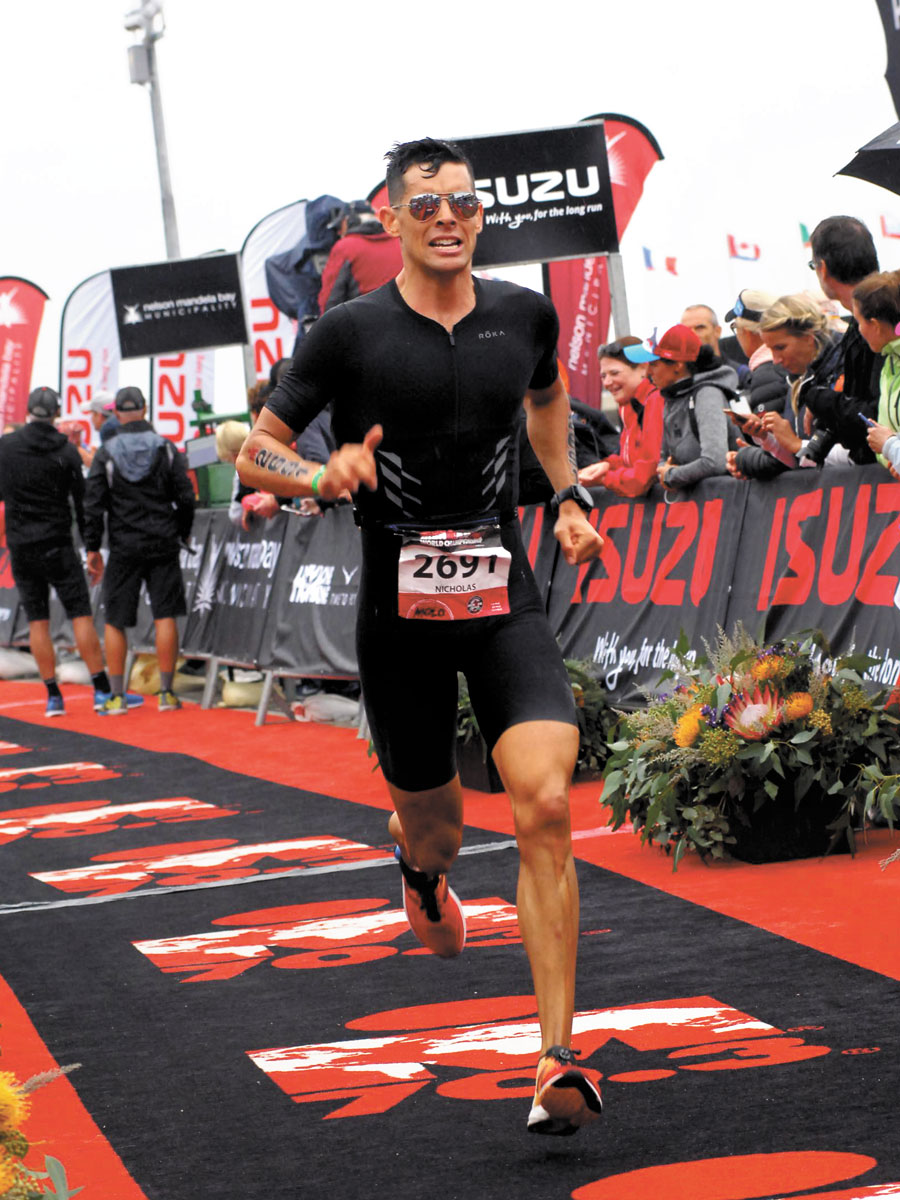 Peter Mallett, Staff Writer ~
It has been a punishing start to 2019 for Lt(N) Nico Lightbody.
The award-winning triathlete had two serious accidents that have left him with broken bones, and unlikely to compete in any sport competitions until late this year.
While at an Ironman training camp in Los Angeles Jan. 24, he took a spill riding his bike down a steep incline. His bike flipped and he went over the handlebars and landed on his back with the impact breaking his right collarbone and his helmet in two. The injury required doctors to insert pins and a plate in his shoulder to hold his collarbone in place.
Lt(N) Lightbody estimates he was travelling 40 kilometres an hour when his back wheel struck a small rock on the path.
Then three weeks ago he was riding his bike on Ash Road in Saanich and was taking a sip from his water bottle when a utility vehicle suddenly stopped in front of him. He was able to brake before striking the back end of the vehicle, but the braking action pushed all his weight forward and his entire body flipped forward over his handlebars.
He landed on his head and back, and this time suffered a broken left collarbone, more road rash, and soft tissue damage in his right forearm.
"My first injury came as a complete shock and I didn't know I had broken anything," said Lt(N) Lightbody. "In my latest accident it was a case of surreal disbelief that this could happen again, and then sadness."
He was back to training for the June 1 Ironman 70.3 competition in Hawaii when the second accident happened.
"It was super unfortunate to break my collarbone for the second time in three months," said Lt(N) Lightbody. "All my races for this year are up in the air and my participation in the 70.3 event in June definitely won't be happening."
The event serves as a qualifier for both the 2019 World Ironman 70.3 Championship in Nice in September and the Ironman World Championship in Hawaii in October.
After a top 100th finish at last year's 70.3 World Championships held in South Africa he was holding high hopes of qualifying for both of this year's world championships.
The doctor said he won't require reconstructive surgery to his shoulder, but it will take two months to heal.
But he's already focusing on his recovery and a return to training.
"This is going to make coming back and racing again even more satisfying and even more sweet when I am able to accomplish this," he concluded. 
Filed Under: Top Stories
Comments (0)