By Lookout on Aug 04, 2015 with Comments 0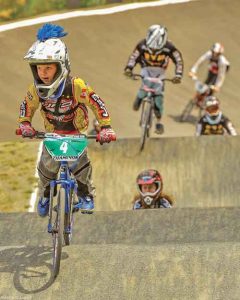 "Brutal, Mad, Xciting!" blared one newspaper headline after the 2012 summer Olympic men's quarter-finals in BMX racing resulted in 10 crashes involving 21 riders.
But that's not how members of the Greater Victoria BMX Association would describe their local version of the sport.
Speaking with some of the civilian and military members of the club, the words you hear are inclusive, friendly, family-oriented and fun.
Yes, there are similarities between local racing and the extreme event.
While elite tracks ramp-up the level of difficulty, all tracks share the same basic features.
They're about 1,000 feet long with an elevated start gate, banked switchback turns, and straights that present a variety of obstacles – hills, really – for riders to pedal over, "manual" on one wheel, or jump.
Each track also has a "rhythm section," a closely spaced series of small hills, or "rollers," designed to develop pumping skills.
It's a compact course that demands riders use a whole repertoire of cycling techniques, all in the 30 to 40 seconds it takes to race one lap.
"It's just a great place for kids to learn, to be confident riders on their bikes, which translates to commuting on the road or to any other cycling discipline. And they can learn these skills in a controlled environment," says Cam Smith, President of Greater Victoria BMX and storesman within the Environmental Materials Section of Base Logistics at CFB Esquimalt.
"Even friends of mine who race bikes and know bikes can't believe how proficient our kids are at riding."  
It's no surprise, he adds, that Sir Chris Hoy, one of Britain's most decorated track cyclists started in BMX racing, as did mountain-biking champion Anne-Caroline Chausson, who returned to BMX for the sport's debut in the 2008 Olympics, winning gold for France.
Greater Victoria BMX has produced its own share of top riders, including Brandon Reid, a member of Canada's 2015 National BMX Team.
The Church family is on its second generation of champions: mom Kathleen rode for Team Canada at the World Championships in Whistler, B.C., in 1985, and now her 10-year-old daughter, Janel, ranks number one in her Canadian National Age Group.
Passing the torch to the young isn't what makes Victoria BMX racing unique; however, what's surprising is how often the passion to ride transfers the other way.
As Ian Parkinson, a civilian shipwright/joiner at CFB Esquimalt, explains it, "My son, Gavin, is a seven-year-old intermediate, and I'm a 37-year-old novice. Just by watching him, I got hooked."
Riding on practice nights was a slippery slope; once Parkinson was ID' d as a new recruit, it wasn't long before other riders in his age group had persuaded him to race.
SLt Gillian Herlinger tells a similar story.
Her son Ian was five when he started riding at the track.
"I came out a couple of nights and watched him and thought, 'This looks like a lot of fun. I'm going to try it out!'"
That was four years ago, and SLt Herlinger, a MARS officer, is still willing to endure the Colwood crawl to ride BMX two or three times a week during the summer.
Even for parents who don't ride, there's a sense of community that keeps them at the track. Matthew Taylor, a naval communicator, doesn't ride often now that Theron, his 14-year-old son, trains with a team, but he still makes it out to most practices.
"This is something we do twice a week. I see all the same parents, all the same kids, so I think what happens is you start to form those bonds. And you're always engaged with something. Whether you're helping out on the track, or at the concession stand or helping fix a bike, you're always involved," he says.
That element has been especially important for SLt Herlinger since her son has Bardet–Biedl syndrome, a rare disorder that affects gross motor skills.
For a time, he was also afflicted with Legg-Perthes disease, which caused him significant hip pain.
The result was that Ian rode a strider bike until he was almost seven years old, pushing up the hills with his one good leg.
"By the beginning of the season when he was seven, his hip was getting better, and he had to re-learn how to ride his bike. Some of the kids at BMX worked with him and re-taught him how to ride. He's nine now and still challenged by riding a bike, but it's been such an inclusive, helpful environment."  
Is BMX like the 2012 Summer Olympics characterization: brutal and mad? No. But it is "Xciting!"
"I've got to say that the thing I like best about BMX is the actual 'doing' of it. It's like riding a roller coaster under your own power," says SLt Herlinger.
"I mean, all the camaraderie, all the family, all the inclusiveness is great, but it's just downright fun."
Wynne Campbell
Contributor
Filed Under: Top Stories
Comments (0)