By Lookout on Sep 07, 2020 with Comments 0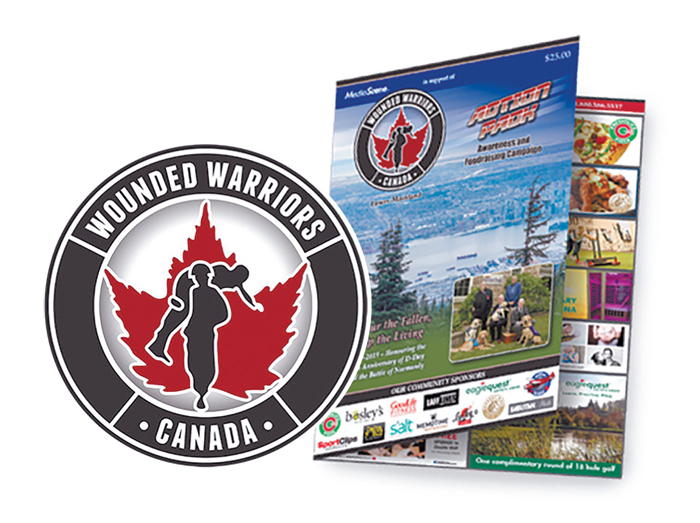 Peter Mallett, Staff Writer ~
You could save a bundle on local products and services courtesy of a new awareness and fundraising initiative launched by Wounded Warriors Canada.
The national non-profit that funds veterans and first responder's support programs has a partnership with Winnipeg-based MediaScene's Action Pack Complimentary Value campaign.
Booklets sell for $25 but have a value of over $300 in redeemable coupons. A portion of the proceeds from sales will be used to provide fully trained service dogs for those overcoming Post Traumatic Stress Disorder [PTSD].
"When people buy our product, they are not only giving to a great charitable initiative, but they are also getting something of value in return," said Todd Dube, MediaScene Program Coordinator. "It's just a great deal. Everyone is a winner, the purchaser, Wounded Warriors, and local businesses."
Twelve Victoria businesses are offering freeproducts and services; Montana's, Good Life Fitness, Bosleys, Salish Sea Aquarium, Iron and Wood Golf Simulator, V2V Blackhops Brewing, Flying Squirrel, Victoria Car Wash, Float House, British Columbia Aviation Museum, Oxygen Yoga and Fitness, and Whiskers Urban Ranch. Dube says the free products and services total $351.
MediaScene began its operations in 1994 and used Action Packs as a vehicle to promote local businesses in Manitoba.  Dube says Action Packs then morphed into a vehicle for charitable organizations to boost their awareness and fundraising.
MediaScene began its partnership with Wounded Warriors Canada in 2017. Market-specific Action Pack booklets have previously been available in Ottawa, Winnipeg, Regina, Calgary, Edmonton, Red Deer, Vancouver, with Victoria joining the campaign this year.
Last year, MediaScene made a $905,000 donation to Wounded Warriors from booklet sales. Executive Director Scott Maxwell was quick to offer his appreciation for the success of the fundraising.
"This partnership highlights our strong community-based support that drives our national fundraising and in turn makes our mental health programs possible," said Maxwell. "We are grateful to MediaScene's commitment to our mission."
This year, says Dube, fundraising target of $1million has been set. So far, sales have been much slower than usual due to physical distancing and health and safety protocols. He is looking to sell 15,000 booklets in Victoria by the end of 2020.
His sales team are selling the booklets at Canadian Tire, Lowe's, Save On Foods, Western Foods, Quality Foods and other locations as they become available for a table presence. Action Packs can also be purchased by calling MediaScene's toll free number 1-800-586-5537. 
To further boost sales of the booklets, MediaScene is looking to recruit 10 new sales people who will compensated for their efforts. Dube says he would prefer to hire veterans and former first responders to the sales team and encourages those interested in selling Action Packs to contact MediaScene's B.C. organizer Marlene Dube at 604-501-9592.
––––
Filed Under: Top Stories
Comments (0)