By Lookout on Jul 03, 2018 with Comments 0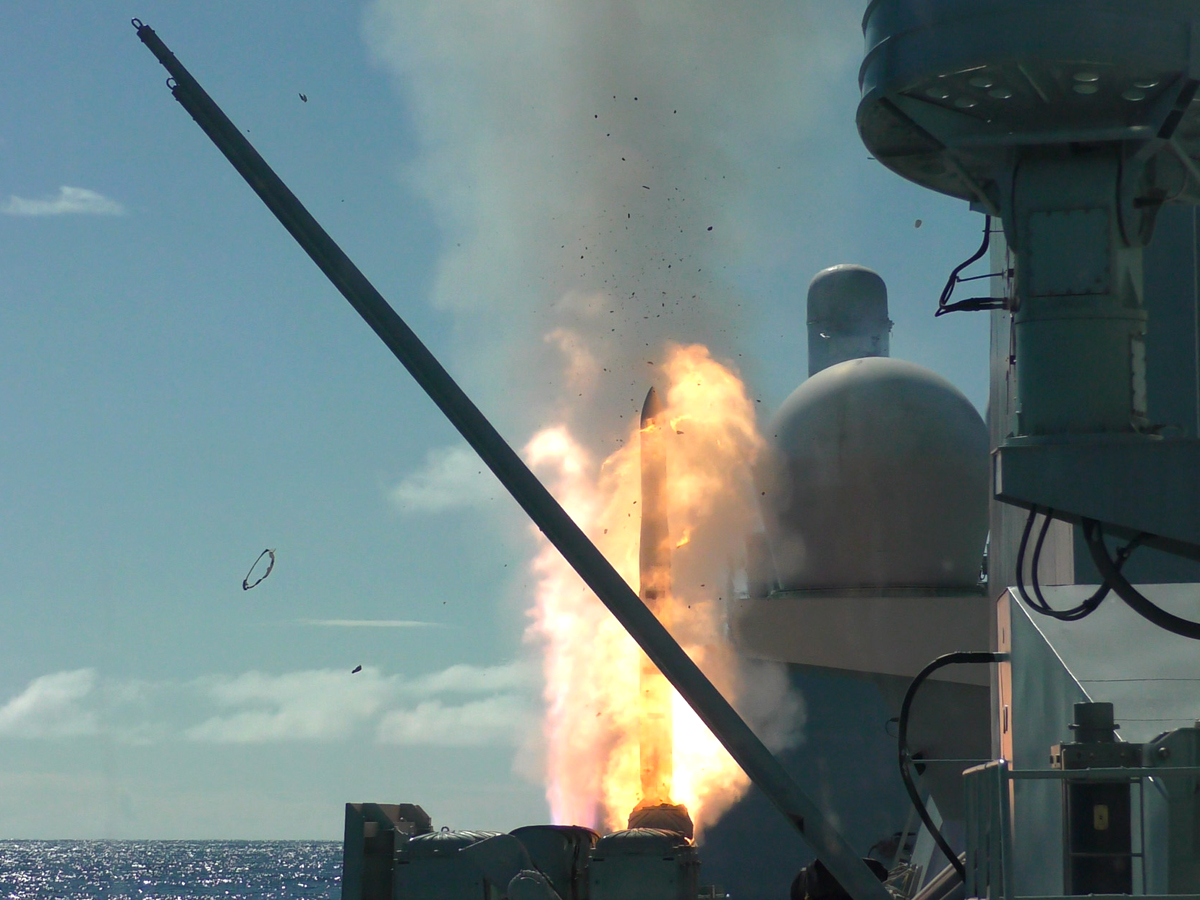 By SLt M.X. Déry, MARPAC PA Office ~
"At the time, sitting in the chair, pulling the trigger, hearing the whoosh of the missiles was surreal," said Lt(N) Sara Kucher, HMCS Calgary's Above Water Warfare Officer. "I will remember this for a very long time."
Last week, Calgary fired three Evolved Sea Sparrow Missiles (ESSM) as part of a live fire air defence exercise, complete with unmanned aerial vehicles (UAVs) as targets. This exercise is the culmination of months of preparation. It takes Calgary and crew one step closer to high readiness in preparation for their upcoming deployment on Operation Projection in the Asia Pacific.
For Lt(N) Kucher, this was her first live fire air defence exercise in that position after 20 months in the chair, and it marks the end of her time in Calgary. She is being posted ashore after her D-level tour.
"I really enjoy my job; I really enjoy working with my team, and I will miss this ship," she said. "However, I look forward to finding something in my future career to top this."
While these types of exercises are not rare, Lt(N) Kucher said it is definitely not something that every Above Water Warfare Officer gets to do during their time in that position.
Getting the warship ready for this exercise took a substantial amount of work and preparation.
"Preparations started months ago," said Lt(N) Kucher. "Both the Operations and the Combat Systems Engineering Departments worked steadily to bring Calgary from re-fit to successful completion of this exercise."
One of the major components to this type of training is communication, as members of the ship's operations team need to quickly identify threats, determine a course of action, and attack that threat in a timely fashion.
"We came together conducting training serials over the course of the last several months and improved our communications within the team. This allowed us to execute the exercise very smoothly," said Lt(N) Kucher.
The exercise took place in the West Coast Firing Area off central Vancouver Island, where the Royal Canadian Navy conducts at-sea force generation. To ensure range safety, the ship advised ships in the area prior to the shoot via radio and used its many sensors to ensure no one and no marine animal was within the range.
"The day of the missile firing we had assistance from a CP-140 aircraft to clear the range and make sure that our firing arcs were clear of other vessels, aircraft, and marine life," said Lt(N) Kucher.
Launchers for the UAVs were placed on Calgary's flight deck in order to catapult their targets into the air.
All eight targets were shot down, some by the 57mm main gun and others by the three ESSMs.
"To have all that work and team effort end in the destruction of the targets was very exciting," said Lt(N) Kucher. "We were all smiling at the end of it."
This is not the finale of Calgary's training prior to deploying. At the end of July, they will depart to complete Intermediate Multi-Ship Readiness Training with Sea Training Pacific while en route to Australia where they begin their five-month deployment on Op Projection.
Filed Under: Top Stories
Comments (0)