By Lookout on Jun 30, 2017 with Comments 0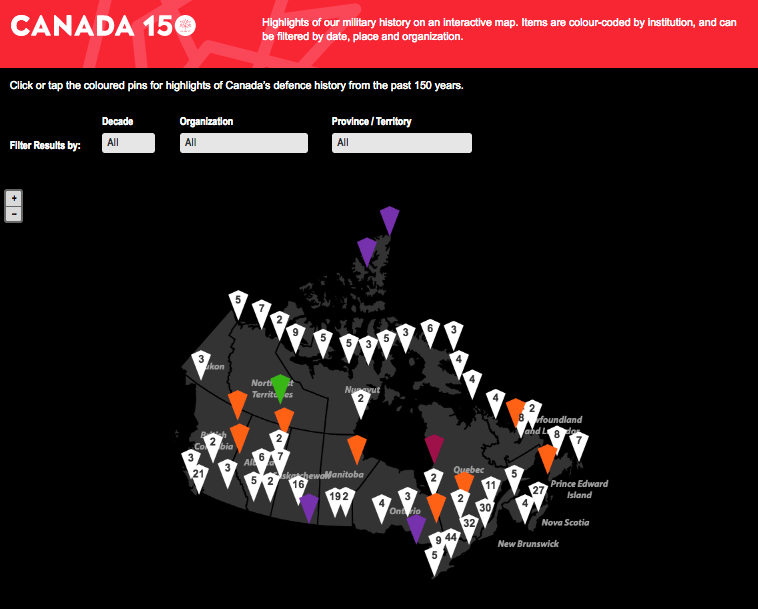 DND ~
In honour of Canada 150 celebrations, the Department of National Defence and the Canadian Armed Forces have launched a commemorative Canada 150 Defence Interactive Map.
Canada 150 Defence Interactive Map: Mapping our Past and Present is a new online map that illustrates the impact the Canadian Armed Forces have had in communities around the country.
Spanning 15 decades of Canada's military history, this map details interesting events from the past as well as present-day accomplishments that pop up in the exact geographic location where they actually happened.
Curious about the Snowbirds in Moose Jaw or the Cadets in Whitehorse? Filter your search by decade, organization, province, or territory to find out.
One hundred and fifty years of Canadian history is an important milestone for our nation. It is an opportunity to share the stories and show the impact of past and present members of the Canadian Armed Forces and Defence personnel in shaping our country.
Check out the Canada 150 Defence Interactive Map http://caf-fac.ca/defence-150-map or by searching #DefenceMap on Twitter and participate in the conversation online. The map will also be featured on touch-screen kiosks during Canada 150 exhibits across the country throughout spring and summer 2017.
Filed Under: Top Stories
Comments (0)