By Lookout on Jul 26, 2019 with Comments 0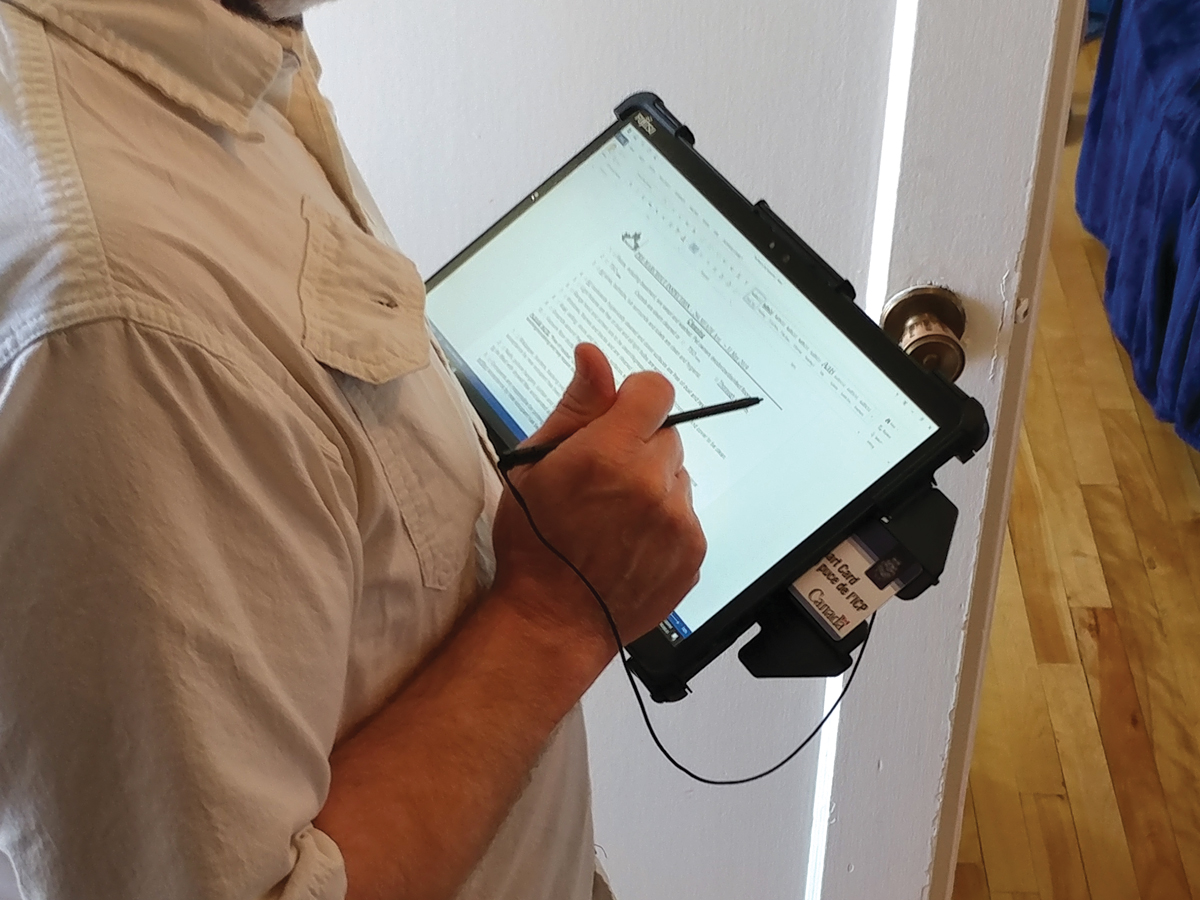 Peter Mallett, Staff Writer ~
Staff at the Esquimalt Canadian Forces Housing Agency (CFHA) are piloting a mobile workstation (tablet) initiative so they can work in the field and stay connected to the office.
The Esquimalt Housing Service Centre manages 710 Residential Housing Units (RHUs), homes for currently serving members and their families.
Their technical team is responsible to keep the houses in good order, which often means being on site to liaise with the occupants or the contractors assigned to do certain maintenance work.
Having access to information and the ability to create work orders on location is a game-changer for the staff, says Anne Corkery, CFHA HSC Manager.
"We are able to get our technical team and contractors on site quicker and get updated information to our office staff and customer service representatives instantly," she says.
The mobile workstation is a large tablet that allows staff to tether it through their Blackberry so they can be connected to the CFHA server.
This new way of doing business has changed how they handle hard copy paperwork. Gone are the hard copy documents with the copious updates and filing of them in cabinets. Everything is now held electronically. 
"This initiative has helped streamline a number of day-to-day activities and have allowed us to skip a lot of unnecessary steps such as scanning documents and sending them, and then acknowledging receipt," said Peter Churcher, Chief of Technical Services.
In using the mobile workstation, Technical Service Officers have access to interactive maps of all 27 CFHAs across the country. With a click on the map, CFHA employees can find detailed information on any RHU, including the address building type, number of rooms, square footage and also gauge the overall condition of the property and any problem spots.
This new service further enhances the CFHA's ability to improve customer service experience, said Corkery.
For more information about the CFHA, tips and updates related to on-base living and RHUs follow them on Twitter at @CFHA_ALFC
Filed Under: Top Stories
Comments (0)