By Lookout on Jun 29, 2021 with Comments 0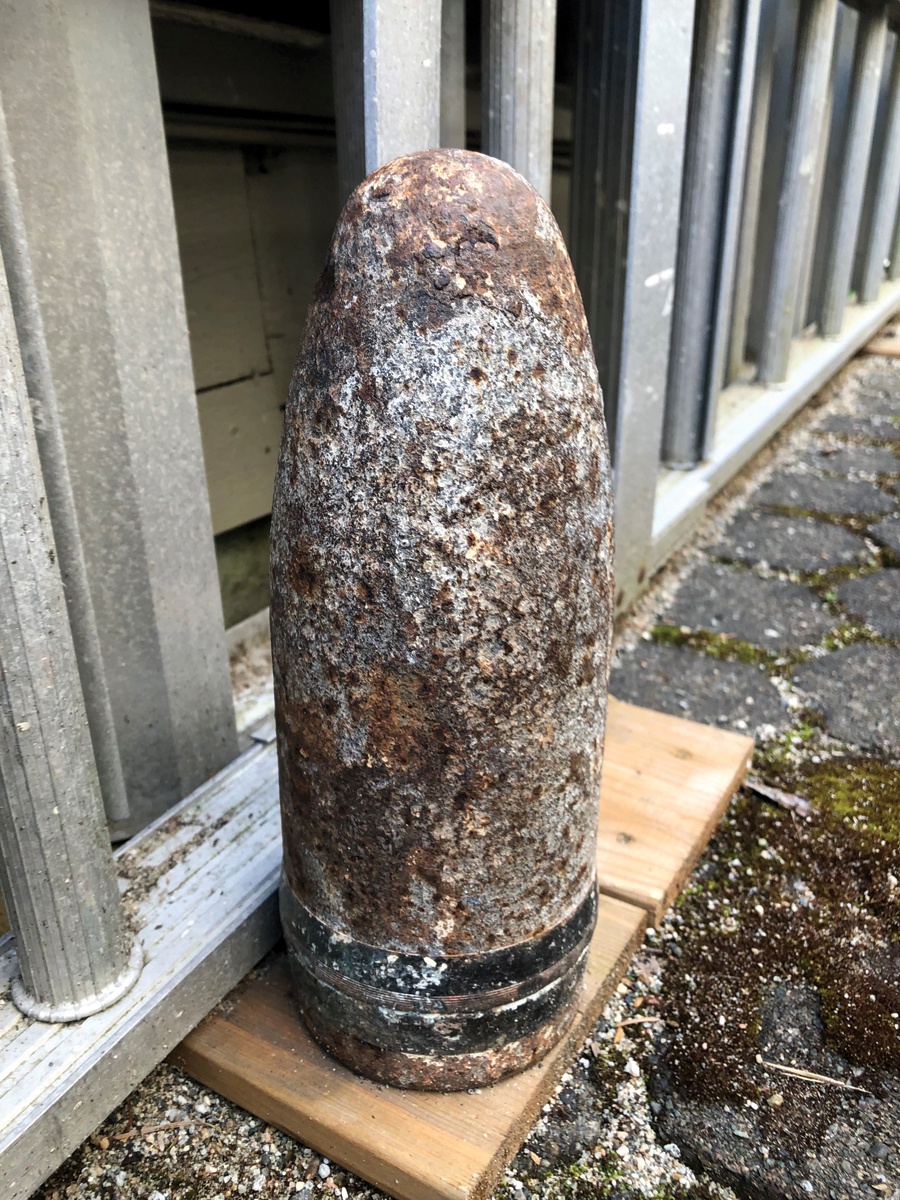 Peter Mallett
Staff Writer
––
Two Clearance Divers from the base have safely destroyed a piece of live ordnance believed to be a Royal Navy shell from the First World War.
The divers are Explosive Ordnance Disposal Technicians from Fleet Diving Unit Pacific and were called to a residence in North Vancouver on June 16.
Members of the RCMP explosive disposal unit had originally been dispatched to deal with the ordnance. Their bomb specialists were recalled after it was determined the item was military grade.
According to the RCMP, the resident had purchased the item at a garage sale thinking it was an interesting artifact. They evacuated the home and six nearby residences and set up a perimeter a safe distance away from the home.
The Maritime Explosive Ordnance Disposal Unit was dispatched after receiving a tasking call from Regional Joint Operations Centre.
PO2 Benoît Léonard and S1 Jacob Desjardins travelled from Victoria to North Vancouver in the FDU(P) munitions disposal truck. Once on the scene, they identified and safely disposed of the ordnance.
The device was identified as a shell used by a Q4 4-inch naval gun, which was the main gun used on destroyers of the Royal Navy and Royal Canadian Navy during the First World War.
"The ordnance was live and contained about five pounds of explosives," said PO2 Léonard. "The ordnance was rusted and what appears to be cement on the outside of the shell is actually called pitting and is a result of its corrosion."
FDU(P) receives approximately one call per week to dispose of live and inert ordnance during the winter months, and up to two in the summer months. Their area of responsibility includes all DND and Government of Canada property in the Province of British Columbia; they will also respond when tasked to aid any organization or individual requiring their assistance.
"It is the mandate of the Fleet Diving Unit [Pacific] to provide safe disposal of any military ordnance," said PO2 Léonard. "It's rewarding to ensure our expertise and knowledge help local authorities and keeps the public safe, not to mention blowing stuff up safely and in a controlled manner is always awesome."
After an initial inspection of the ordnance, PO2 Léonard said the item was then rendered safe for transport to a local gravel pit where it was safely destroyed.
––––
Filed Under: Top Stories
Comments (0)