By Lookout on Sep 21, 2021 with Comments 0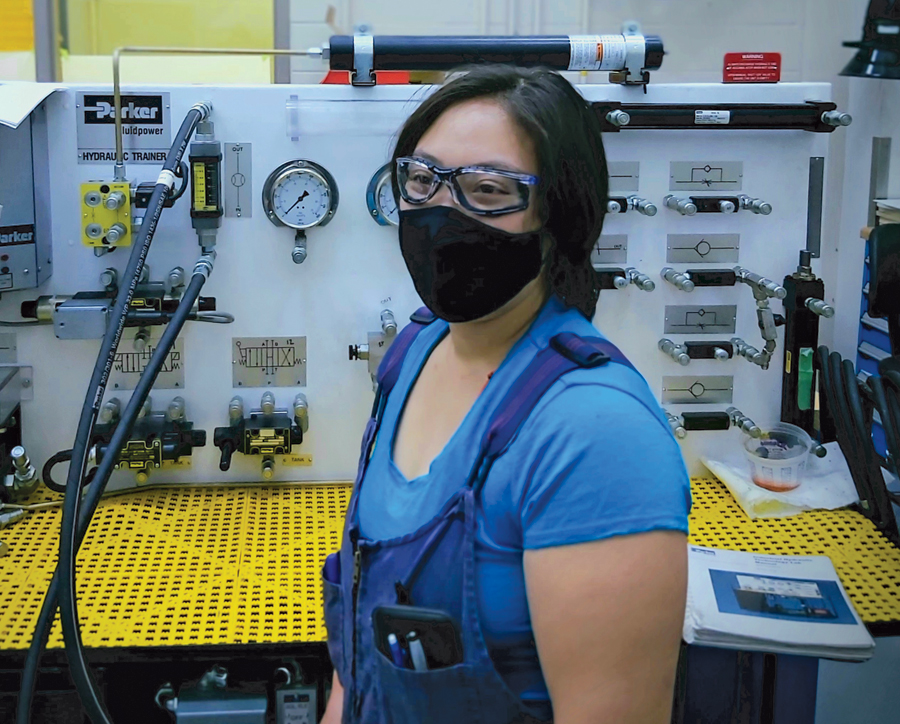 Peter Mallett
Staff Writer
––
Post-secondary in-class studies are great, but hands-on experience is grander. Which is why the University of Victoria (UVic) has a robust cooperative program that places students into real world jobs for a few months.
Two UVic students landed at Fleet Maintenance Facility (FMF) Cape Breton this summer, and are applying their classroom instruction to real-life jobs.
Josie Shasko, a 20-year-old third-year chemistry and math student, is working in FMF Safety and Environment Shop 420.
"FMF is a lot larger than I initially expected; during my tour of the facility on my first day I was surprised how much they fit into the building," she says. 
Paul Willis, 27, a third-year business and commerce student, is splitting his time between FMF's Management System Division and the Strategic Communications department.
"I love the work that I have been doing for FMF as it has given me a chance to use tools and concepts from my business classes and apply them to hands-on projects," he says. "I've also really enjoyed being a public servant and knowing the work I'm contributing is serving and supporting navy operations, as well as Canadian interests."
In his Management System Division job, he is working on FMF's Process Integration Management Systems, helping develop a Standard Operating Procedure document library. 
At his Strategic Communication job, he has been developing content for FMF's Instagram, and creating a social media research report to suggest ways to increase public engagement.
His work is very meaningful, says Jeremy Russell, Section Head for the Management System Division. He points to Willis' success in creating a more effective MSD Sharepoint website. The webpage is crucial to on-the-job learning and includes documents outlining basic work procedures for FMF employees. Not only did Willis make the site more user-friendly, but he also sought extra software training to enhance his efforts.
"He has shown amazing initiative to learn and implement the program and make our employee access site organized and look clean and sharp."
Over at the Safety and Environment shop, Shasko's supervisor is equally impressed by her efforts.
Supervisor Nathan Duffus is a former Camosun College Environmental Technology graduate. He began his work at FMF in 2019 by doing two terms as a co-op student.
"Being out there and doing some hands-on learning in the field was so much more valuable to me than sitting for hours on end in a classroom, library, or lecture hall," he says.
Shasko and Duffus are part of a 15-person team of three environmental technicians and nine safety inspectors that provide environmental and safety support to the different production groups.
Shasko has investigated and analyzed all streams of processing wastewater at FMF, with a specific focus on renewing discharge permits for the Capital Regional District sewer system. Her tasks include dry dock inspections and water sample collection, testing, and reporting.
"I find my knowledge of chemistry is very helpful in understanding lots of things we do here," she says. "The experience gained through the co-op will be very helpful after graduation in 2022."
She recently found out her co-op placement with FMF was extended until January.
When her studies are completed, she will have a Bachelor of Science in Chemistry and Math.
FMF also offers other workplace training opportunities for students including apprenticeships, internships, and work experience through the Federal Student Work Experience Program (FSWEP). 
––––
Filed Under: Top Stories
Comments (0)