By Lookout on Jan 04, 2016 with Comments 0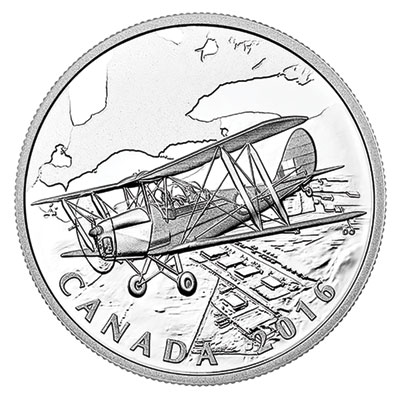 RCAF Public Affairs >> The Royal Canadian Mint has launched a new $20 silver coin commemorating the British Commonwealth Air Training Plan (BCATP).
The Plan, as it came to be known, arose from Prime Minister William Lyon Mackenzie King's desire to see Canada contribute meaningfully to the Allied war effort while, hopefully, maintaining control of Canadian personnel rather than seeing them absorbed into British units, and avoiding the terribly high casualty rates of the First World War. The BCTAP agreement was signed in late 1939, and ran until 1945.
It was a simple plan, on the surface. Once Commonwealth nations around the world had determined through their own Elementary Flying Training Schools (EFTS) that enrollees did, indeed, have "the right stuff", candidates arrived at BCATP schools throughout Canada for advanced flying training, and air gunnery, wireless operator and air observer instruction. Upon graduation, aircrew travelled to England where they formed units and entered the fray under their own nations' banners.
Beneath this ordered surface was one of the most demanding efforts undertaken by Canada during the Second World War.
Airfields and schools were repurposed or constructed throughout Canada. These facilities and their supporting infrastructure would employ some 33,000 military personnel and about 6,000 civilians, and require about 5,000 aircraft – at a staggering cost of more than $607 million.
By war's end, BCATP schools had trained 131,553 Allied aircrew, and Canada had become known as "the aerodrome of democracy". The Plan was one of the most successful efforts undertaken by Canada during the Second World War. A legacy of the BCATP is visible in the many airfields and regional airports that dot our nation today.
The Royal Canadian Mint's new British Commonwealth Air Training Plan commemorative $20 silver coin is a fitting tribute to The Plan and to the Canadians who brought it to life.
With thanks to the Royal Canadian Mint for the use of its images. Coin images© 2016 Royal Canadian Mint. All rights reserved.
Filed Under: Top Stories
Comments (0)