By Lookout on Dec 31, 2016 with Comments 0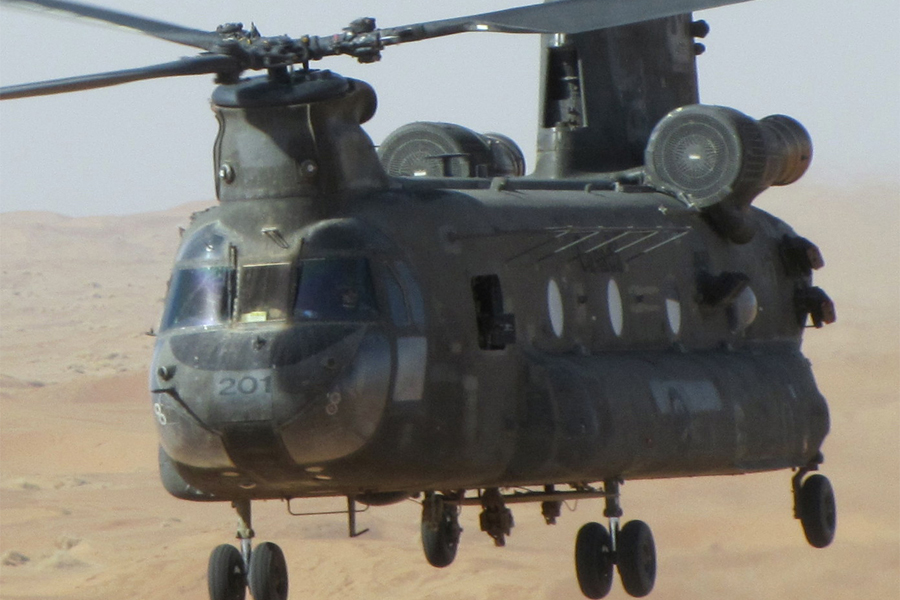 RCAF Public Affairs ~
CH-147 D-model Chinook helicopters have become historical artefacts after the last two in Canadian inventory were delivered to two museums in Ontario.
Aircraft 147201 arrived at 8 Wing Trenton on Nov. 17. It will be re-assembled and painted, and put on display at Trenton's National Air Force Museum of Canada.
Aircraft 147206 arrived at Canadian Forces Base Petawawa on Nov. 18. It will be re-assembled, refinished and put on display as a gate guard outside 450 Tactical Helicopter Squadron.
The value of the D-model Chinook helicopters was clearly highlighted by Canadian operational experience in Afghanistan, with six employed as part of Canada's Air Wing in Kandahar. These aircraft were purchased from the United States in 2009 to provide an interim capability for the Canadian Armed Forces.
Throughout their two-and-a-half years in Afghanistan, RCAF CH-147D Chinook helicopters provided yeoman service, significantly reducing the threat to deployed Canadian Army soldiers by reducing the requirement for ground transport. With their capability to lift large amounts of cargo and numbers of passengers in the high elevations and temperatures in Afghanistan, the Chinooks' support was always in big demand.
These workhorse helicopters helped to save lives in Afghanistan every day, and contributed significantly to mission success.
CH-147D Chinook operations in Afghanistan were not without risk. Two Canadian Chinooks were lost in Afghanistan. The first was downed by insurgent fire near forward operating Base Masum Ghar on August 5, 2010, and the second rolled over on landing in dusty conditions while conducting a night air assault mission on May 16, 2011.
Canada's Chinook history
Canada's eight CH-147C Chinook helicopters were flown from 1974 until 1991, primarily by 447 Transport Helicopter Squadron in Edmonton and 450 Transport Helicopter Squadron in Ottawa. 447 Squadron was disbanded in July 1991 and 450 Squadron in Ottawa became 450 Composite Helicopter Squadron (later 450 Tactical Helicopter Squadron), flying CH-135 Twin Hueys. 450 Squadron was formally disbanded on January 1, 1998.
But you can't keep a good helicopter down.
As a result of the Manley Report, prepared by the Independent Panel on Canada's future role in Afghanistan and submitted to Prime Minister Stephen Harper in January 2008, Canada acquired CH-147D Chinooks from the United States to use in Afghanistan.
Later, the Royal Canadian Air Force began the process of acquiring 15 brand new CH-147F Chinooks to operate domestically and internationally. The new Chinooks began arriving in 2013 and delivery was completed a year later. The helicopters are once again flown by 450 Tactical Helicopter Squadron at CFB Petawawa, which was re-established on May 2, 2012.
CH-147D Facts
While employed with the CHFA, the D-model Chinooks achieved the following milestones:
First flight: Dec. 28, 2008
Total passengers flown: 90,723
Total cargo flown: 7,097,989 lbs
Total hours flown: 7084.5
Last flight: July 30, 2011
Filed Under: Top Stories
Comments (0)