By Lookout on Oct 11, 2018 with Comments 0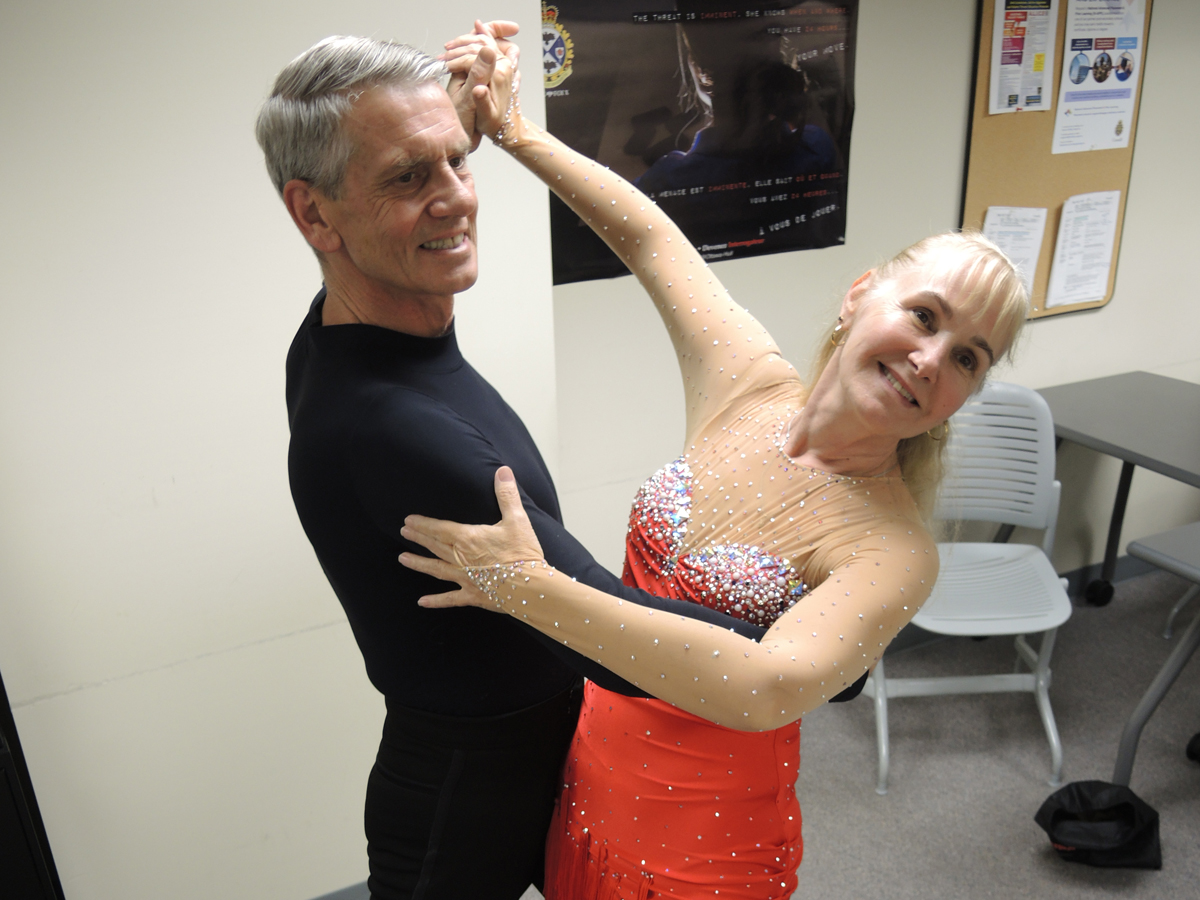 Peter Mallett, Staff Writer ~
A pair of competitive dancers from CFB Esquimalt will swivel their hips and move their feet to the samba, chacha, rumba, paso doble, and jive at the world championships of Latin dance in Spain this weekend.
Husband and wife team Gail Whitcroft, of the Base Selection Personnel Office, and Ron Whitcroft, a carpenter with Real Properties Operations (Pacific), will compete against more than 88 couples from around the world in the Senior 3 Latin World Championships Oct. 12 to 14 at the Bilbao Arena Sports Palace. The 61-year-olds qualified for the prestigious World Dance Sport Federation (WDSF) event after finishing runners-up at the Canadian Closed Championships in Montreal last April.
While elated to have the opportunity to compete in Spain, the logistics to make it happen were a challenge. Travelling to Europe is expensive, and the couple have been saving hard for their retirement. 
But having both beaten back cancer, they agreed to use some money for "living in the moment and living life to the fullest."
Eleven years ago, Ron was diagnosed with prostate cancer shortly after Gail finished radiation treatment for breast cancer. They both fought and won their cancer battles.
"Beating cancer and taking up dancing has given us a new lease on life," says Gail. "We dance because we can. Our story could have gone the other way very easily. That is really a big part of the inspiration and our love for dance."
Entering their first competition was done as a lark.
"Our evolution into competitive dancing is a funny thing because the first competition we entered was for the excitement of it all; but after that we knew we were hooked," said Ron.
It took 10 years to master the ballroom dancing syllabus and all 10 disciplines of standard and Latin dance: waltz, Viennese waltz, foxtrot, tango, quickstep, samba, cha-cha, rumba, paso doble and jive.
Today, an entire wall in their at-home dance studio is covered in awards and certificates of victories at dozens of competitions. One of their fondest was competing in an open-age competition, the Seattle Star Ball back in 2013. They thought they had a mediocre performance but, to their shock won the competition against dancing teams mostly in their 20's, 30's and 40s.
Gail and Ron say a big part of their recipe for success includes leading a healthy lifestyle, spending two to three hours each day practicing their moves in their studio or under the watchful eye of their two Russian coaches Victor Golubkov and Katya Michtchenko. Since there are no ballrooms to practice in Victoria, it's the community rooms and local churches that serve as their practice facility.
Since it's their first-ever time competing in a world championship they are taking a realistic approach to their chances.
"We are going for the experience and don't give ourselves much of a chance to win the title," said Ron. "Our goal is not to come last and hopefully qualify for the second round, that would be amazing and a big victory to us."
Filed Under: Top Stories
Comments (0)