By Lookout on Jan 14, 2020 with Comments 1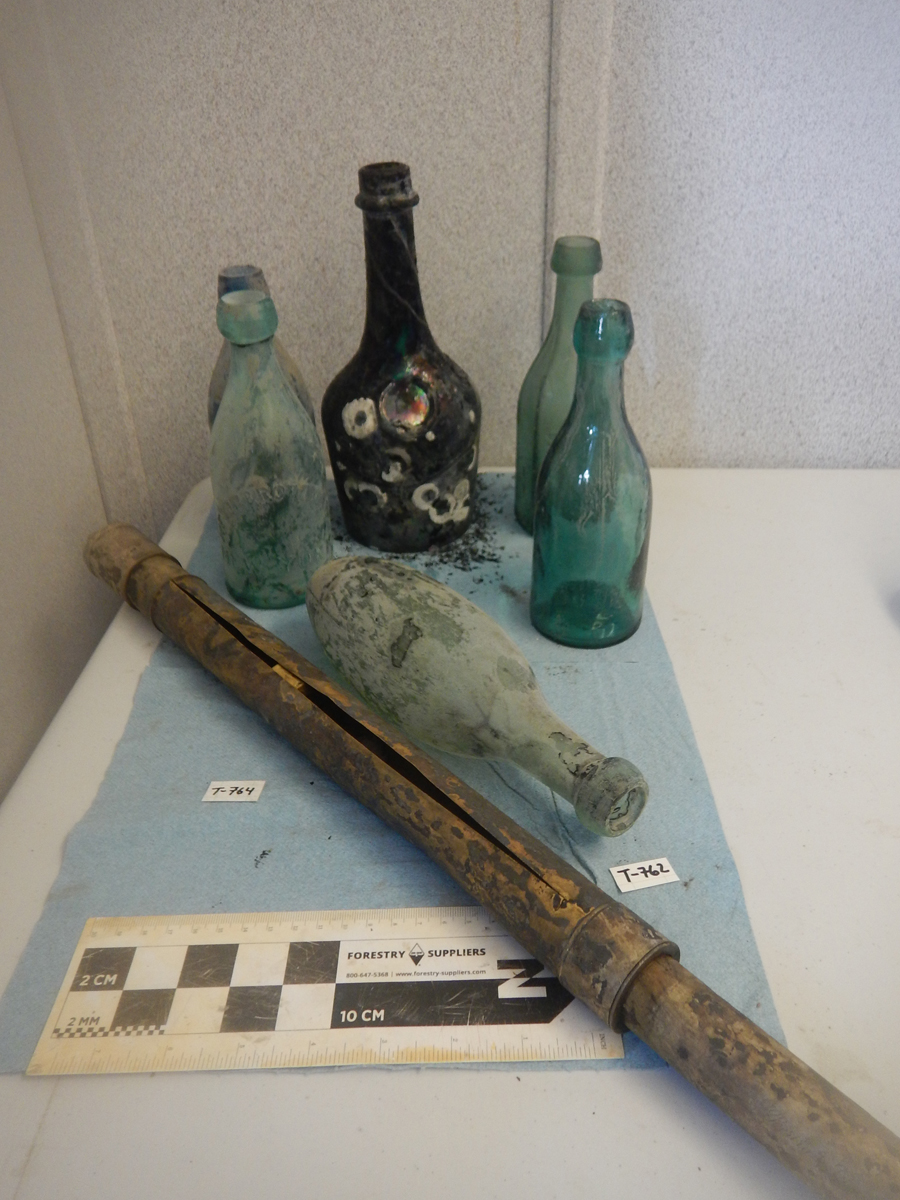 Peter Mallett, Staff Writer ~
A 19th Century spyglass once owned by an officer of the Royal Navy is the latest notable historical artifact found during ongoing remedial dredging operations in Esquimalt Harbour.
The small telescope had been preserved in the cold water and sediment for over 137 years before the bucket of a large crane barge plucked the item from the seabed of Constance Cove on Dec. 10.
Archaeological monitors aboard a neighboring floating processing plant discovered the telescope as they sorted through the large barge load of sediment.
An inscription on the spyglass revealed it was owned by Sub-Lieutenant Midshipman Bertram Chambers.
Spyglasses were an essential maritime tool of naval officers and captains of the 17th, 18th, and 19th century and were used to see land and other ships, and to prepare for attacks by pirates or enemy vessels. 
It's not the first historical artifact found during remediation work, but is one of the most exciting says Esquimalt Harbour Remediation Officer Michael Bodman from Formation Safety Environment.
"It is not often that we find a personal item belonging to someone who has a certain level of fame and an influential role in the Royal Navy (RN)," he said. "Now the head scratches at the question of how it ended up on the floor of Esquimalt Harbour and more importantly what other vessels and sights did he see through the spyglass as he traversed the globe?"
During his time in Esquimalt, Chambers served aboard HMS Satellite, a Corvette that operated from the Royal Navy's Pacific Station – the forerunner of CFB Esquimalt – from 1883 to 1886. Chambers also served the RN at their base in Halifax and Australia and would eventually retire in 1926 with the rank of Admiral.
A team of conservationists at the Royal B.C. Museum are currently attempting to confirm the telescope's authenticity and discuss the disposition of the find. Bodman says the spyglass was in surprisingly good condition when it was discovered, despite physical damage such as corrosion, and one of its chambers being filled with sea water. He also noted the cold water and mostly soft sediment in the harbour greatly aided in it preservation and other objects they have found.
Formation Safety Environment has enlisted the help of local scientists and archeologists to work on the processing plant and sort through the sediment for items of value or historic interest.  University of Victoria anthropology student Caitlin Craig helped sort through the mostly thick black muck as a co-operative education student in 2019. She described the more than 2,000 historical objects found in the harbour as a "treasure trove."
"Some of the items included medicine bottles belonging to a ship's physician, mess plates and [hat] buttons and badges from various [Royal Navy] departments ranging from the Royal Marines Light Infantry to the Royal Marine Artillery," said Craig. "These artifacts provide a glimpse into the life of a sailor in the early 1900s."
Other items found include clay pipes, hygiene bottles such as hair tonic and cologne, and newer items such as a Second World War-era communications headset, gas masks, and microfiche pages from the 1970s.
Work on removing approximately 110,000 cubic meters of contaminated sediment near A, B, C and Y Jetties, the ML Floats and other parts of Esquimalt Harbour began in 2016 as part of the Esquimalt Harbour Remediation Project, and is still ongoing. Years of naval and industrial activity in Esquimalt Harbour (such as ship building, maintenance and repair, privately-owned mills, and fuel storage) have left deposits of mercury, lead, copper, and other industrial contaminants on the harbour floor, along with artifacts.
After being cleaned, photographed and catalogued, some of the more interesting artifacts will be held at the B.C. Royal Museum for further study. Five display cases have already been installed in an auxiliary building near the newly completed B Jetty, which in the future Bodman says will contain a rotating inventory of artifacts found during dredging that showcase the history of Esquimalt Harbour.
Filed Under: Top Stories
Comments (1)