By Lookout on Jan 20, 2014 with Comments 2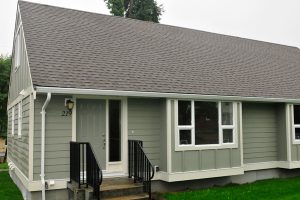 Every year, Department of National Defence's (DND) shelter charges (rents) must be revised to ensure they reflect local market values for similar homes in the local market. This guarantees fairness and equity for Canadian Armed Forces (CAF) members and their families regardless of whether they choose to live in the private sector or in DND housing.
The Canadian Forces Housing Agency (CFHA), a Special Operating Agency of DND, manages Crown housing on its behalf and therefore administers the rent adjustment process annually in accordance with governmental and departmental policies and regulations.
Historically, rent values for DND housing have been appraised by the Canada Mortgage and Housing Corporation (CMHC) annually. The appraisal was based on a number of factors, such as type, size, age, access to amenities, and general condition of the units.
In 2013, CMHC announced it would no longer provide appraisal services for residential Crown housing. CFHA and other government departments affected by this change worked with Public Works and Government Services Canada (PWGSC) to establish an interim, fair solution for this year's rent adjustment exercise. An indexed value for the housing units was determined by PWGSC, based upon the three previous annual increases.
Based on the indexed values provided by PWGSC, the recommended average 2014 rent increases for occupants in B.C. DND housing was 2.2 per cent. CFHA then reviewed the provincial rent control legislations to determine each province's maximum for rental increases this year to ensure families living in DND housing will not experience a rent adjustment that is too large.
For 2014, rental increases in B.C. are restricted to the lowest of the provincial rent control legislation limits of 2.2 per cent, or a maximum of $100 per month regardless of the CMHC appraisal value or PWGSC indexed value.
In Esquimalt, this translates to an average increase in rent of $25 per month starting in April 2014. As an additional protection, rents cannot exceed 25 per cent of the combined gross household income for all families living in DND housing. Where this is applicable, CAF member may apply to have the rent reduced to this value.
CFHA is aware that DND's housing portfolio is aging and all Agency employees are committed to the improvement, modernization and repair of housing units at bases and wings across the country to help improve the quality of life of CAF families. Year after year, CFHA spares no effort to ensure that as much as possible of the rent collected from occupants goes back into the operation, improvement and maintenance of the housing portfolio.
Families living in DND housing are encouraged to contact their HSC if they have any questions related to their rent adjustment or any other question about their housing unit. HSC Esquimalt can be reached at (250) 363-4421 or cfha-alfc.esquimalt@forces.gc.ca.
-DND
Filed Under: Top Stories
Comments (2)