By Lookout on Feb 20, 2016 with Comments 0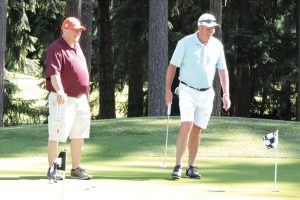 Whether you're a beginner or an old pro, a membership in the CFB Esquimalt Golf Association has many advantages.
The club has corporate membership at Olympic View, Arbutus Ridge and Glen Meadows Golf Clubs. In addition, thanks to local golf courses, club members enjoy reduced rates at Bear Mountain, Cowichan and many more golf courses. The end result is reduced green fees and membership privileges making the game of golf more accessible and affordable to the MARPAC/DND community.
 
"I think we are the best kept secret on the base. And thus, I want people to know that anybody can become a member of our club," says club president Lt(N) Mohamed Ali Gudal. "More than anything else our club allows you to enjoy the game at greatly discounted rates and also make new friends and socialize."
Also included with the membership is an opportunity to become BCGA and Golf Canada member for only $20, giving members an opportunity to post scores online and track an official handicap with the governing body.
The 500-member club is celebrating its 20th anniversary this year, and the club's incoming president is calling on all MARPAC military, DND public servants, veterans, serving RCMP and Honorary Colonels and  Captain(N)s and their families to join their ranks in 2016.
The three-tiered annual membership begins at $35.
The club organizes a season opening tournament in early May, an annual road trip in early June – this year in the Whistler B.C. area, and an annual championship tournament in early September. The club subsidizes these events, thus enabling its members to enjoy more golf at a reduced rate. In addition, every tournament participant wins a prize, or two.
To find out more about the CFBEGA visit their website at: www.cfbega.ca
Filed Under: Top Stories
Comments (0)