By Lookout on Jul 02, 2020 with Comments 0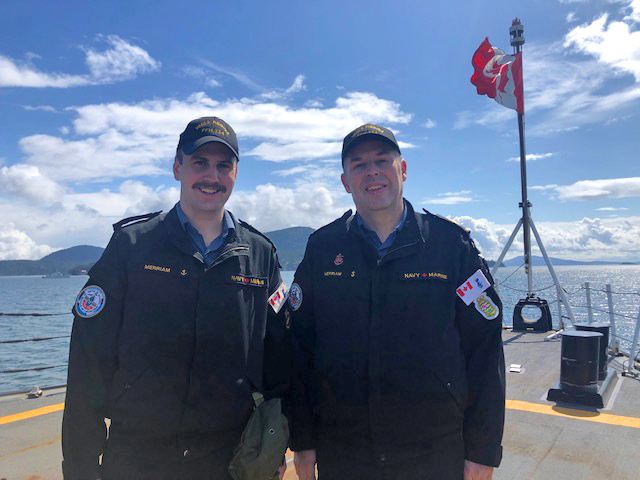 Peter Mallett / Capt Lisa Evong, Staff Writers
Two sailors on board HMCS Regina share a remarkable bond, even more resilient than the tightest of Royal Canadian Navy shipmates.
That's because they are father and son. 
The unique paternal connection in the Esquimalt-based warship took shape June 1, when 50-year-old Petty Officer Second Class Jay Merriam was officially posted to Regina. The posting fills a staffing shortfall for its upcoming sail to the Rim of the Pacific exercise.
After getting word of the posting in March, PO2 Merriam instantly realized he would become a crew mate of his 21-year-old son Able Seaman Corey Merriam, who works in the ship as a Marine Technician.
Word of the father-son connection spread quickly in the ship.
"Our shipmates are all aware of the family connection and everyone I have spoken to think it's pretty cool," says PO2 Merriam.
They don't exactly work side-by-side and haven't been tasked together on any projects, but the Logistics Department where PO2 Merriam works and AB Merriam's Marine System Engineering Department are in close proximity. Even though they have different responsibilities and belong to different messes, they cross paths as they transit the ship.
"If our shipmates see us walking down the flats of the ship from behind, they both say we walk the same and can't tell the difference between us," says AB Merriam.
While they have different interests and skills, both admit the family bond is completely evident to others.
"We share a lot of the same characteristics and are fairly laid back and chill," says AB Merriam.
When work is done and it's time to head home, they don't have to travel far to see each other again. That's because they both reside in a Belmont Park residential housing unit.
Sherry Merriam, step-mother to Corey and spouse to Jay, is happy to see the father-son bonding both in Regina and after work.
"I am a very proud navy wife and mother and have always backed Jay and Corey 100 percent in whatever they do. I couldn't be happier the boys are getting to sail together on the same ship."
Continuing the tradition
Regina's father-son duo share a naval history with Corey becoming the fourth generation of Merriam's in the Royal Canadian Navy. The first generation, Jay's grandfather, was an Engineer and served in the Merchant Marines. Jay's father served the navy for over 34 years, first as a Radar Plotter and then as a Naval Warfare Officer standing watch on HMC Ships Terre Nova, Bonaventure, and Magnificent.
PO2 Merriam was a late bloomer to the military with his story beginning 14 years ago. He had looked into joining the navy in the early 1990s when he was his son's age, but the navy wasn't hiring at that point. So, for several years he worked selling building supplies in Dartmouth and Parrsboro, N.S.
Enticing stories from friends who had joined the navy about challenging, well-paying jobs that offered adventure and travel eventually got him to join at age 36.
"Basic training was a bit of an eye opener," he said. "I tried to prepare my body by training hard. but you just can never fully appreciate what you experience once you arrive in St Jean sur Richelieu, Quebec."
Corey began his journey as a member of the Royal Canadian Air Cadets.
The pair sailed together for Operation Laser, the Canadian Armed Forces Response to the COVID-19 pandemic, off the coast of Vancouver Island. The ship is currently in a short workup period as it prepares for RIMPAC in August. Both say the possibility of doing major deployments and being given the chance to sail around the world together is an exciting prospect.
"Visiting a foreign port with Corey is certainly on my bucket list and I know he feels the same way," concluded PO2 Merriam.
––––
Filed Under: Top Stories
Comments (0)