By Lookout on Jun 27, 2017 with Comments 0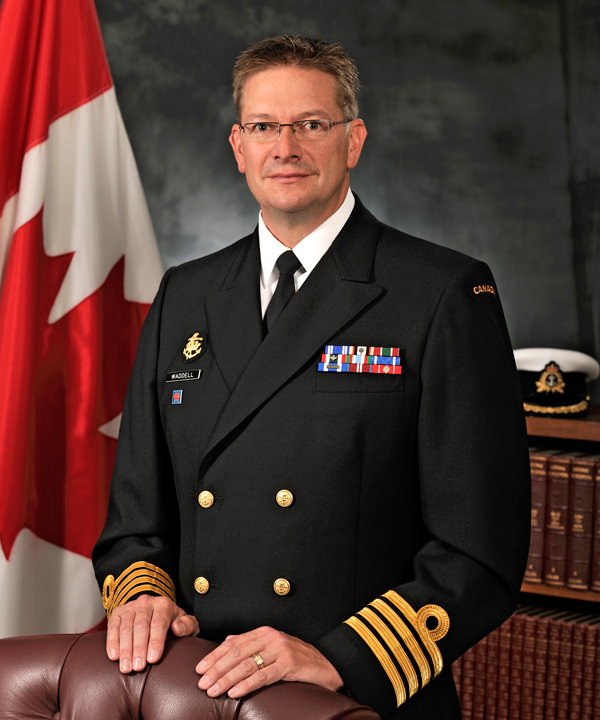 James Vassallo, Base Public Affairs ~
Early in his time as Base Commander, Commodore Steve Waddell, promoted to his current rank earlier this month, began to address the issues that landed in his sights.
He made a plea to whomever was placing sharp objects on the ball fields around CFB Esquimalt to stop, and just come and talk to him about it instead.
Seeing the impact of early morning starts – missed breakfasts, childcare conflicts, worsened commutes – he moved Base Divisions to later in the day, making it less formal and allowing people to ask questions or bring forward issues after inspection.
Concerned over the availability and condition of residential housing units at remote sites, he worked to change that.
By themselves these are perhaps small things, but together they represent something significant: a way of leading, and an understanding of him as a leader.
"After almost 28 years in the navy I don't think I've really changed who I am," he says. "I recognize the value of our output has always been based on the aggregate of the efforts of everybody. Going around talking to people, understanding their issues and validating they're part of a greater activity, whether big or small, that was always important to me."
That "greater activity" was a deceivingly simple sentiment: get warships to sea for Canadians. In practice there was always the potential for things to become more complex given a diverse civilian and military workforce, significant interdependencies between internal and external organizations, and needs spread over a wide range of areas – hospital services, IT infrastructure, human resources issues, support for military ­families – that go far beyond operationalizing a military.
"Unlike a ship, it can be harder to build esprit de corps across a diverse portfolio like the base, but I always reminded people about all the valuable things they were doing and that it was all about getting those naval platforms, those war fighting capabilities, out the door for this country," says Cmdre Waddell. "And at the end of the day I wanted to see people happy and smiling at work."
How this philosophy manifested inside the confines of the base also reflected outward. Commodore Waddell became a prominent feature at parades and commemoration ceremonies, brought forward the first base open house in a decade in the form of Westshore Navy Day, campaigned for the United Way as board director, advocated continuously for respect and inclusion of Indigenous peoples as the champion for the MARPAC Defence Aboriginal Advisory Group, and worked closely with the Chamber of Commerce, eventually bringing his external and internal outreach full circle as he welcomed prominent business woman Mandy Farmer into the Royal Canadian Navy as an Honorary Captain.
"I'm proud of the community connections piece," he says. "It was never really by design but I realized early on that, although many people represent the base in many ways, the face of the base can often be the Base Commander. When people look at the military community they see a lot of mystery and when they can put face to name over a period of time I think that's helpful in terms of engagement and supporting dialogue, which is much to the benefit of the navy and the community."
Cmdre Waddell now heads to Ottawa to assume the portfolio of Director General Naval Strategic Readiness where he will be one of two commodores on the Naval Staff supporting the Commander of the Royal Canadian Navy.
Working alongside the Director General for Force Development, his role will be one that dovetails nicely with that of Base Commander given the need for expertise in a wide range of areas.
"The Commander needs to have support at NDHQ that's linked into HR, linked into the strategic joint staff and all of those purple domains that don't have to do with future platforms," he says. "This includes logistics, information warfare, and the significant responsibilities of personnel and training."
While he looks forward to the new opportunity, Cmdre Waddell says he's disappointed with one aspect of leaving CFB Esquimalt.
"I know I didn't get out to meet everyone," he says. "I believe you should be able at some point or another to see and meet all of the people that work with you. I know it's difficult in a large and complex organization, but I wish I could have had more time to get out and meet more people."
With a slight pause he adds there might also be just one more small regret.
"The salty air. You notice it every time," he says. "The Pacific Ocean, any ocean, there's a certain energy there. That's why you join the navy, to be on a ship. My job is still in navy lines and I'm doing all those things that help move those ships, but I'll miss that salty air."
Filed Under: Top Stories
Comments (0)