By Lookout on Sep 29, 2017 with Comments 0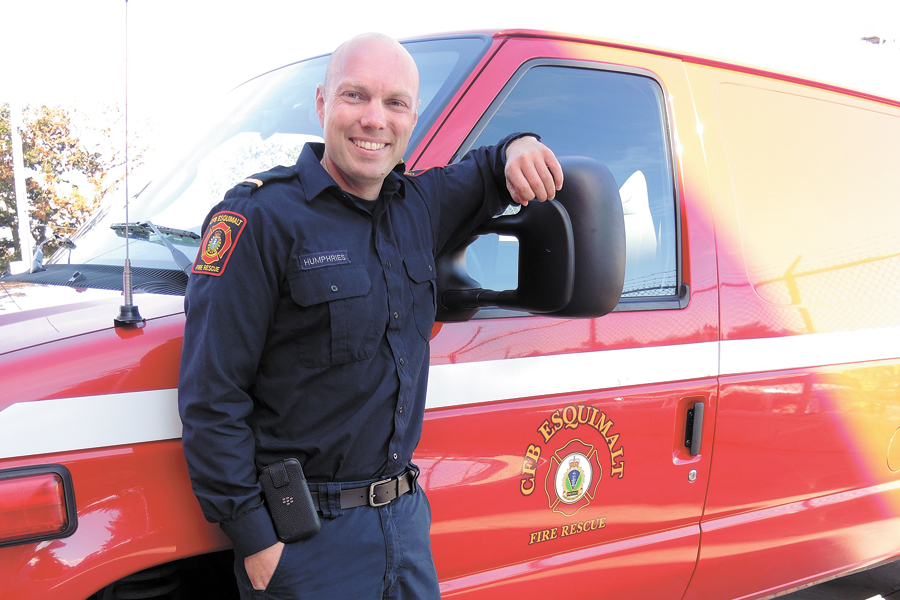 Peter Mallett, Staff Writer ~
"There was so much smoke in the air it was almost apocalyptic because the sun was blotted out," said Jason Humphries of the fires raging in B.C.'s interior.
"We couldn't see the fire itself because of all the smoke, but we could see the damage that extended for miles and miles. As far as the eye could see were charred hillsides, burned out trees and whole forested areas completely obliterated."
The thirty-six-year-old fire inspector from CFB Esquimalt Fire Rescue spent a week this summer battling the fires near Cache Creek with members of the Sooke and Metchosin volunteer fire departments.
They were part of a massive provincial effort to contain multiple wildfires that broke out in the tinder-dry Okanagan region this year.
Both departments supplied a pumper truck staffed with four volunteer firefighters, making the seven hour 440-kilometre trek to the region at a moment's notice.
Humphries has battled the occasional brush or spot fire over his 13 year career, but says those blazes pale in comparison to this year's wildfires that devastated a huge swatch of central B.C.
Volunteer firefighting teams were tasked with protecting homes from the fires and making sure emergency sprinklers in homes and businesses were operating properly.
Besides a few hours battling a brush fire burning out of control near Loon Lake midway through his trip, he credits the forestry fire fighters from B.C., Alberta, Ontario and New Brunswick, along contingents from Australia, New Zealand and the United States with doing the lion's share of the front-line work.
"They were doing most of the more dangerous work containing the larger blazes and I have utmost respect for them," says Humphries. "The biggest takeaway from my experience was the amount of resources and people that converged on this place, and the organization required to manage a situation like this."
Since April 1, there have been 1,249 fires destroying nearly 1.2 million hectares of land, and more than $510 million spent in suppression efforts. Progress has been made in containing most of the big blazes.
Donate to the Red Cross:
The Red Cross is supporting the Province of British Columbia and local authorities in providing assistance to those affected by the wildfires. Donations help provide immediate relief such as cots, blankets, family reunification and financial assistance for food, clothing and personal needs. Beyond meeting immediate needs, donations may also help re-entry and go towards more long-term recovery, resiliency and preparedness.
Filed Under: Top Stories
Comments (0)