By Lookout on Jul 14, 2020 with Comments 0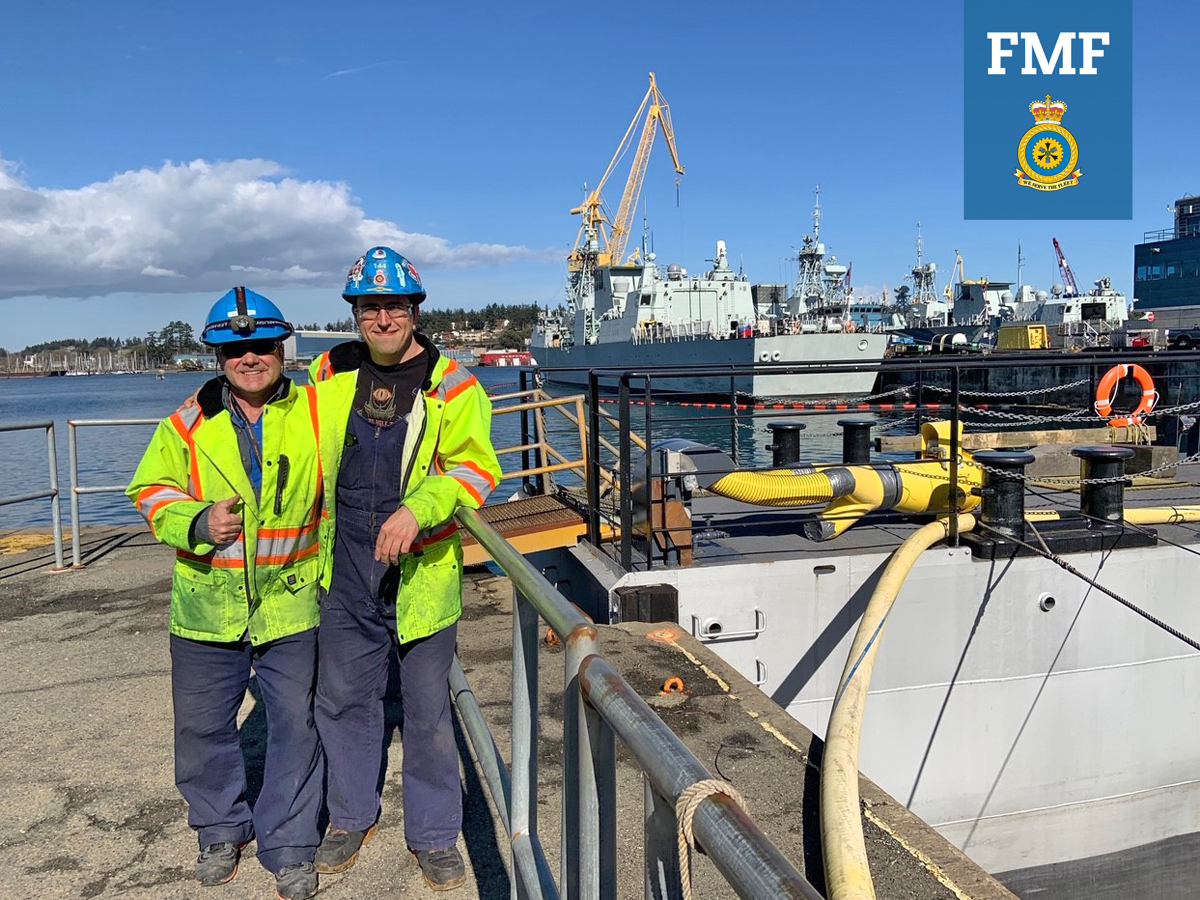 Peter Mallett, Staff Writer / Ashley Evans ~
Larry Fletcher and Steven Faust are usually the first friendly faces returning sailors or visiting sailors see when their ship comes alongside a jetty in HMC Dockyard.
They have dubbed themselves the "electrical ambassadors" because they are the ones who hook the ships up to on-shore power.
"Larry and I are the first faces sailors meet when they return home. We also really enjoy interacting with visitors from other countries, making the most unique aspect of our job customer service," says Faust. "We take pride in being the electrical ambassadors for the base, and making shore power hook-ups as easy and efficient as possible."
The two electricians work in the Electrical Shop of Fleet Maintenance Facility (FMF) Cape Breton and provide, maintain, and repair shore power for HMC Ships and those of visiting navies.
Fletcher, 54, joined FMF three years ago after working several decades as a technician in the data communications, and film and television industry. He made his way to FMF in 2017 after working five years at Seaspan Shipyard where he became a qualified electrician and earned his ticket with the local branch of the International Brotherhood of Electrical Workers.
Faust, 39, carved a much quicker path to FMF. After graduating from Camosun College, he worked as a commercial electrician for office buildings and also installing power and data at the University of Victoria with a private company. He upped his credentials by joining FMF's apprenticeship program.
The biggest part of their job is maintaining, testing, repairing, and even manufacturing cables inside the Electrical Shop's cable repair facility.
They have a large inventory of 40 different cables to maintain because the cable requirements for each vessel in the navy and other navies are different. A frigate, for example, needs 12 individual cables organized in four sets. Each cable is approximately 300 feet long.
Getting the cables on board is no easy task, and is normally performed by a team of sailors. It is their job to haul the lengths of heavy cable up from the jetty to the deck of the ship. This can be gruelling work, notes Fletcher, who says each 50 feet of cable weighs approximately 150 lbs.
Cables are stored on the many jetties at the base. Each cable contains at least three sets of wires, approximately one inch in diameter per cable bundle in each set.
They are weather proof and have a durable rubber boot coating on the outside of the wires. Fletcher notes that over time the hot and cold temperatures and ultraviolet rays do a lot of damage to the boots that protect the cables and they often need to be replaced.
"Unlike many jobs in the private sector, the quality of work we do at FMF comes not from speed, but from being thorough and deliberate," says Fletcher.
They also construct cables when they need to be replaced or upgraded.
Other sets of cables with different voltage requirements are at the ready for visiting ships who often have different connectors and voltage requirements. If need be, the two will make unique cable sets from scratch using pre-supplied wires and other electrical materials.
Constructing cables includes priming and vulcanizing the protective rubber boot material to the metal wires that carry the current using an eight-ton hydraulic crimping tool, and then connecting them to the plugs that look like a giant wall prong plugs.
"Excuse the pun, but it works well despite many pluses and minuses," says Faust. "The connectors and cables we build can be very difficult to construct, its half chemistry and science, and half art. This is something I wasn't taught in school."
Powering the fleet is not just about them. Both men acknowledge they are one piece of a large team that gets ships in and out of port safely. They work closely with Queen's Harbour Master crews who run the escort tugs to guide ships into port, and, dressed in yellow safety vests, throw the ropes to returning sailors to attach their vessel to the jetty.
There are also FMF pipe fitters who work to hook up the water and sewage for the ships, and many other individuals behind the scenes people that make the completion of their work possible. 
In the end, both Fletcher and Faust say they wouldn't trade their job, and still marvel at the work they do as they enter Dockyard.
"I love the fact that as an electrician I am probably working in the best place in the world," says Fletcher. "Walking in to Dockyard and seeing these giant ships and submarines in the harbour that I help maintain is inspiring and makes me very proud of the work I do every day."
––––
Filed Under: Top Stories
Comments (0)