By Lookout on Apr 29, 2021 with Comments 0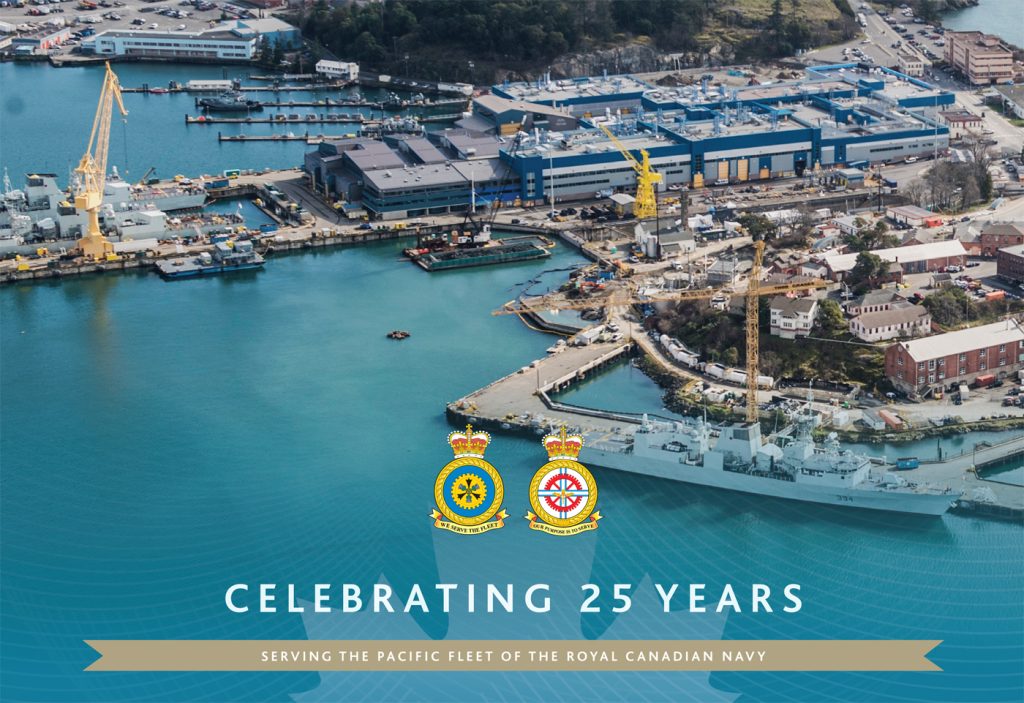 Ashley Evans
FMFCB
––
April 2021 marks the 25th anniversary of the inception of the Fleet Maintenance Facilities Cape Breton and Cape Scott (FMFCB/FMFCS), the Royal Canadian Navy's dedicated engineering, repair, and maintenance facilities located on each of Canada's coastlines within HMC Dockyard Esquimalt, B.C., and HMC Dockyard Halifax, N.S.
The past quarter century has seen teams of military and civilian engineers, tradespersons, project planners, and other workers deliver on their mandate to serve the technical needs of the Royal Canadian Navy fleet by operating these world-class ship repair facilities.
The FMFs were formed through the amalgamation of three separate engineering, maintenance, and repair units in 1996: Ship Repair Unit Atlantic/Pacific, Naval Engineering Unit Atlantic/Pacific, and Fleet Maintenance Group Atlantic/Pacific.
The Fleet Maintenance Facilities took their current names from Fleet Maintenance Group Atlantic/Pacific, which were former Cape-class maintenance ships: HMCS Cape Scott and HMCS Cape Breton. The ships were permanently berthed alongside the coast of their namesakes as floating dockyard maintenance and repair facilities in the 1970s; however, were later moved into shore facilities. 
FMFCS boasts a total building count of 13, with an overall footprint of more than 81,000 square metres.
On the West Coast, a consolidated Ship Repair Zone has been created through the FMFCB modernization project (C4360), which includes the construction of D250 at 48,000 square metres. C4360 brought with it the construction of the 2,300 square metre Central Storage Facility and has made FMFCB one of the largest buildings by volume on the West Coast of North America.
The FMFs are comprised of seven departments: Operations, Engineering, Production, Unit Support, Finance, Strategy, and Process Integration, with the Production department carrying out the following capabilities:
Command and Control Systems;
Communication Systems;
Above Water and Under Water Weapons Systems such as guns, missiles, fire-control and torpedo systems;
Hydraulic Systems;
Marine Diesel, Gas Turbine, Electrical Propulsion, and Auxiliary Systems;
Electrical Generation and Distribution;
Hull Maintenance and Fabrication resources;
Machining; and
Submarine Systems, such as periscope maintenance and weapons certification, among others.
As industrial, technological, engineering, and production hubs, the Fleet Maintenance Facilities are strategic assets for the navy; as they provide a full range of naval engineering, maintenance, and repair services to support the operational availability of the navy's warships and submarines, auxiliary vessels, and other Formation units.
The majority of work is completed onsite in the HMC dockyards; however, mobile repair parties further extend their capabilities by providing the ability for specialized technicians to meet up with deployed warships worldwide.
Many employee faces have changed (or aged) over the years, but delivering first-class support to the Royal Canadian Navy has remained. With every turn of a wrench and engineering change designed and implemented, the Fleet Maintenance Facilities continue to provide unwavering service to the Admiral and the sailors who take the vessels to sea.
A special 25th Anniversary Fleet Maintenance Facility Cape Breton Commemorative book has been created. If you are interested in a copy contact Ashley.Evans@forces.gc.ca
––––
Filed Under: Top Stories
Comments (0)