By Lookout on Jun 16, 2016 with Comments 0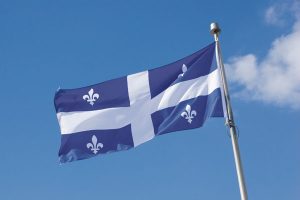 Peter Mallett, Staff Writer ~
Petty Officer First Class  (Ret'd) Jean Pierre Fournier is the man behind this year's Saint-Jean Baptiste Day Super Party in Victoria, The Quebec City native says the evening of music and entertainment at Victoria's Edelweiss Club on June 24 at 8 p.m. can best be described as a celebration of Francophone World Beat.
"This event is to celebrate the music of Francophones, not only from Canada but all around the world, and there will be something for everyone," says Fournier. "We are going to mix all of the genres of music and bring them together on one stage."
Fournier, 56, served 19 years in the Royal Canadian Navy before helping found Victoria's first French-language community radio station, 107.9 CILS FM in 1998. He has since moved on to concert promotion while also hosting his own radio show on his webpage Production Radio Franco Pacifique (www.prfp.info).
Saint-Jean-Baptiste Day is a national holiday in Quebec and observed by Francophones from coast to coast. Today's feast day of the Nativity of John The Baptiste festivities have evolved into a celebration of French culture with large street parties, music festivals, barbeques and fireworks.
While Fournier will deejay and provide video entertainment for the Friday-night event at the German Canadian Cultural Centre, it will also feature a performance by acclaimed Togo-born Afro-Jazz fusion musician Joe Amouzou and his band the Safari League.
"I have never played a Saint-Jean-Baptiste Day event before," said Amouzou. "Because of my French origins – being a Francophone from Togo – I am really quite thrilled and excited to do this."
Amouzou, 61, is a vocalist who also plays guitar, piano and percussion. He has cut three albums and has been featured on CBC radio on multiple occasions. Another member of the band is Edmonton-born lead guitarist Dennis Green who has played with musical legends Ike Turner, and bassist Chuck Ranney and Martha Reeves and the Vandellas.
"I know that having Joe [Amouzou] and his band perform will be great news for the thousands of Francophones living in Victoria, and at the base, and for all music fans in general," said Fournier. "We are hoping the performance by Joe will provide more general interest and attract the attention of patrons attending the Victoria Jazz Festival and Ska Reggae Festival, which will be going on at the same time as our event."
Fournier began his career in the navy in 1973, and retired in 1997. He spent much of his career as a boatswain aboard HMCS Skeena, HMCS St. Croix and HMCS Iroquois. During his travels across the globe with the Canadian Forces, Fournier immersed himself in the music of different cultures around the world. It is that experience which drives this concert.
Tickets for the event, which will feature a cash bar, are priced at $20. They can be purchased at the door, but Fournier recommends buying advance tickets at downtown restaurant Petit Dakar located at 711 Douglas Street.
"Our overall goal is to highlight and bring forward the diversity of the Francophone community in British Columbia, and the experiences of the 300,000 people who are part of it," said Fournier. "A big segment of the Francophone community are military personnel and we want them to be a part of this celebration."
Filed Under: Top Stories
Comments (0)