By Lookout Production on Oct 27, 2022 with Comments 0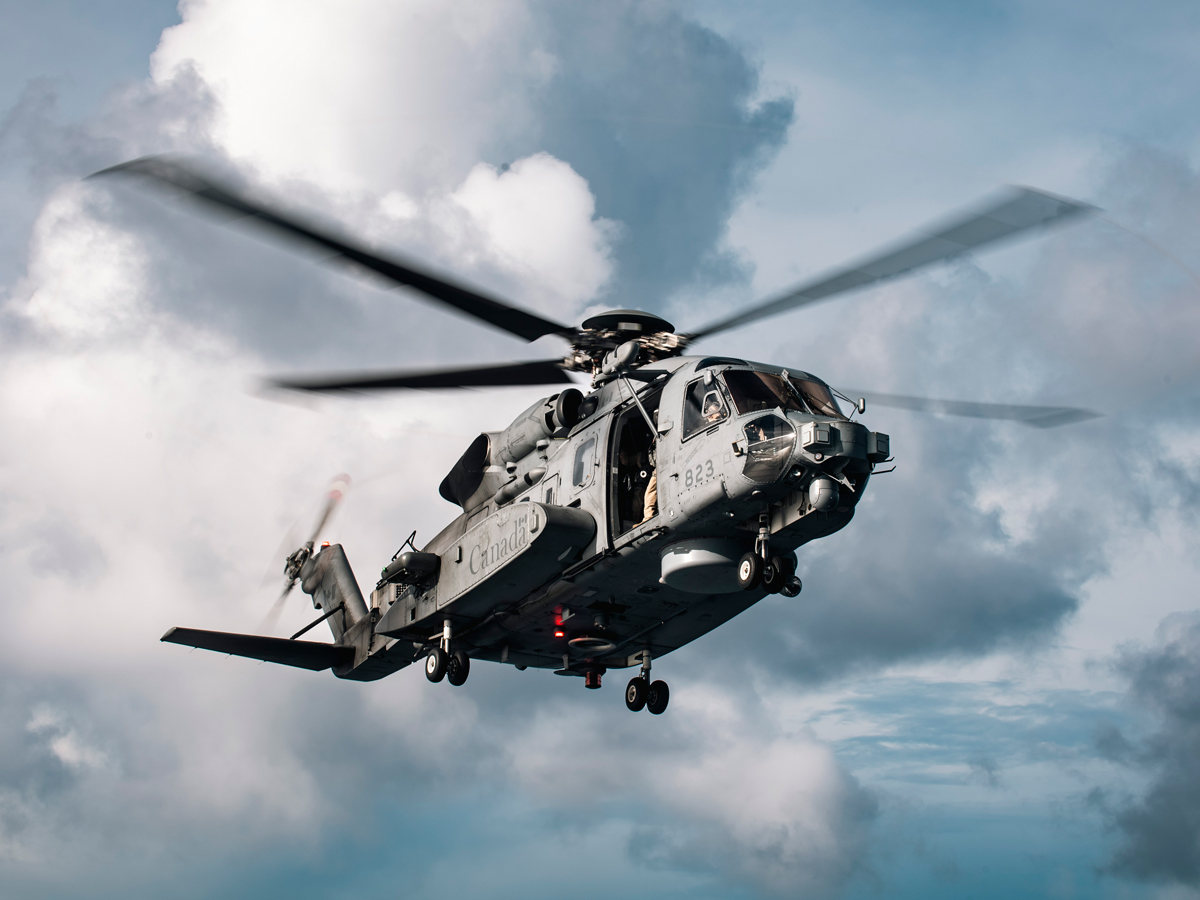 Capt Christine MacNeil, 
HMCS Winnipeg PAO
—
Guardian, the CH-148 Cyclone embarked on HMCS Winnipeg, has been busy since departing Esquimalt on June 14. With over 200 flying hours thus far, the Helicopter Air Detachment (HELAIRDET) has conducted various training and operational flights and different deck evolutions.
The primary purpose of the Cyclone is to serve the Navy, according to Captain Cody Hansen, one of the Tactics Coordinators (TACCO).
Like the Sea King before it, the Cyclone is a multi-purpose aircraft with increased capabilities and advanced technology. These capabilities include Anti-Submarine Warfare (ASW), Recognize Maritime Picture (RMP), and Search and Rescue (SAR). The Cyclone can also be called upon to conduct Vertical Replenishments (VERTREPS), which lifts/lowers supplies, and hoists, which lift/lower people.
Guardian's crews had the opportunity for less common training on this deployment. The crew conducted two VERTREPs over the fo'c'sle (front of the ship), a requirement for co-pilots as they upgrade to Aircraft Commander. It is also important training for the entire HELAIRDET as they are working on unfamiliar territory and for the Bridge Watchkeepers who drive the ship.
Guardian was also tasked to support allies by transferring over 30,000 pounds of supplies between two ships. This took 37 trips and was a first for the members of Winnipeg's HELAIRDET.
The helo needs fuel to keep flying, and the obvious solution is to land the helicopter for the crew to conduct a refuelling. But what happens when, for some reason, the helo can't land? That's when the HELAIRDET conducts a Helicopter In-Flight Refueling, or HIFR, another tricky evolution.
Finally, the HELAIRDET also conducted SWOAD, or Ship WithOut an Air Detachment, training with sailors on Winnipeg. Sometimes, the frigates sail without an embarked helo and, therefore, without a HELAIRDET. Should a helo ever have to land on such a ship, maybe to drop off equipment or pick someone up, it is important to have people on board trained in both routine and emergency flying procedures.
HMCS Winnipeg's embarked HELAIRDET personnel can be pulled from 443 Squadron in Pat Bay, B.C., and 423 Squadron in Shearwater, N.S. Despite a constant change in crew makeup, the HELAIRDETs meld quickly into an efficient team. They keep the Cyclone running smoothly and support their host ship during exercises and operations.
HMCS Winnipeg's HELAIRDET is deployed with the ship for six months. They participated in Exercise Rim of the Pacific (RIMPAC), which takes place every two years off the coast of Hawaii and is the largest international maritime warfare exercise in the world. HMCS Winnipeg and Guardian then chopped over to Operation Projection, where they will conduct forward naval presence operations in the Indo-Pacific region, cooperate deployments, and participate in international naval exercises with partner nations. Op Projection shows Canada's ongoing commitment to global peace. The deployment of sailors and aircrew, ships and submarines show how the Royal Canadian Navy and Royal Canadian Air Force are ready to defend Canada's interests worldwide.
Filed Under: Top Stories
Comments (0)