By Lookout on Sep 27, 2018 with Comments 0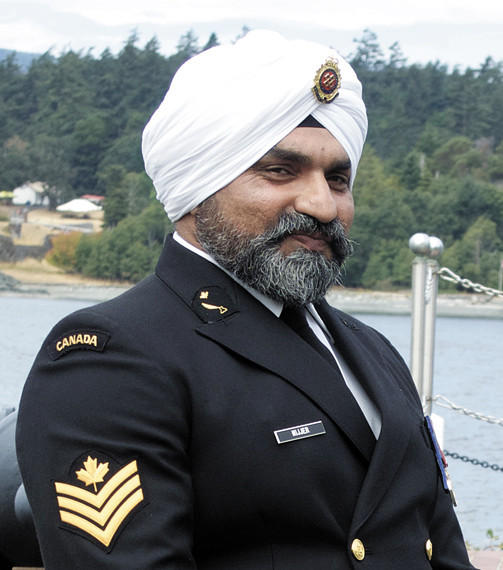 Peter Mallett, Staff Writer ~
A sailor who works for Naval Fleet School (Pacific) is convinced his Bollywood-style fundraiser celebrating Indian food, fashion and music next month in Sidney will be a success.
Petty Officer Second Class Kanwar Nijjer's says his confidence about the upcoming Saragarhi Ball is buoyed by both interest and early ticket sales, with approximately half of the 600 seats to the $100-a-plate dinner already sold.
Proceeds from the weekend extravaganza at the Mary Winspear Centre, Oct. 21 from 6 to 11 p.m., will go to The Veterans Memorial Lodge at Broadmead to pay for overhead lifts, specialty beds and new blankets. The evening that celebrates both Sikh and South Asian cultures is the latest unifying outreach effort by PO2 Nijjer.
"My vision was to bring all the communities of Victoria and all Canadians together and also to unite people in uniform, military police and first responders under one banner," said PO2 Nijjer. "The cause is to support our veterans and also for the Sikh community to make a positive statement for our youngsters and our country to see what fabric we are made of."
Renowned wedding caterer Dhaliwal Catering of Vancouver will provide a lavish spread of traditional Indian food and sundries along with pan-pacific fusion cooking including salmon, pasta and salads. Music for the evening will be by DJ SM of Vancouver. Following the opening of a cash bar, appetizers will be served followed by buffet-style main course and desserts.
The evening will also be highlighted by a Bollywood Fashion show organized by Armaan Designs Ltd., and a fundraising auction.
PO2 Nijjer says the name Saragarhi is "one that carries both strength and pride" for he and other soldiers who celebrate their Sikh heritage. That's because the Battle of the Saragarhi in 1897 was a historic last stand for 21 Sikh soldiers of the crown's 36th Regiment of the Bengal Native Infantry.
The soldiers defended their post, located in present day Pakistan, against an army of 10,000 Pashtun invaders for seven hours. The deceased were posthumously awarded the Indian Order of Merit, the highest gallantry award an Indian Soldier can receive, like the Victoria Cross.
Although enjoying each of his 24 years of service with the Royal Canadian Navy, PO2 Nijjer says his most satisfying have been in recent years where he stepped up his efforts to support the navy's community outreach efforts.
He acknowledges the Saragarhi Ball is likely his largest undertaking to date, due mostly to logistics and the many moving parts of organizing and planning the ball.
"I want to show Canadians that taking care of veterans is everyone's job, and as a member of the Sikh community it is our responsibility to assist veterans by enriching their lives," said PO2 Nijjer. "The evening is also a celebration of veterans who have given us our freedom so we can enjoy such a diverse and inspiring community today."
His wife, who served eight years in the Indian Army, also played a big part in organizing the event. She works as Site Manager for Broadmead's Rest Haven Lodge and was approached by Broadmead's Vice President of Philanthropy Mandy Parker with the idea for the ball.
"This is an event that will bring the community together and recognize Canadian veterans and Allied veterans as well," said Parker. "We often get individuals from the military who come here [to Broadmead] to spend time and visit with our veterans, but this brings together a different aspect with everyone coming together to raise money for veterans which makes it unique and extraordinary at the same time."
For tickets and more information about the Saragarhi Ball visit their web page at www.saragarhiball.techgurucanada.com
Filed Under: Top Stories
Comments (0)