By Lookout on Oct 13, 2016 with Comments 0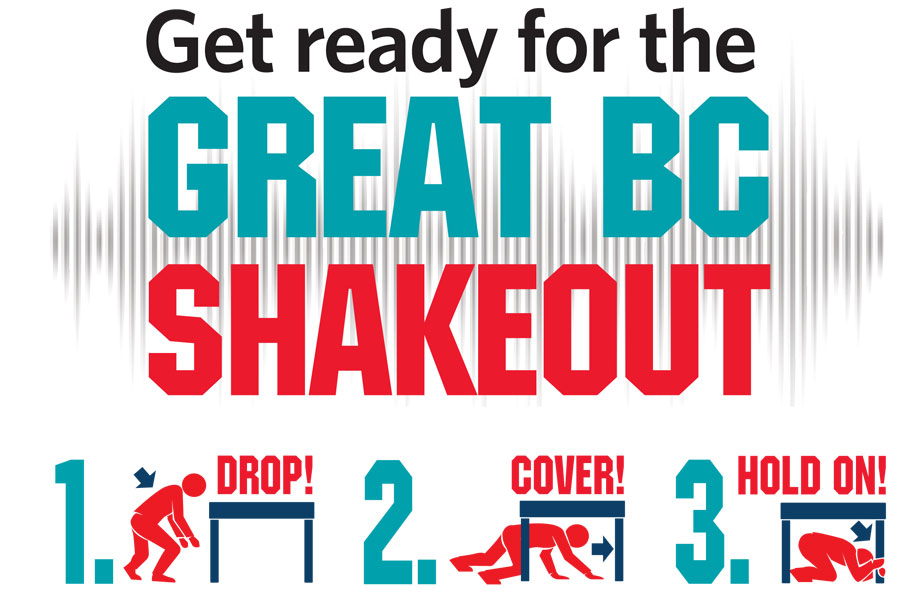 Base Operations ~
Get ready to "drop, cover and hold on" during the Great British Columbia Shakeout on Oct. 20.
Everyone in Maritime Forces Pacific, whether civilian or military, will participate in Exercise Shakeout.
At 10:20 a.m. people can expect to see flash messages, mass emails and hear the Mass Notification System (MNS) announcing the exercise start.
Once the alarm is sent, everyone will drop, cover, and hold on as if there were a major earthquake occurring at that very moment, and stay in this position for at least 60 seconds.
DROP to the ground (before the earthquake drops you!),
Take COVER by getting under a sturdy desk or table, and;
HOLD ON to it until the shaking stops.
Do not run to another room, just to get under a table. If there isn't a table or desk near you, drop to the ground in an inside corner of the building and cover your head and neck with your hands and arms.
Earthquakes occur without warning and may be so violent you cannot run or crawl; you will most likely be knocked to the ground, so protect yourself.
After 60 seconds everyone will evacuate their workplace and muster at the designated muster area for each building, bringing their personal emergency kits with them. From there, the most senior leader will assume control, and lead all assembled personnel to the applicable Disaster Response Boxes (E-Boxes).
Once at the E-Box you will be split into groups based on First Aid qualifications and whether you have taken the four-day Basic Urban Search and Rescue (USAR) Course. The Base USAR Team will provide a brief on the roles and responsibilities and will have some minor tasks for you to perform specific to each E-Box location.
"This is an excellent time to ask questions and find out how you can help during an emergency by performing activities such as helping search for survivors, providing first aid, being an information recorder, and preparing the emergency ration packs, for example," says Lieutenant-Commander Bill Ansell, Base Operations Officer. "Also, use this as an opportunity to ask questions about how you will find out if there is a Tsunami warning, how much time do you have to evacuate, and where the Tsunami evacuation routes are located."
This is also an opportunity to confirm all 72-hour emergency kits are complete and up-to-date.
This year, over 740,000 British Columbians will take part in the Great Shakeout Earthquake Drills with over 23 million people participating worldwide.
At CFB Esquimalt, Base Operations will coordinate the exercise from the Base Emergency Operations Centre located in the Base Fire Hall. Exercise Shakeout activities will conclude by noon.
The Shakeout has been organized to help individuals, communities, schools, and organizations review and update emergency preparedness plans and supplies. It's also a great opportunity to secure your workspace in order to prevent damage and injuries as studies indicate that you are much more likely to be injured by falling or flying objects (TVs, lamps, glass, bookcases, etc.) than to die in a collapsed building.
Drop, Cover, and Hold On offers the best overall level of protection in most situations.
Filed Under: Top Stories
Comments (0)