By Lookout on Aug 24, 2015 with Comments 0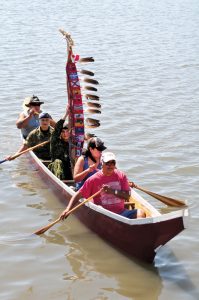 A hawk circled high in the bright blue sky and a family of otters splashed and frolicked by the shoreline as Sgt Moogly Tetrault-Hamel and paddlers from the Songhees nation headed for an inlet off Esquimalt harbour in a traditional Coast Salish family canoe last Wednesday.
In his hands was the Canadian Armed Forces Eagle Staff, a highly honoured and sacred icon of First Nations' people, similar to a nation's flag.
The military had brought their Eagle Staff for the Raven graduation, but before it could be used, First Nation protocol dictates that permission must be sought and accepted to bring the Eagle Staff into the traditional territories of the Songhees and Esquimalt Nations.    
"It's really encouraging and important that members of the Canadian Armed Forces asked our people for permission to come ashore, and that they showed such a willingness to follow our traditions," said Songhees Nation Elder, Elmer George.
"The Eagle Staff came by water and canoe because this is the traditional way of meeting outsiders coming into our community."
At 2 p.m. the canoe arrived on the shoreline behind the Esquimalt Nation's administrative office.
About 50 onlookers from both communities looked on from a rocky bluff as Sgt Tetrault-Hamel asked Elmer George for permission to come ashore.
He gave his permission and then took a moment for prayer as the Eagle Staff made its official entrance into the territory of the Coast Salish Peoples.
"It was a great honour and I felt very blessed when I was asked to do this. It was hard to feel anything but pride as I walked ashore," said Sgt Tetrault-Hamel.
The Eagle Staff has great spiritual and cultural relevance for the people of Turtle Island (North America) MWO Grant Greyeyes, Aboriginal advisor with Army Headquarters, described it as a "highly honoured and consecrated object" and a "conduit of prayer" for First Nations people.
The CAF Eagle Staff was created in 2002 by two Aboriginal CAF members who have since retired.  CPO2 Debbie Eisan and PO2 Chris Innes created the Staff that has become a travelling emblem for the CAF. It represents a symbol of unity and pride for all people in the Defence Team.
"If you tie the two cultures of the military and Aboriginal together, we are now moving as one," said MWO Greyeyes.
"This is a huge event because we now have a symbol that represents Aboriginal people, the CAF, and moreover all Canadians as a whole. Today's ceremony is really an acknowledgement by the Songhees and Esquimalt people of the CAF Eagle Staff, thereby giving it more legitimacy and awareness."
After its arrival, the Eagle Staff was taken to Work Point for the Raven graduation on Aug. 20.
Peter Mallett
Staff Writer
Filed Under: Top Stories
Comments (0)