By Lookout on Sep 08, 2014 with Comments 1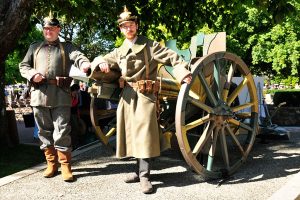 Last Thursday, the Esquimalt community gathered at Memorial Park to witness two historical artifacts be reborn.
Two artillery guns, captured by Canadian Armed Forces (CAF) personnel during the First World War, were unveiled after being refurbished, repainted, and repaired to a nearly new condition.
"The 100th anniversary of World War One gives us all a chance to reflect on our country's military history," said Mayor Barb Desjardins to the assembled crowd of military members, politicians, veterans, and civilians at the unveiling. "We are here to preserve that history, and remember the sacrifices made. It is our duty to maintain these guns as a symbol of that sacrifice."
Base Commander, Capt(N) Steve Waddell was on hand to represent the CAF.
"The losses suffered by Canada during its time spent in the Great War were overwhelming," he said. "The refurbished trophy gun monuments were taken during conflict as a sign of victory, but we are not here today to imply that war itself is a victorious endeavour. War for any side, in any struggle, brings only suffering, pain and loss."
The guns, a permanent fixture of Memorial Park since 1920, are two of only three such artifacts in the province; the other resides in Kelowna. The project to refurbish them was spearheaded by Esquimalt Public Works employee Mike Reed, who began the project in the fall of 2012.
"We were thinking about what we could do for the centenary, and the subject of the guns came up," says Reed. "They'd been falling further and further into disrepair, and it seemed like the right thing to do to preserve the history of the Township."
Both guns were captured in two separate engagements. One of the guns, an anti-tank weapon, was captured from the Bavarian Army by the 2nd Canadian Mounted Rifles at Vimy Ridge in 1917. The other,  a Krupp Feldkanone 96 n/As, was captured in 1918 at the 2nd Battle of Cambrai in Neuville, St Remy, France.
Reed says the fight to bring the guns up to period accuracy was nearly impossible, with most of the parts needed simply not available.
"In the case of the anti-tank gun, only 300 of them were made. It just wasn't possible to get the pieces we needed," he says. "We resorted to getting a lot of pieces machined in shops, or ordered from refurbishment companies in the States. Really, when it came down to it, we'd rather have them complete and looking good than accurate and missing some of their parts. It's preserving the memory that is the most important."
Shawn O'Hara, Staff Writer
Filed Under: Top Stories
Comments (1)